Album review: Darkthrone "Astral Fortress"
Norwegian black metal band Darkthrone serves up blackened doom on its new album.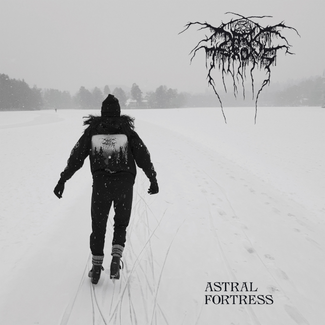 Norwegian black metal band Darkthrone is one of the genre's most influential bands. As one of the leading bands of the Norwegian wave of black metal in the early 1990s, Darkthrone released the unholy trinity of black metal albums – "A Blaze in the Northern Sky" (1992), "Under a Funeral Moon" (1993) and "Transilvanian Hunger" (1994). The band's line-up still consists of original members Fenriz and Nocturno Culto. Never shy of approaching controversial issues, Darkthrone has never been politically correct. They just do their thing and ignore what is deemed sensitive and what is not. When the band was formed in Kolbotn, Norway in 1986, they played death metal before becoming a black metal band in the early 1990s. Later on, they would experiment with playing punk, heavy metal and doom. On the new album "Astral Fortress", we get what is perhaps best described as blackened doom. It is classic early 90s Darkthrone black metal crossbred with some Candlemass-style doom metal. The result? Bloody awesome! It is epic-sounding and dystopian Norwegian metal. The doom influences mean that the tempo is often slowed down and thus the band can only fit in seven tracks on this full-length album. The album opener "Caravan of Broken Ghosts" kicks off with acoustic guitar before it moves into black metal mayhem. It is one of the strongest tracks on a very even album. "The Sea Beneath the Seas of the Sea", a massive song containing multiple styles, is the album's standout performance with an epic and impressive musical performance by the band. The haunting "Kolbotn, West of the Vast Forests" is a short and terrific instrumental piece. "Eon 2" is an excellent way to close out a splendid album. It is a track which manages to infiltrate the blackened doom metal with acoustic guitars and straightforward heavy metal parts. "Astral Fortress" is a worthy entry in Darkthrone's discography. With some 20 studio albums under their belts, the band remains relevant. The Norwegian duo still creates fascinating dark music. The album cover depicts a person on skates in a cold Norwegian winter landscape. That cold atmospheric feeling translates well into the album's fab music.
Darkthrone's new album "Astral Fortress" is out now via Peaceville Records.
www.facebook.com/darkthroneofficial