Album review: Detraktor "Grinder"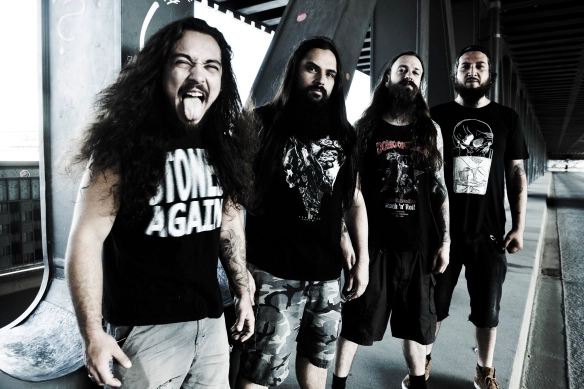 Germany-based Detraktor is back with its first full-length studio album filled with relentless thrash metal with some crossover hardcore touches.
I love Detraktor's take on in-your-face and relentless old-school thrash metal with some crossover hardcore touches. There are no compromises, just great music with plenty of energy and attitude. Detraktor is a multinational band based in Hamburg, Germany. Its members – Henrique Queiroz (drums and vocals), Rafael Dobbs (guitar), Boris Pavlov (guitar) and Juan Orellana (bass) have their roots in Chile, Brazil and Bulgaria. Their music is raw, groovy and bloody good. The album title, "Grinder", should give you a bit of a hint what this band is capable of. There's not a weak second on this album, but my standout favourite is the terrific fast track "Rejekt" which hits its listeners like a runaway freight train. It's as if Californian bands Exodus and Suicidal Tendencies had a Kreator-obsessed Latino out-of-wedlock bastard child in Europe. I love this band. You should too. "Grinder" is the band's debut full-length studio album. They have previously released a couple of EPs, including "Size Matters", produced by Dirk Schlaechter of Gamma Ray fame, which landed them a well-deserved German Metal Hammer award as newcomer of the year. This is so much better than most of what's out there. This is the new soundtrack to your life. Album of the year? Perhaps so. 
Detraktor's album "Grinder" is out now via the German label Violent Creek.