EP review: Candlemass "House of Doom"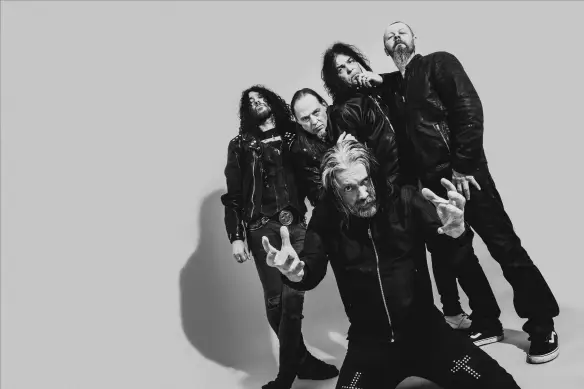 The Swedish doom masters return with the new EP "House of Doom".
Candlemass has been at the forefront of doom metal since the mid-80s. They set the agenda and the rules that others follow. Now they have a brand new four-track EP ready.
The title track "House of Doom", which unsurprisingly opens with the sound of a church bell, is sheer brilliance. It's Candlemass at its best: doomy, gloomy, heavy and energetic, yet melodic and accessible. Fantastic! "Flowers of Deception" is more complex and demands more of its listeners. There are twists and turns, tempo changes, style changes and loads of small details to discover and cherish. Terrific music. "Fortuneteller" is a melancholic doom ballad with Mats Levén's voice and a beautiful acoustic guitar at its centre. The EP is rounded off by "Dolls on a Wall", an instrumental track where the band gets to do some guitar wankery and let off some steam. Four songs on an EP that are very different and showcase the greatness and musical variety of this terrific band. Candlemass is always doom, but its timeless music comes in different shapes.
Vocalist Mats Levén has a long track record in metal, which includes Treat, Swedish Erotica, Yngwie Malmsteen, Trans-Siberian Orchestra, ReVertigo, Abstrakt Algebra, Krux, Therion, Gus G, Firewind and much more. He is a world-class singer and his pipes, together with Leif Edling's superior songwriting skills, help Candlemass stay clear of the competition. Splendid riffing (Mats "Mappe" Björkman and Lars Johansson on the guitars) and a rock-solid rhythm section (Edling on bass and Jan Lindh on drums) are topped off by Per Wiberg's melancholic Hammond wizardry. Adding the former Opeth and current Spiritual Beggars man Wiberg to Candlemass (although only as a session player and live member) was a very smart move as he adds so much to an already solid band. Wiberg has also been playing bass at most of Candlemass' gigs in recent years when Edling's been unable to perform due to illness.
The doom masters are still top of the hill. They are currently working on a new full-length album which should be out later this year. "House of Doom" will keep us happy until then.
Candlemass' new EP "House of Doom" will be released on 25th May via Napalm Records.