Tokyo gig review: Watain, Inquisition, Tribulation, Sigh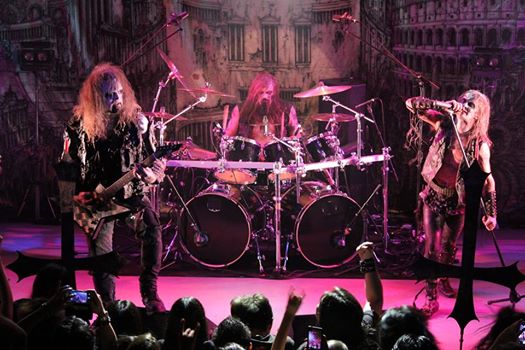 Watain's "The Wild Hunt" tour finally arrived in Japan on a dark and rainy Friday night in Tokyo. In addition to the headliner Watain, the evening offered us a great line-up of bands from the darker corners of the heavy metal world: local veterans Sigh and the first-ever Japan gigs of Inquisition and Tribulation. Roppongi Rocks' Stefan Nilsson was there to witness the rituals.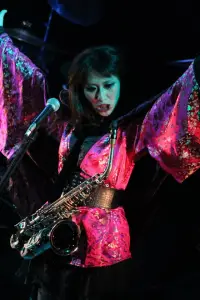 Sigh
Local favourites Sigh kicks off the evening with a typical Sigh performance. Having started out as a Japanese  black metal band more than 25 years ago, Sigh now lives in a weird landscape of extreme, experimental metal. Sigh's performance this evening is no different. They give us a weird and wonderful extreme metal mix where the band, led by vocalists Mirai Kawashima and Dr Mikannibal, takes us on a musical journey that is good fun.
Tribulation
Swedish Tribulation has been given so many rave reviews for its most recent album "Children of the Night", that expectations for their first-ever Japanese shows are sky high. They only get 35 minutes to prove themselves but in that time they manage to showcase the best bits from the latest album and, boy, the lads from Arvika deliver and exceed expectations. Some like to label them death metal but what we get at this gig (an on the latest album) is a wonderful mix of death metal, a pinch of NWOBHM, some progressive rock and some more gothic influences. I don't care what you call it, it's great music and the band puts on a great show. This evening they give us what we want and more. Great band with great songs that knows how to entertain their fans. Let's hope they'll be back in Japan with a full show in the near future. They certainly won some new fans with this gig.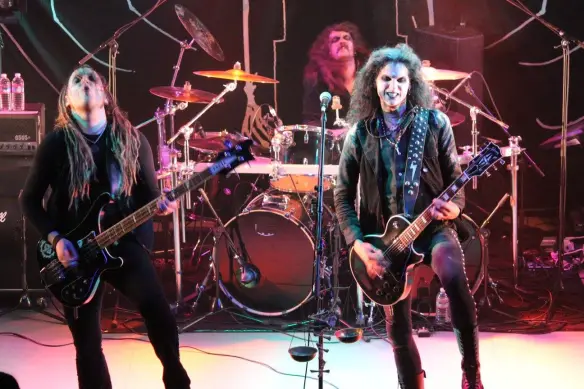 Inquisition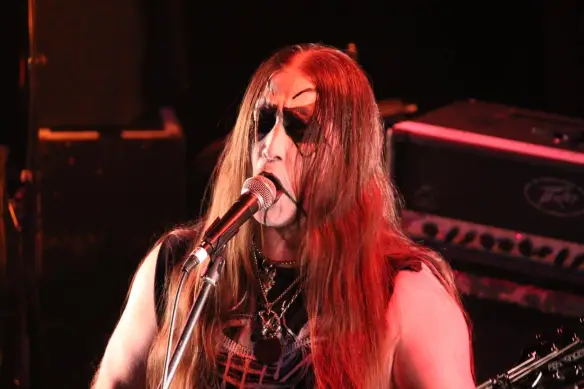 Colombian-American band Inquisition is a corpse-painted guitar-and-drums-only duo playing a very fast version of black metal mixed with some good old thrash metal. They kick off with "Force of the Floating Tomb" and then don't slow down until they finish their set with "Infinite Interstellar Genocide". I have no idea how two musicians, Dagon and Incubus, using only a guitar and one set of drums can sound so much, so loud, so great. This was the band's first ever ritual in Japan and they did great.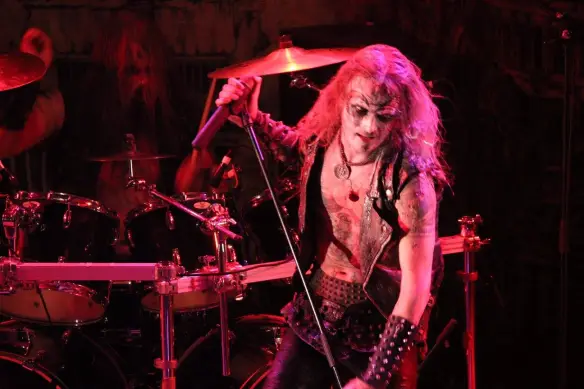 Watain
The evening's headliner, Swedish black metal stars Watain returned to Japan with a reputation for outrageous stage shows. This evening, however, we get a Watain all dressed up but without too much of the infamous stage props. Sure, we get a couple of upside down crosses and a little bit of fire, but that is about it. It suits me fine as we get a one-hour set of great black metal where the focus is on the band and its music. Because make no mistake about it, Watain is a very consistent and reliable band that creates great music. While Watain is not the type of band who smiles on stage, band leader Erik Danielsson seems to really enjoy performing for his Japanese fans this evening. The rest of the band – Alvaro Lillo on bass, Set Teitan and Pelle Forsberg on guitars and Håkan Jonsson on drums – are up for the challenge and attack the music with ruthless determination and unstoppable energy. Watain's set kicks off with "Night Vision", "De Profundis" and "Black Flames" from the band's 2013 album "The Wild Hunt". From the same album we also get the title track as well as "Outlaw" and "Sleepless Evil". But it is not all about the latest album, we also get the older favourites "Total Funeral", "Reaping Death", "On Horns Impaled" and "Malfeitor". While this gig was focused on Watain's music, former Dissection guitarist Set Teitan gets full marks for his body-painting efforts in addition to his guitar skills.