Entombed legend Nicke Andersson talks Imperial State Electric, MC5 and reuniting The Hellacopters
When Entombed's legendary drummer Nicke Andersson recently visited Tokyo, he sat down for a conversation with Roppongi Rocks' Stefan Nilsson. Nicke talked about Imperial State Electric's next album, the early influences of KISS and punk rock, his stint with MC5 and the forthcoming reunion gig with the Hellacopters.
Nicke Andersson is a rock star who loves music. Whether it is death metal, rock, soul or anything else, Nicke can't stop writing and performing music. While his last death metal band, Death Breath, is currently not active, the hardworking Nicke keeps himself busy not only with his main band, Imperial State Electric, but also with other musical projects, guest appearances, songwriting and production jobs as well as many more things.
"I like music. I want to play music I like. I like death metal as much as I like Otis Redding. They both give me the same feeling," explains Nicke as we sit down backstage at Club Quattro in Shibuya, Tokyo ahead of Imperial State Electric's gig with The Datsuns.
"What is closest to me is rock. Hard rock. And I include punk rock here. I like electric guitars that make a lot of noise. I grew up with KISS and then punk rock and later it was more metal and stuff. What we play now, with Imperial State Electric, is probably what is closest to me. But I like all the different styles I play."
Nicke is not only busy professionally, he's also got a busy family life. "I've just become a father. It's bloody hard. One has to learn how to best spend one's time. It's getting better but I have to skip popping popcorn and watching movies. There's no time for that."
"I'd like to play songs live for a year before we record them for a new album. But that never happens as the audience wouldn't have heard the songs earlier. I really wish we could rehearse more and then perhaps we would be even better. We never have time to rehearse. Now we record a song for an album and then, after it's recorded, we try to learn the song and remember how it went. It's like in the old days when most bands released two albums a year and toured much more than we do. They could do it so we should be able to do the same. We play rock music with a maximum of four or five chords. Thus it shouldn't take four years to write ten songs for an album."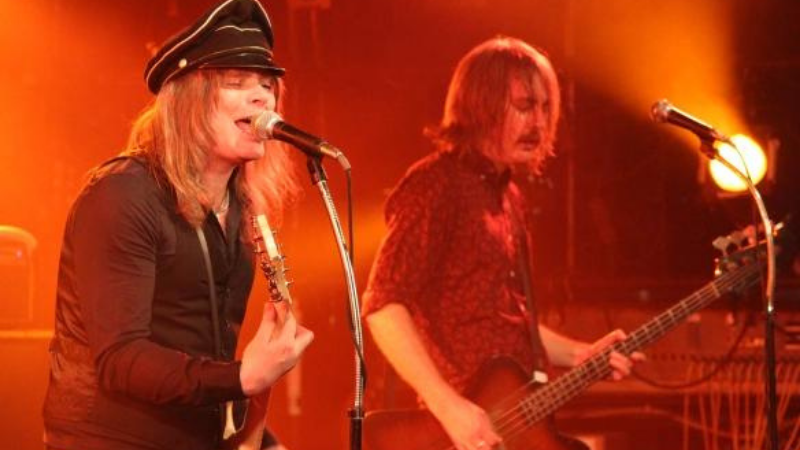 Nicke's intense love for great music means he's learning on the job.
"I am curious. I am still learning to play guitar and to sing," explains Nicke who first became a famous drummer in Entombed before he switched to guitar and vocals. "I am taking a rather long time to learn. I have let everybody watch my development when others may have locked themselves in a room until they perfect everything. I don't have the patience to wait. I just get on with it."
"As I at an early age listened to punk rock, I understood that I can play music myself. Punk has created a lot of chaos too, but it did get many people to start playing music, which is great. KISS also influenced many people to start playing guitar, but in a different way. KISS were unreal while punk was more like 'I can do this too'. That has also meant that I like music that is imperfect, music that has scratches and dents. I think it is better when there is some friction between the instruments. It makes all music better. It doesn't matter if it is soul or death metal."
Nicke has been a founding member of a handful great bands, but his career highlight so far is getting to play with one of his favourite bands, legendary Michigan rockers MC5.
"I got into an MC5 period recently and then it hit me that I actually were on that tour they did in 2004. It dawned on me that I've actually played with the three surviving members of MC5 and did a tour with them. That's big!" Nick already knew MC5's Wayne Kramer as they had met when The Hellacopters toured in the US and when Kramer was at Nomads' 20th anniversary gig in Sweden. The Hellacopters members have introduced many fans in Sweden to MC5 and perhaps that is why Nicke ended up getting an invite to be part of the band's reunion line-up.
Playing with Scott Morgan (ex-The Rationals, Sonic's Rendezvous Band) is also something Nicke mentions as a career highlight. Morgan toured together with Nicke and The Hellacopters and they also teamed up in two other bands, The Hydromatics and The Solution.
While Imperial State Electric is keeping him busy with record releases and touring, he will this year set aside some time for his old band The Hellacopters who are reuniting their original line-up at Sweden Rock Festival in June. They have been offered this special gig to celebrate the 20th anniversary of the release of debut album "Supershitty To The Max". The gig has been billed as a one-off reunion gig with the band, which also features Dregen of Backyard Babies. But there is talk of making this reunion more than just one gig.
"We're doing this gig and we're not talking about anything else. We'll do this gig and then we'll see. We have made a deal with Sweden Rock where we get very well paid for one gig. All five of us in the band are not exactly on the same page about this reunion. Let's see what happens. Dregen probably wants to do another 20th anniversary for the second album next year, I think. We called it quits with this band for o a few different reasons and it is starting to show already although we're only doing one gig."
"I am quite happy with this gang, Imperial State Electric, both socially and musically," says Nicke and explains his thinking about The Hellacopters: "We shall celebrate ourselves and the 20th anniversary, but we do get paid a lot to do this. That money makes it possible for me to do more things with Imperial. I am not going to hide the fact that money is a big part of why the reunion gig will take place. I think it'll be a great gig but I don't know about anything after that."
Whatever happens with The Hellacopters, Nicke has firm plans for Imperial State Electric who released its fourth full-length album "Honk Machine" in August 2015. "We have recorded another album which is ready. I wanted to release it in May but everybody else thought it was too soon as it would have been less than a year since the last album, which is what I wanted. But it seems we will get it released in August which will be exactly a year since the last album. My plan, or hope, is that the album after that will be released before summer 2017. It shall happen! It is to prove to myself and others that it is possible. I like writing songs and my library of demos is starting to become quite full."
www.imperialstateelectric.se / www.facebook.com/imperialstateelectric