Interview – Bloodbound: the Dragon Empire takes on Japan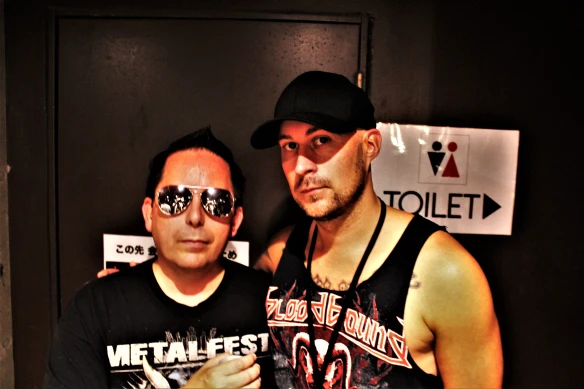 When Swedish power metal band Bloodbound recently played in Japan for the first time in the band's 15-year career, Roppongi Rocks' Stefan Nilsson met the band's co-founder and keyboardist Fredrik Bergh and vocalist Patrik Selleby for a backstage chat.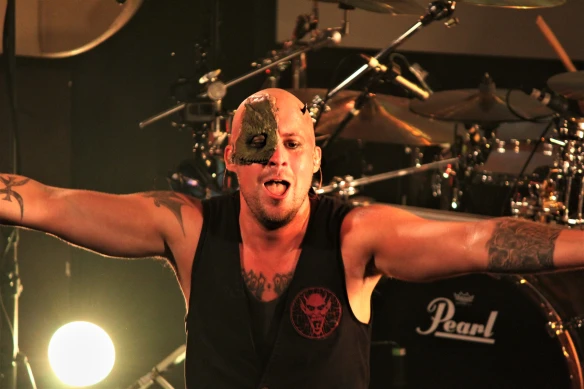 We start the interview sitting on the balcony at the venue for the evening's Bloodbound gig at Evoken Fest. But after a few minutes, the volume of the ongoing soundcheck makes it impossible to hear anything and the three of us decide to continue the discussion in the backstage toilet. It doesn't exactly smell of roses, but at least it is a bit less noisy.
Bloodbound was founded in 2004 and released its debut studio album "Nosferatu" in 2005. Earlier this year the band released "Rise of the Dragon Empire", its eighth studio album.
You two are the keyboard player and the lead vocalist in the band. When you're composing new songs, do you try to add some extra keyboard or vocal parts in the songs as a way of sticking it to the band's songwriting guitarist and co-founder Tomas Olsson? Do you have fights in the band over this? "It is the songs that are the most important. No one is trying to make themselves or their instrument more prominent. The songs and the melodies are absolutely the most important things," says Fredrik Bergh. Patrik Selleby continues: "The sound has become what it is naturally. No big discussions. Sure, we can sometimes discuss if the guitars should be louder in the mix, but then it is something that all of us agree on. But there's never been any fight about what should be more prominent in the mix." Fredrik adds: "Whatever the songs need. Whatever makes the songs the best."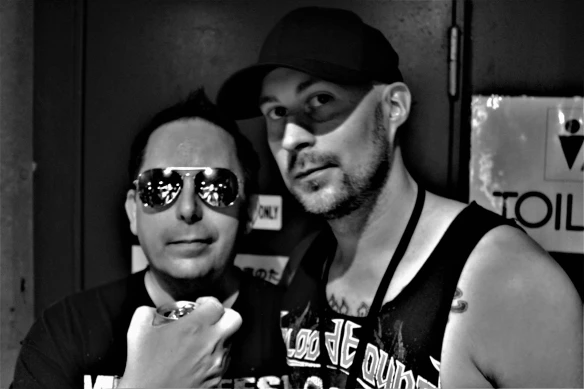 Fredrik is an experienced songwriter who in addition to writing for Bloodbound also has written for and recorded with artists such as Joe Lynn Turner, Bonfire, Revolution Saints, Phenomena, Anette Olzon, Steve Augeri and many more. Do you approach things differently when you write songs for others? "I have to adjust things to how they sound. I have to be a bit like a chameleon! I have to write things their way. You have an idea of what kind of song it should be. It's not a coincidence." Patrik adds: "I don't write for others, but I write music all the time. A lot of it I realise won't fit in with Bloodbound. I have a lot of songs piled up high and so we'll see if I will use them. You quickly realise what fits: 'This feels like a Bloodbound song!'"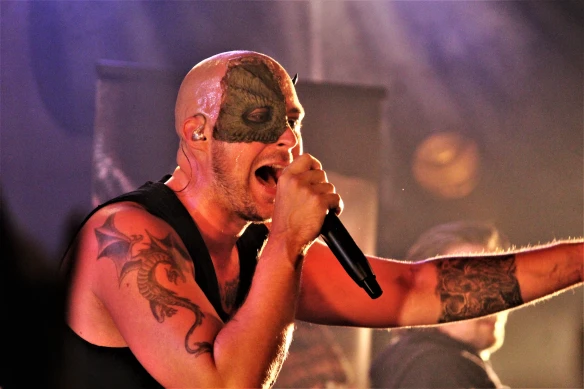 Do you feel that you have to write songs that fit within what people expect of Bloodbound or can you create music more freely? "Often you know how we should sound," explains Fredrik. "You try to write such songs from the start. And if it doesn't fit, then you reject it, if it isn't good enough. You have an idea and then you reach a point where you realise that this doesn't work and then you discard it. I've got a big folder of rubbish at home!" Patrik continues: "I feel that it isn't that boxed in. We're not as boxed in as perhaps many other bands are. We felt that we found our sound with the 'Stormborn' album. Since then it's been a given that we have a certain sound. You have written a song perhaps that can be tweaked a bit by adding some keyboards in order to make it a Bloodbound song. We're exchanging ideas a lot. You have a basic song idea. Perhaps I send it to Fredrik or he sends one to me. What do we think? Can we make a Bloodbound song from this? Then we continue from there." Fredrik adds: "It's not really limited as we have a rather wide spectrum. It's not limited by the vocals. Sometimes when Tomas writes it's very… Like on 'Dragons are Forever'. If we had a more limited vocalist it wouldn't be possible at all. Patrik can manage to sing across a broad range. When it comes to melodies, we do not limit ourselves. A song can take off in any direction."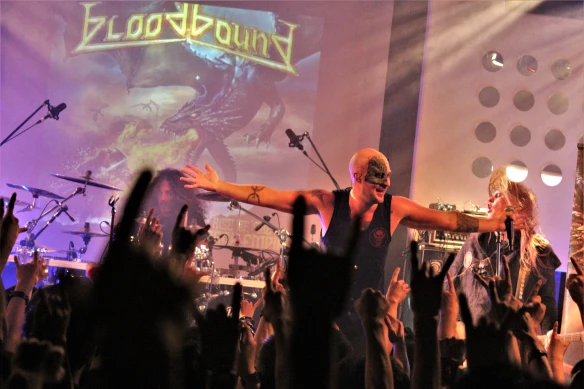 Since the band was formed in 2004 by Fredrik and guitarist Tomas Olsson, there have been quite a few line-up changes. The current version of the band also features Henrik Olsson on rhythm guitar, Anders Broman on bass and Daniel Sjögren on drums. Have the changing line-ups had an impact on the band's sound? "We have had more or less the same line-up for the past eight years now. It's working great. Both on a personal level and how we work together. It was mainly in the early days when it was a bit chaotic before we found Patrik, I'd say," explains Fredrik. Patrik joined the band in 2010, taking the frontman position previously occupied by Urban Breed (Serious Black, Tad Morose) and Michael Bormann (Jaded Heart, Bonfire).
Bloodbound had already released three studio albums before Patrik took over as lead vocalist, but he doesn't have a problem performing songs from before his time. "No, I absolutely don't have anything against that at all. I myself was a fan of Bloodbound before I started to sing with them. I love the old songs too. There's no pride preventing anything there." Fredrik adds: "We only play one old song!" before Patrik continues: "Yes, now we do, but we have played more songs during my years in the band. The newer songs, we feel, are better and work really well live. It has nothing to do with which album they're from. We just try to select the best songs that we have."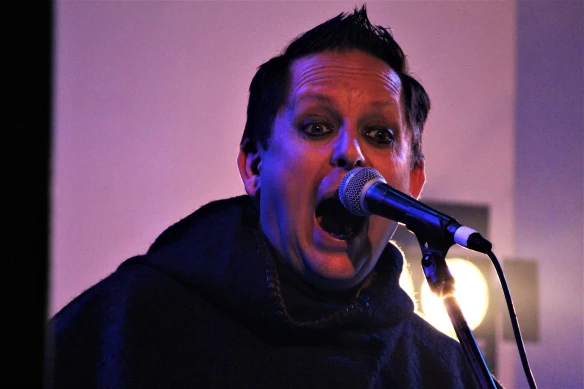 When Bloodbound released its first album in 2005, you established an interesting contrast where the band name and some of the visuals used were very dark and somewhat evil, whereas the music is melodic and good-natured power metal. Was it a deliberate contrast? What was the thinking here? "Yes!" says Fredrik. "When we started the band and we were going to take some photos for the first album, we felt that we needed to do something that stands out. We can't just stand there like every other band. Perhaps we made it too extreme with corpse paint and everything!" Patrik adds: "As a fan, as a power metal fan in general, I thought it was really cool!" Fredrik continues: "It got a lot of people talking" before Patrik adds: "The contrast was amusing as the music was so damn happy and then they stood there in corpse paint!" Fredrik brings up German power metal band Powerwolf as a comparison. "If you look at Powerwolf today – they're massive – and they do sort of the same thing that we did in the beginning. Thus, I think it was wrong for us to stop that. I think that we should've continued with it. But certain people in the band didn't want to and that's why we stopped it, around the time of the second album, I'd say. It was a bit weird. Some people said: 'They can't have corpse paint because they play power metal!' There was a lot of talk like: 'Have you seen this new band?' We got a lot of great publicity." Patrik continues: "It was ahead of its time, to do that kind of thing. Then Powerwolf came along and it was the right time. Then nobody thought it was weird." The two band members seem to have somewhat different recollections of who did what and when. "But they started around the same time as us, I believe," says Fredrik. "But they didn't have the face paintings and such then," answers Patrik. "Didn't they?" asks Fredrik somewhat surprised. "No," says Patrik.
"We were a bit dumb, but now we've got the dragon mask," says Fredrik excitedly with a reference to the fact that Patrik is nowadays wearing a dragon mask and a horn while performing on stage. "We have to bring back some of those crazy things!" Patrik elaborates: "We look at it this way: since I started to wear the dragon mask and the horn, people will now remember that. If we play at a festival 'Oh, yes, that was that guy with the horn!' Rather than just standing there dressed in jeans and t-shirts. We should stand out in different ways."
2019 has seen you release a fab new album and you've toured internationally, including coming here to Japan for the very first time. What's next for Bloodbound? "We have a few winter festivals in Europe that we will do before Christmas," says Patrik. "We have recently changed booking agents and so we are kind of between the two firms now. Thus, we don't have too many fixed plans right now, but a new album won't happen until 2021. We'll probably do some gigs ahead of that and also perhaps summer festivals next year." Fredrik continues: "We have already some gigs booked, including a major festival next year. We did our own headline tour last spring with Dynazty and Manimal as opening acts and that went very well."
A few hours after our chat, Bloodbound appears on stage in Japan for the very first time and they delight their Japanese fans with a brilliant but short festival set.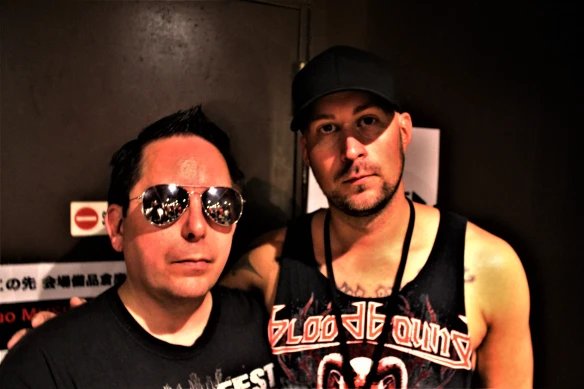 www.facebook.com/bloodboundmetal