Interview: Extrema – Italian thrash veterans celebrate three decades of shredding
Italian thrash metal veterans Extrema turn 30 and show no sign of slowing down.
Extrema, the Italian thrash metal veterans, are still going strong. The band formed in Milan in 1986 and  released the cult classic "We Fuckin' Care" EP in 1987. Over the past three decades the band has released a number of albums and EPs and a live DVD. Their latest full-length album, "The Seed of Foolishness", was released in 2013 and in May 2016, they released "The Old School EP". They have toured with the likes of Motörhead and Death Angel, and opened for Metallica, Slayer, Megadeth, Suicidal Tendencies, Korn and many others. To mark the band's 30th anniversary, Roppongi Rocks decided to check in with band leader and guitarist Tommy Massara.
Other bands come and go. How have you been able to keep this band going for three decades? "So much time has passed since the first time we plugged into an amp and turned it up to eleven. For sure, there's still a lot of enthusiasm and will to write music and play shows. There is no special magic formula. This happened naturally and for me it's always like the very first day."
You and vocalist GL Perotti remain from the band's classic line-up, but Gabri Giovanna on bass and Francesco La Rosa on drums are more recent additions. Is it important to bring in new blood sometimes to keep the band going for so many years? "During our long career we have had some defections. You know, people sometimes change their minds and musical taste, or they simply decide to change their life. Me and GL, we have always been true to ourselves and to the band. One important fact is that the new guys who have replaced earlier members have brought new energy and the will to pursue our goals."
You recently released the fantastic "The Old School EP". It is made up of re-recordings of some of your old material from 1987. What is the idea behind this? "Yes, we have just released a new mini album. It's wrong to say that are re-recordings. Except for 'Life' that was the last track on our first full-length album, 'Tension at the Seams', all the other tracks where never released as album track recordings. Three of them where released only as demo versions back in the 80s. The idea came up right after the end of our 2013 European tour with Death Angel. Paolo Crimi decided to leave the band because he told us he didn't like to tour anymore. So, as the new guy, Francesco La Rosa, joined us, I asked the band: 'Why not try to record these old tracks as a way to introduce Francesco to our fans?' The result is just awesome. Even we were amazed by how these old songs sound fresh even today. The reviews worldwide are a confirmation of the good quality of these songs."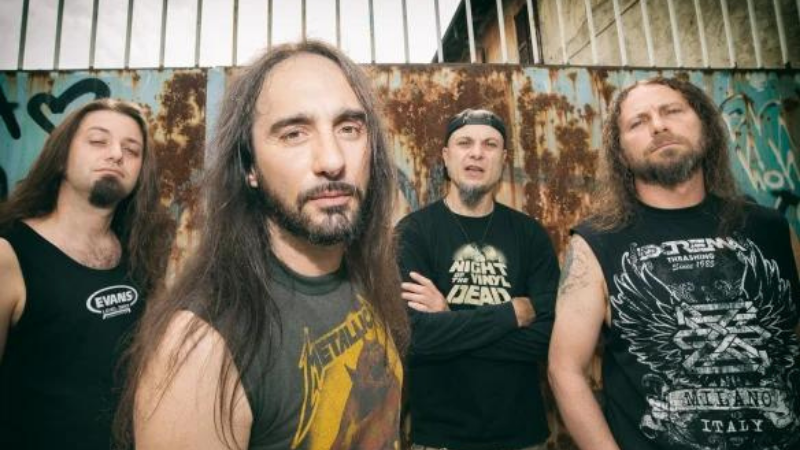 You are best known for playing old-school thrash metal, but you have also done some crossover stuff, for example a project with Italian rappers Articolo 31. Why did you decide to do that? "We've started back in the 80s as a thrash metal band. During the years we've tried, as a natural evolution as musicians and professionals, to go beyond our roots and we explored other angles of metal music. In the 90s, Extrema was probably the biggest metal band in Italy. Of course we had people around us who pushed us to change our genre. We tried to explore but we had some fear in our minds and did not want to go too far away from what we love to play. For sure we did some albums that were not 100% thrash metal, but we never played AOR music. The release of the new 'The Old School EP' is like we came full circle and have gone back to where we began our music history."
Your drummer Francesco "Frullo" La Rosa was recently in Japan on tour with Ultra-Violence. Do you think that we will ever get a chance to see Extrema in Japan? "Yes, he told us that playing in Japan has been an awesome experience. Also, A.C. Wild from Bulldozer told me that every time they played Japan has been a blast. I really hope to find a way to come and play with Extrema in Japan. It would for sure be like a dream come true and it is one of our goals as a band."
What's next for the band? "Really soon we'll start to tour again to promote 'The Old School EP'. In the meantime we have also started to write some music for the next album."
If you haven't discovered Extrema during the band's first three decades, you should get to know them now.
Extrema – band members
GL Perotti – vocals
Tommy Massara – guitar
Gabri Giovanna – bass
Francesco La Rosa – drums
Read Roppongi Rocks' review of "The Old School EP" here.