Interview: Soilwork's Björn "Speed" Strid and Dirk Verbeuren on a majestic ride
Swedish melodic death metal band Soilwork is currently in a ridiculously great form and they're in the middle of a knockout world tour supporting their latest brilliant album, "The Ride Majestic". Roppongi Rocks' Stefan Nilsson sat down with vocalist Björn "Speed" Strid and drummer Dirk Verbeuren when they recently visited Japan.
Soilwork's latest album, the magnificent "The Ride Majestic", is the band's tenth studio album and its best to date. Since its release in August last year, the band is on a massive world tour in support of the album. Soilwork has a loyal following in Japan. During the band's twenty years they have played in Japan many times, both doing headline tours and played at the massive Loud Park festival in 2014.
"It's an important market but we also have a strong connection as well. It's very easy to become nostalgic and sentimental when it comes to Japan because we came to Japan at a very early stage in our career. Just after our first album, in 1999 was our first time in Japan. It's a very special feeling coming here," says Björn "Speed" Strid as he and drummer Dirk Verbeuren sit down with Roppongi Rocks backstage at Tsutaya O-East in Tokyo's Shibuya district a few hours before Soilwork's gig.
During its two decades of recording and touring, Soilwork has seen quite a few line-up changes. Speed is the only remaining original member of the band but despite that the band seems to have managed to keep its musical identify intact and rather consistent. "It is definitely tough sometimes. Being a touring band, you have to find somebody who fits in, especially personality wise and not just as a musician. It's tricky but luckily we always seem to rebound," explains Dirk. Speed continues: "We been lucky enough to have fresh new blood coming into the band that actually brought something to the table. Maybe from the outside it looks like there's been a lot of line-up changes and maybe people think that 'Björn must be really hard to work with because he's the only one who has been there since the very start.' I don't know. It might look like a circus and a revolving door. But if you're in the band…it's been more natural." "He's not at all a difficult person to work with," insists Dirk. "I think it's more just…life, you know?"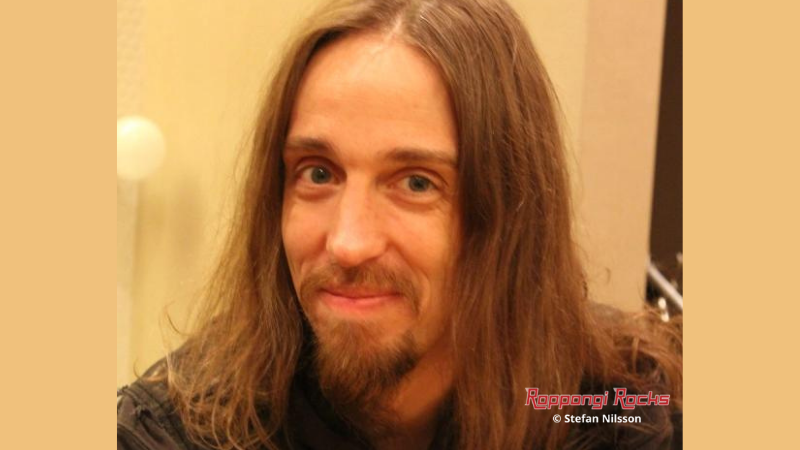 Dirk Verbeuren, who joined the band in 2004, is one of the best drummers in the extreme metal business. Apart from his Soilwork duties, the Belgian drummer now based in the US has played with acts such as Devin Townsend, Satyricon, Jeff Loomis, Aborted, Naglfar, Bent Sea, Scarve, Powermad, and many more. "When Dirk came in to the band he brought something new with the drums. He's an extreme drummer but he also has that kind of unique groove to it even when he does blast beats for example. It is a lot more double kicks than compared to when Henry Ranta was in the band before. He definitely brought something new and fresh to the band," explains Speed of Dirk's contribution to Soilwork's sound.
Soilwork is a band that is quite consistent. They keep delivering top quality melodic death metal to the world. At the same time they continue to evolve and develop their sound with every new album. "We don't like repeating ourselves," says Dirk. "Of course there needs to be a certain consistency, but at the same time we like to push the limits a little bit and see what we can pull off. And also make every new album a bit of a discovery for people and not just 'Here's a bunch of songs that sound just like three albums ago.'" Speed continues: "The feeling of being in a band where there are no limits – we can do whatever we want. It's about the song in the end. That's a really cool feeling."
Both Dirk and Speed do a lot of session work with other acts when Soilwork has breaks once in a while. "Soilwork has a pretty intense schedule, especially once we're done with recording an album and touring starts then it's usually everything else, including our private lives, get worked around that," explains Dirk. "The session work is a great way to keep busy and keep income coming in. It's a tricky thing when you're a band like us, it's not like we have a steady flow of money flowing in. When we're at the end of a touring cycle and we're, say, writing music for half a year or a year, then all of a sudden there's very little income. That way it works out and it's fun!"
Soilwork was founded in Helsingborg, a Swedish town away from the death metal capitals of Gothenburg and Stockholm, and thus took its own path in the dark forests of melodic death metal. "It definitely had an impact on us," explains Speed. "The only difference there I think was that we wanted to more than just that. We got influenced by the Gothenburg scene and most of the death metal bands back then sounded very similar. Then we had the Stockholm Sound and that had an impact on me as well. We also started listening to for example 'Heartwork' by Carcass, the twin guitars and the trade-offs. Then Strapping Young Lad came in as a big influence and Devin Townsend in general. 'Wow! What is this?' We had never heard anything like this before. That really inspired us. Especially the 'City' album."
With ten studio albums released to date, the band has quite a back catalogue of great music to choose from when deciding on set lists for its gigs. It can't be the easiest task to make the selection. "There are songs there that don't work live or don't work as well as others," explains Dirk. "There are a number of songs we've tried because people want to hear them or we want to play them. And after a while we go 'Hmmm.. No!' We get a pretty good sense of what people want to hear, what we want to play and what works. But it does get complicated."
Soilwork's music is quite complex with frequent changes and a melting pot of different styles of playing and singing and with often dark lyrical themes. Writing such music can't be that straightforward. "When it comes to songwriting I try to be as spontaneous as possible. I usually write the lyrics and the vocal melody after the song is done," explains Speed. "There is definitely a vibe when we start writing," says Dirk. "With this album, even though there are maybe not many lyrics written first, we knew kind of the atmosphere that was happening in our lives at the time. It was definitely a big factor." Speed continues: "We did capture some of the songs that have darker atmosphere on 'The Living Infinite'. And then kind of cranked those a little bit on the new album."
On the latest album, Soilwork has continued to work with Jens Bogren in the studio but this time they used David Castillo (Opeth, Katatonia, Bloodbath) as the producer. "I was excited because I am a big fan of some work he did with Bloodbath  When I heard about David being involved I thought 'This is going to be cool!' and it turned out to be great," says Dirk. "We've had our share of issues with album productions. We have also learned to not repeat certain mistakes that we've made in the past that we need to be careful with and how we proceed in the studio as well. When we did the 'Sworn to a Great Divide' we got trapped in the 'Oh, we're at home, we have plenty of time' thing and it ended up just dragging out forever."
Two decades on and Soilwork is doing some of their best work ever, both in the studio and live. "I'm just happy we're still doing this and that we still have something to say," explains Dirk. "Because you have bands that have been around for a while and it's kind of like, yeah, they're still doing decent stuff but their peak is definitely behind them." Speed continues: "It becomes corporate metal!" Dirk elaborates: "The hunger sometimes, you can tell, is not really there. They're just touring because that is what they do. With us we challenge ourselves musically, we challenge ourselves from a live point of view. We still try to make the shows better with more energy onstage even though we are getting older and it is more and more getting hard! Haha!! For me the most exciting part is still coming up!"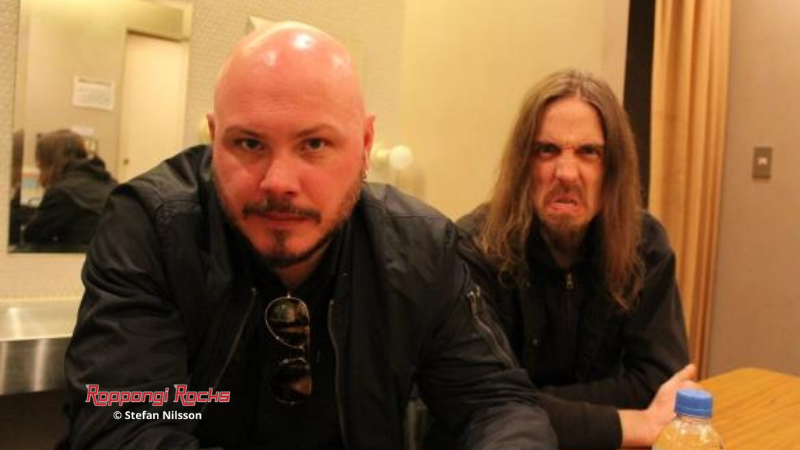 Since releasing their latest album in August 2015, they have been touring North America, Europe, Australia, New Zealand, Japan and Korea. Do the band members still enjoy touring? "The touring yes, but the travelling no," states Speed. "It's getting harder and harder. I need more and more routines and it is hard to find routines when you are travelling all the time. Back when you were 25 you couldn't care less if you slept two hours, but now you're just like a wreck!" Dirk continues: "It's still fun to play live. It's even more fun actually now with the experience. For me for a number of years it was kind of an anxious thing to go on stage and kind of stressful. Now we know what we're doing, we know we're going to pull it off no matter what. It's fun!"
What's next for Soilwork? More touring? "Plenty more!" says Dirk. "We are going out with Fear Factory in North America a few weeks after this tour. That is going to be a long North American run, then some summer festivals in Europe and some club shows as well possibly. In September we are supposed to go to South America but it's not a hundred percent confirmed yet but we are finally going to go there for the first time. And then probably more dates in Europe and North America after that. And then we're already in the spring of 2017 by the time all that stuff is over."
Soilwork – band members
Björn "Speed" Strid – vocals
Sven Karlsson – keyboards
Dirk Verbeuren – drums
Sylvain Coudret – guitar
David Andersson – guitar
Markus Wibom – bass
Studio albums
Steelbath Suicide (1998)
The Chainheart Machine (2000)
A Predator's Portrait (2001)
Natural Born Chaos (2002)
Figure Number Five (2003)
Stabbing the Drama (2005)
Sworn to a Great Divide (2007)
The Panic Broadcast (2010)
The Living Infinite (2013)
The Ride Majestic (2015)