On Saturday 2nd May, veteran Japanese rockers Loudness and Outrage headlined Loud Out Fest at Studio Coast in Shinkiba, Tokyo, a great mini heavy metal festival which also featured Sads and Her Name In Blood.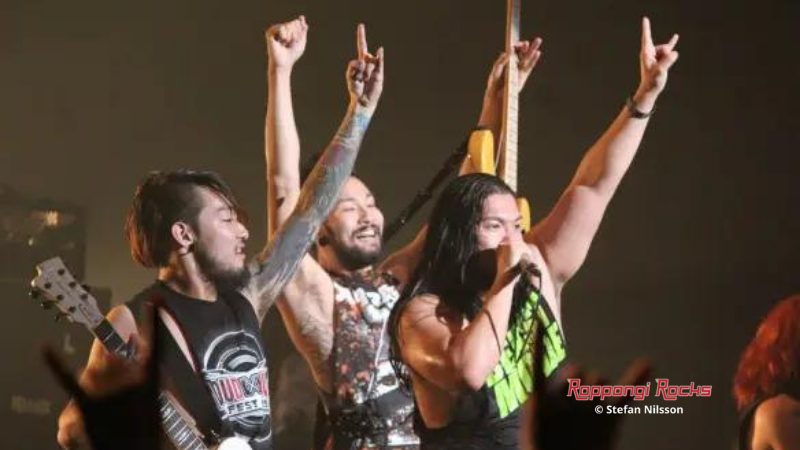 Her Name In Blood
Her Name In Blood is one of the more promising Japanese metal bands. They live somewhere in the land of rather heavy metalcore and melodic death metal. No matter how one chooses to describe them – they're bloody great. Their performance is furious from the first song until the last. They have been playing a lot of gigs and festivals here in Japan and other parts of Asia. Their gig at Loud Out Fest promises a great future for the band. Don't be surprised if they within a few years become the next big metal band from Japan. The potential is there.
Outrage
Nagoya metal veterans Outrage follows on stage. You gotta love 'em. Bassist Yoshihiru Yasui looks as if he's in The Ramones and he's wearing a Dead Kennedys t-shirt on stage. That coupled with the fact that the band took its name from a Motörhead song "Sex & Outrage" (from the album "Iron Fist") give this band a head start in my world. Outrage was formed back in the early 80s and released its debut album in 1988. In 2007, vocalist Naoki Hashimoto returned to the band and not long after the band went to Sweden to record another great album with top producer Fredrik Nordström. Musically they can probably be placed somewhere between thrash metal and NWOBHM. The combination works great. Bassist Yasui lives up to the expectations his Dead Kennedys shirt created: during the gig he crowd surfs on top of a sea of hands in the audience while still playing his bass. Outrage's vocalist Hashimoto is a quality front man. While he is not someone running around and jumping like, say, Bruce Dickinson of Iron Maiden, he is more of a singer with grand poses and a suitable voice who can get the undivided attention of a festival audience. Great stuff!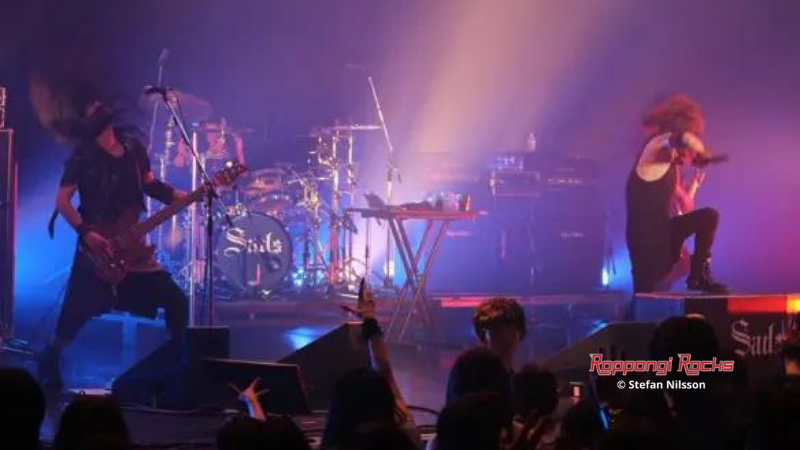 Sads
Sads formed in 1999 out of the ashes of the visual kei band Kuroyume. Followung some years of inactivity, vocalist Kiyoharu Mori put together a new version of the band in 2010. How can one best describe Sads' music? Not that easy. There's obviously a visual kei heritage. There's glam rock but also really heavy riffs and post-punk influences. Quite a mix indeed. Vocalist Kiyoharu hides his face for most of the gig behind his big hair and turned away from the audience as if he were a shy boy performing at school. Sads has built up quite a following of loyal fans and at this festival there are fanatic fans who dig the band as if there was tomorrow. Cleary they have created music that there is an audience for. They're good at what they do, it's just not my kind of rock music.
Loudness
This is the third time since October I see Loudness on stage. Once more they show us why they are one of Japan's biggest heavy metal bands in history: they always deliver. As singer Minoru Niihara told me in an interview I did with him in December, it is guitar hero Akira Takasaki who sets Loudness apart from the other bands. Other Japanese bands do not have a word-class lead guitarist. Loudness plays proper Japanese heavy metal anchored in the solid rhythm section of Masayoshi Yamashita and Masayuki "Ampan" Suzuki with a world-class guitarist in the band and one of the best Japanese rock voices up front. During the 90s, Loudness lost its way a bit musically with too many influences competing to fit into the songs. When the original line-up reformed, they returned to the classic Loudness sound that we love. Since then they have delivered both in the studio (they've released 26 studio albums to date) and live on stage. As this is a festival gig we get a somewhat shorter gig. Loudness kicks it off with a musical punch in the stomach in the form of "Go to be Strong" from the latest album and continues with 80s favourites "In the Mirror" and "Heavy Chains". The title track from the latest album "The Sun Will Rise Again" (one of the band's best songs and albums ever) follows. This song has, despite being released less than a year ago, already become a classic and is a cornerstone in the band's live sets. "So Lonely", "Fire of Spirit" and "Hit the Rails" follow before they play "The End of Earth" and "Stay Wild", both from the reunion album, "Spiritual Canoe" (2001). Loudness finishes another great gig with the classic "Crazy Doctor".
As an encore, all four bands get up on stage, together with The Kanmuri (a comedian/heavy metal artist, previously vocalist with So What?), and do Deep Purple's "Burn" and Black Sabbath's "Paranoid". That is a relaxed, fun, less serious finish to a great night at Studio Coast with some of Japan's leading hard rock bands.