Album review: Venom Inc. "Avé" | Mantas, Abaddon and Demolition Man are back in action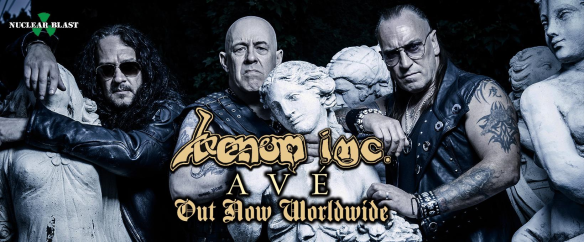 Venom's Mantas, Abaddon and Demolition Man are back as Venom Inc. with fab new material on new album.
When old bands reunite and produce new music, you never really know what to expect. Often the result is not great. So, what is the result when British extreme metal pioneers Venom get its line-up from 1989-92 back together again? A fantastic album of great heavy metal by an explosive trio of veterans who manage to combine their past glories with a modern sound and terrific new material.

In Venom Inc. founding Venom members Jeff "Mantas" Dunn on guitar and Anthony "Abaddon" Bray on drums have again teamed up with vocalist and bassist Tony "Demolition Man" Dolan (who fronted Venom during the 1989-92 period when the albums "Prime Evil", "Temples of Ice" and "The Waste Lands" were released). What a great trio of heaviness. Two years after they reunited in 2015, they have now created a comeback album that beats all expectations.
There are some great, heavy riffs and a dark groove throughout the album. Best of all, there are great songs. The album brings back memories of the classic Venom days back in the 80s and early 90s, but this is much more than that. With "Avé", Venom Inc. shows us that this trio is still relevant. This is very much a contemporary band, here and now, not some has-beens stuck in the past.
The opener, "Avé Satanas", is very strong and announces that this is a band that will claim back its spot in the heavy metal race. There's great energy on tracks such as "Metal We Bleed", "The Evil Dead" and "War". "Dein Fleisch" has a sinister vibe to it, both musically and lyric-wise. "Time to Die" is fantastic. "Preacher Man" is one of the stand-out tracks on the album and it has a bit of a Judas Priest flavour. "I Kneel to No God" is simply epic. Many of the songs are a bit longer than your average metal song and that allows Venom Inc. to really live out their musical ambitions to the full and without compromises. There are no dips on this album. A bloody great album closes with "Black N Roll" and, yes, the title is fitting. It has a touch of Motörhead to it.
This is a fantastic album straight through. Venom Inc. has truly arrived with this album. Die-hard Venom fans may not want to admit it, but Venom Inc. is actually far better than anything that Venom has ever done (OK, maybe I'll make an exception for "Countess Bathory").
Venom Inc.'s album "Avé" is out now via Nuclear Blast.
www.facebook.com/venomIncofficial