Interview: Beth-Ami Heavenstone of Graham Bonnet Band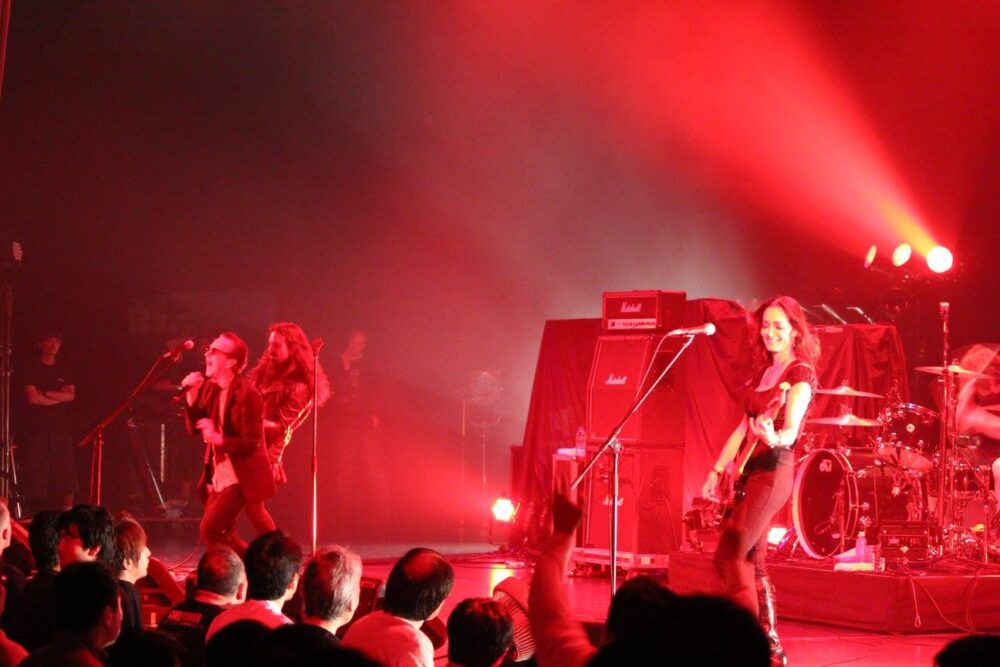 Bassist Beth-Ami Heavenstone made a name for herself on the Los Angeles music scene before she a couple of years ago teamed up with legendary rock singer Graham Bonnet to form Graham Bonnet Band. Roppongi Rocks talked with Beth-Ami about her career and where Graham Bonnet Band is heading.
When Graham Bonnet Band toured Japan in June this year together with Michael Schenker's Temple of Rock, they blew me away. Graham Bonnet, one of the greatest voices in rock with stints in Rainbow, Alcatrazz and Michael Schenker Group, has teamed up with a great bunch of musicians in a band which can both do the old Bonnet favourites justice and create fantastic new music. So far Graham Bonnet Band has given us the digital live-EP "Escape from Alcatrazz: Alive in Japan" and the two-song studio EP "My Kingdom Come" (featuring the magnificent "The Mirror Lies" which the band performed during the Japan tour). Both releases are phenomenal and they have set the expectations for the band's forthcoming full-length studio album sky high.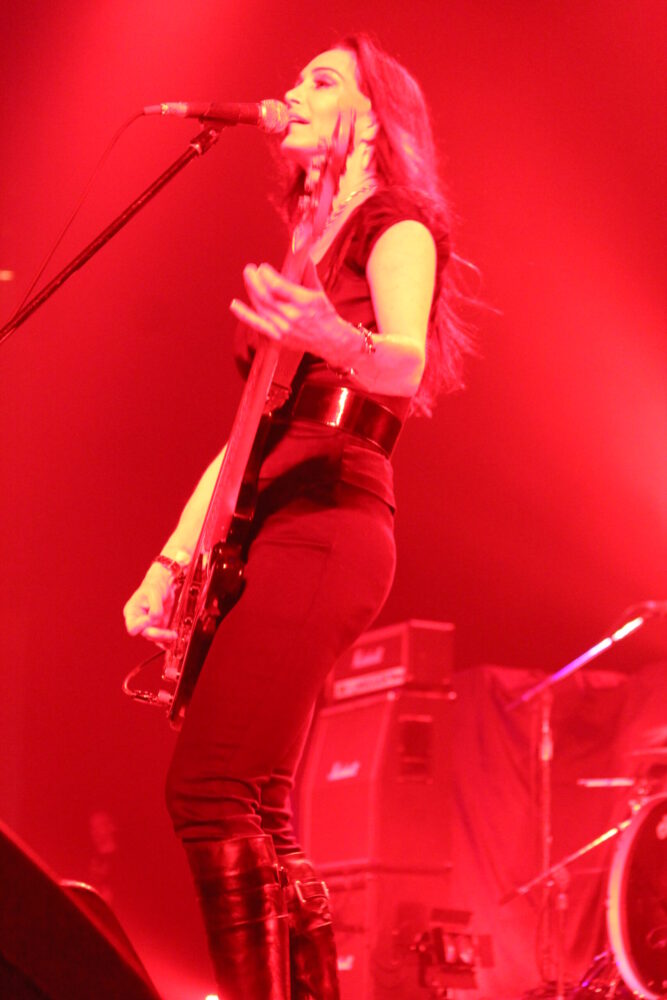 How did you become a bass player? What made you choose music as a career? "I became a bass player quite accidentally. I've always loved music and credit it with 'saving my life' but didn't realise that I could actually play an instrument until an old boyfriend gave me one of his. Ironically, it's a right-handed bass and I am left handed."
You spent many years playing with Hardly Dangerous, a band who had a cult following in LA and moved in the same circles as Guns N' Roses and Motley Crue. Tell us the story. "Without a doubt, the years that I played in Hardly Dangerous were the most carefree, fun and enchanted days of my life. We were the belles of the Sunset Strip and we hobnobbed with all the great bands of that era."
You and guitarist Conrado Pesinato played together in Hardly Dangerous. How did you find each other? "Conrado was introduced to me by my ex-husband. We were slated to play the Sunset Strip Music Festival and our usual guitar player had another gig. We had a choice of three players, including Con, all very talented, all with different styles. The other two have very good pedigrees but there was something about Con's style that was so engaging that we decided to take a gamble and go with him. He had a little over a week to learn the set and he absolutely killed it that night. I told him then 'I'm taking you with me in any band I play in.'"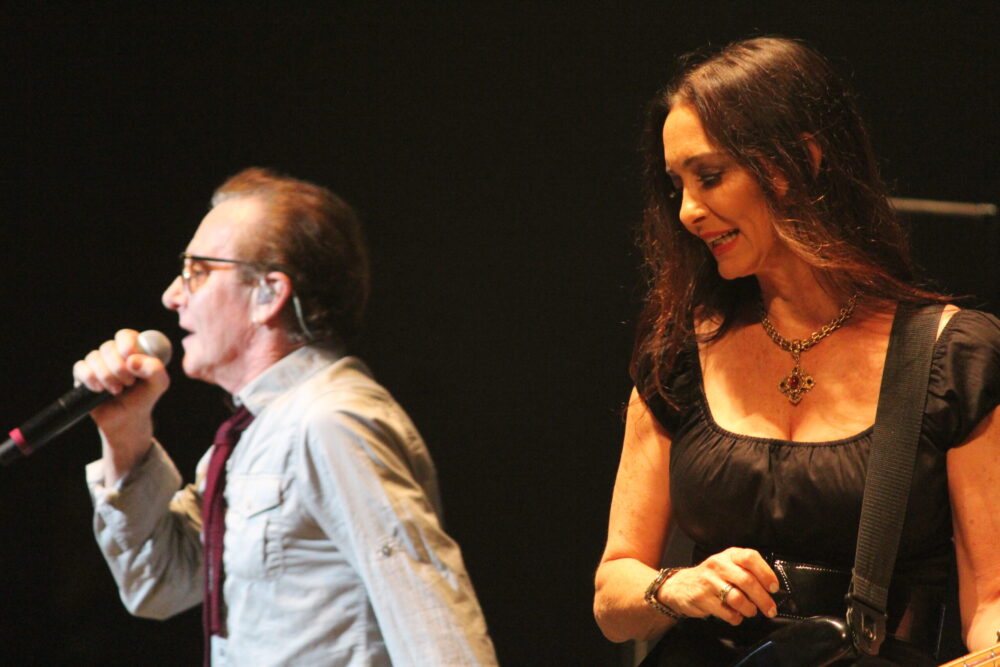 Then the two of you teamed up with Graham Bonnet to form the Graham Bonnet Band. How did that happen? "Graham and I became acquainted at the end of 2012. We would meet for coffee or talk via phone when we could for the first few months after meeting. Hardly Dangerous had a show in June of 2013 and I asked Graham if he wanted to sit in on a couple of songs. That night, when I got off stage, he said to me 'That was so much fun! I want to be in a band with you!' I thought he was kidding and I said 'OK, let's do it' but a week later he called and said 'I quit my band, let's get to work.' I was floored but jumped at the chance. We started working with another guitar player called Mario Parga who is based in Las Vegas. We were initially going to be an acoustic trio (a la Peter, Paul and Mary) but we quickly realised that Graham would never be able to escape his past catalogue and some of the material might not translate acoustically. Mario is also a fine artist and his workload just didn't allow him to commit to the project, so I suggested Conrado. We started to play together in January of 2013 and quickly realised that the three of us had a great musical connection but also, an almost spiritual one. Con and I refer to each other as brother and sister. I feel very blessed to belong to our little family."
Was it an obvious choice to name Graham in the band name? I assume it gives a new band like yours a foot in the door and sells some concert tickets. "Graham is so humble. He did not want to name the band eponymously. He wanted to use all of our names in the name but Conrado and I insisted. Graham is legendary and his name is what is important. I'm perfectly happy to ride his coat tails and remain anonymous."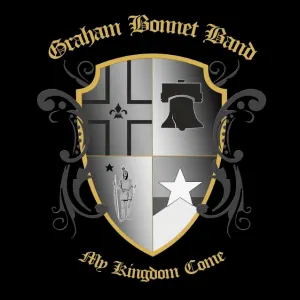 You've already released two great new songs – "My Kingdom Come" and "The Mirror Lies" – and I am sure you've got more great tunes coming along. Obviously many fans want to hear some of Graham's past hits from Rainbow, Alcatrazz and MSG. How do feel about having to play old hits versus new songs? You are clearly no nostalgia act but you still have to play some oldies. How do you view this and is it possible to find a good balance? "I am so happy to play Graham's back catalogue! I absolutely love playing the Rainbow hits. Roger Glover has become one of my all-time favourite bass players. I think he is completely underrated. I particularly love playing Graham's solo stuff with 'Night Games' and 'S.O.S.' being my favourites. I love some Alcatrazz too. We play 'The Witchwood' and it's my fav with 'Will You Be Home Tonight' being a close second. MSG songs are fantastic too and quite challenging for me. Introducing all the new material will be an interesting process but I think that the songs are so good they will stand on their own. When we played 'The Mirror Lies' in Japan, the crowd was singing along despite it only being released on iTunes a few days earlier."
Graham has mainly played in bands where the focus often has been on the solo guitarists (Yngwie Malmsteen, Ritchie Blackmore, Steve Vai, Michael Schenker…). Now he is finally in a proper band where he is not a bit player. Does it get annoying for the rest of you in the band that some people and certain media reports talk about "Graham's solo band" or "Graham's working on a new solo album"? "I have zero ego when it comes to things like that. As I said earlier, we are a family and Graham IS the patriarch. He earned that whether he wants it or not."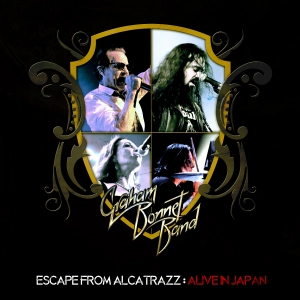 A string of drummers has come and gone in the early stages of Graham Bonnet Band. Recently Mark Zonder (Warlord, Fates Warning) became your new drummer. Is this it now? Do you feel that you have found the right fit? "It's hard to know how it will work until you tour with someone. Mark is an amazing drummer and a super nice guy, very mellow. I think this impending tour will show us that he is the right fit."
You recently signed a record deal. Tell us about the new album that you are working on. How does it sound so far? When will it be released? "Yeah, we signed with Frontiers Records while on the Japanese tour. We are hoping for a release in January of 2016. I absolutely love the new material. The song styles are so varied but they all rock."
How does the band's creative process work? Is it a team effort? Will we see more contributions from outside writers or will it be the band who writes all the songs? "Graham is constantly creating. He literally never stops. It starts with Graham strumming and humming and grows from there. There will be no outside writers on this album but there is the possibility of a song or two from past collaborations making it onto this record."
You are touring in Europe, Australia and New Zealand in the coming months. When will we see you back in Japan? The gigs you did with Michael Schenker in June were great but it would be even greater to see you do some longer sets as a headline act. "We have no immediate plans to return to Japan but are looking forward to the opportunity to do so. Playing with Michael and the guys was an absolute blast but it would be nice to come on our own and play longer and I would especially like to visit more cities."
You seem to be a big Japan fan. Apart from touring here you have visited Japan many times. What is it about Japan that you like? "I am in love with Japan. I've been to Japan on six occasions and I love it more every time I visit. I adore everything about Japan. Japan is art to me. I love the thoughtfulness and care given to every movement. I appreciate that everything you buy in Japan is thoughtfully packaged and presented to you. How could you not like a culture based on respect?"
Graham is much loved in Japan. All his past bands have had success here and he also did a spell with Japanese rockers Anthem. Do you as a band feel the Japanese fans' love for his past rubbing off on Graham Bonnet Band? "Absolutely! We felt so welcome everywhere we went. Japanese people are the best audience and I would play there every day if I could."
You have an ebullient new manager for the band, Giles Lavery. How did he come into the picture? "Graham and I met Giles backstage at a festival in Germany two summers ago. He was so nice and so knowledgeable about Graham's music. We connected on Facebook and kept in touch. When we did our last UK tour, Giles and our friend Andy joined us on the tour. We would meet for breakfast every morning and chat about the previous night's show. Giles was wealth of information about the music industry. He is a vocalist himself and has loads of experience touring and recording. Conrado and I both noticed how sharp he was and that he had great insight. We presented the idea of Giles taking the reigns as manager to Graham whom said 'Fantastic!' The rest is history."
Roppongi Rocks will keep a close eye (and ears!) on Graham Bonnet Band. They have already created musical magic and undoubtedly we will hear more great things from this band. I love this band. Catch them live if you can and buy the album when it gets released.
Graham Bonnet Band
Graham Bonnet – vocals
Beth-Ami Heavenstone – bass
Conrado Pesinato – guitar
Mark Zonder – drums
www.grahambonnetband.com / www.facebook.com/grahambonnetmusic