Gig review: Skull Fist and Ultra-Violence destroy Tokyo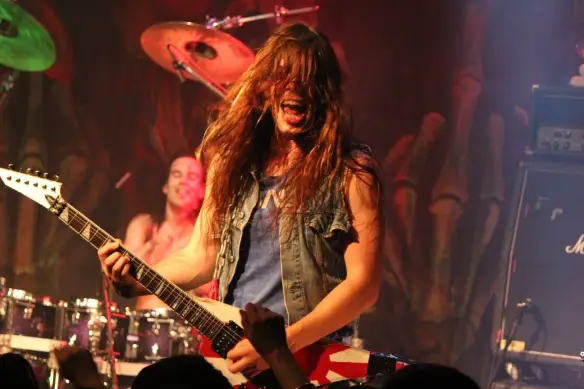 Spiritual Beast put on a great night of heavy metal in Tokyo with Canadian traditional heavy metal act Skull Fist and Italian thrashers Ultra-Violence.
Spiritual Beast has a proud tradition of introducing great foreign bands, especially from Europe and Canada, to the Japanese market. They continuously release records and put on concerts with foreign bands in Japan. On Sunday 17th July, they continued that tradition by bringing us Italian thrashers Ultra-Violence and Canadian metal heads Skull Fist.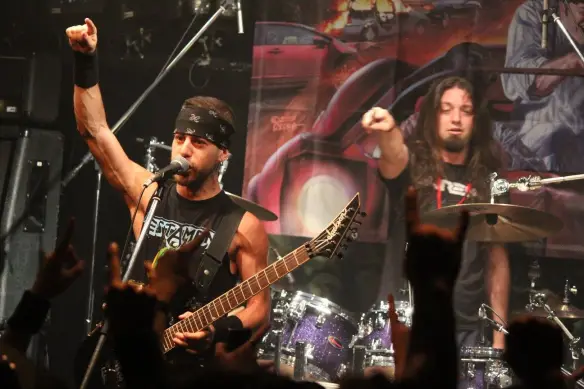 Ultra-Violence is a thrash metal band from Turin, Italy formed in 2009. They have two studio albums under their belt and play refreshingly modern thrash metal. Their band name has been taken from Anthony Burgess' 1962 dystopian novel "A Clockwork Orange". Their stage backdrop pays tribute to Stanley Kubrick's 1971 film adaption and the set opens with a soundbite from the film.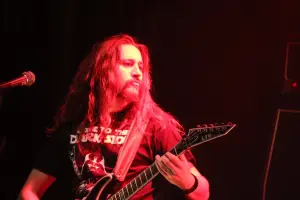 Despite being a relatively new band, Ultra-Violence is a tight quartet. On drums they temporarily have Francesco "Frullo" La Rosa from Italian thrash metal veterans Extrema filling in and he does a tremendous job of keeping this band anchored. The band's clearly in a good mood and they deliver a flawless set (opening with the fabulous "Burning through the Scars") without any dips or weaknesses. They have great songs, steeped in the tradition of old-school thrash metal but with a modern touch to them. This evening they perform for a packed club filled with Japanese metal heads who are up for headbanging, moshing, horns in the air and crowdsurfing. We even get a wall of death during the final song of the set ("Restless Parasite"). This is good fun, music that makes me happy.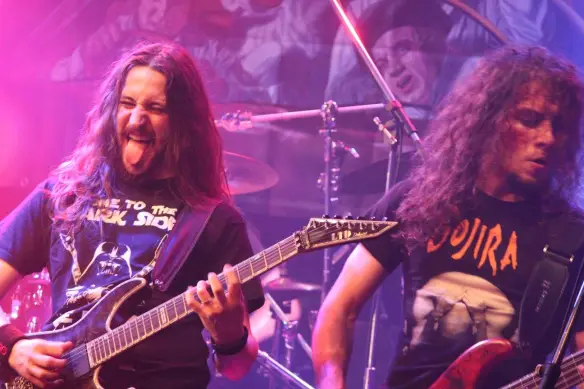 The evening's main act, Skull Fist is a great traditional heavy metal band from Toronto, Canada. Formed in 2006, they have since released two great heavy metal albums. They first toured in Japan in 2012 and now made a triumphant return.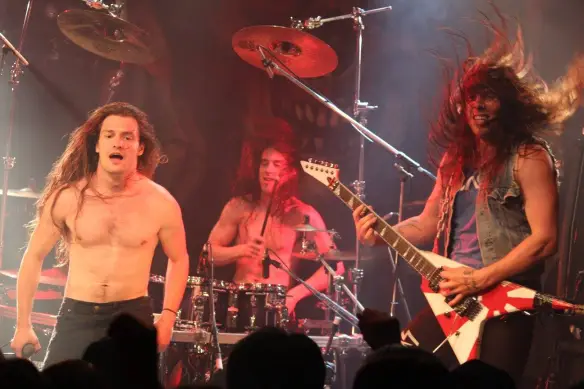 Band leader Zach Slaughter, who broke his neck in a skateboarding accident three years ago, has had some serious issues with his voice over the past year and is due for another operation. These issues have caused the band's third album to be delayed but it has not stopped the band's Asian tour. Rather than cancel the tour, Slaughter decided to focus on his guitar for now and hired Brian Stephenson as a stand-in vocalist.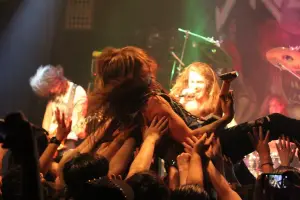 We already knew that Skull Fist was one hell of an energetic live act. The addition of Stephenson may have been out of necessity, but bloody hell, what a move! He adds a dimension to this jolly gang of metal heads. Stephenson, former bass player with Annihilator, is the brother of former Skull Fist drummer Chris Steve and thus he knows both the band and the music well.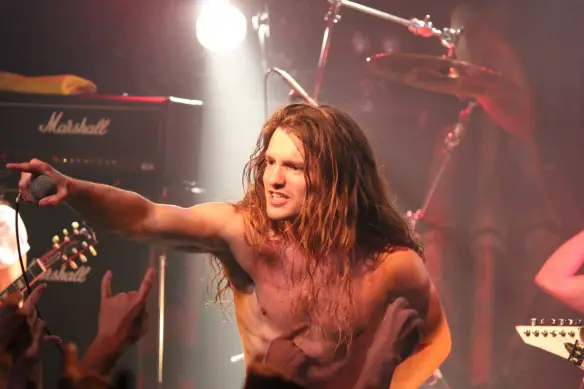 Stephenson looks like a young Sebastian Bach. He dominates the stage like Bruce Dickinson. He manages to sound like Ian Gillan, Bon Scott and himself in the same song. He's a class act – he's got the moves and the vocal talent and he is so clearly enjoying himself up on stage. This is what any band should want from their vocalist. Based on what we experience this evening in Tokyo, I'd say the band should have a serious think about making this touring line-up a permanent thing.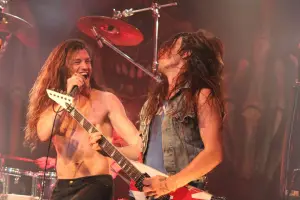 Skull Fist opens the set with "Ride the Beast" and continues to give us all the best bits from their two albums, obviously including the cult anthem "Get Fisted". Musically, Skull Fist lives in the same world as Enforcer and other defenders of traditional heavy metal. This is a world firmly based on 1980s heavy metal but with a modern touch. Skull Fist is not copying old heroes, rather the boys are celebrating all the good metal stuff that came out of the 80s.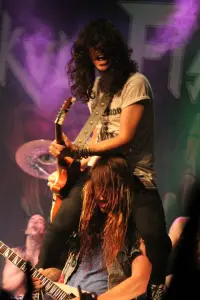 Skull Fist's killer set is followed by a two-song encore ("No False Metal" and "Like a Fox") featuring Zach Slaughter crowdsurfing on his back while still playing his guitar. The audience still wants more and they get it. The band comes back for a second encore and finishes off a great evening with "Ride On".
www.skullfist.org / www.facebook.com/skullfisted