Album review: Imperial State Electric "All Through the Night"
Imperial State Electric released their latest full-length studio album only a year ago and now they're back with another great album. No rest for Nicke Andersson, one of the hardest working men in rock.
Imperial State Electric always deliver – on record and in concert. They are unstoppable. They are very creative and productive and they don't do crap. They never disappoint, not even when they stray into new musical neighbourhoods. This is a curious band not afraid of creating good music in different styles and genres.
With their new album, "All Through the Night" (the follow-up to last year's "Honk Machine"), they give us another top-class record. Nicke Andersson – one of the hardest working people in the music business – simply won't slow down. Lucky us he's also very gifted.
"All Through the Night" is musically far away from Andersson's death metal roots with Entombed, but it is equally brilliant. This is fantastic good-natured rock music. A rollercoaster journey through the fun side of the rock music world. Great melodies delivered in all shapes and forms. On this album we get hard rock, post-punk, country rock, blues, altrock and much more. I don't think there is any kind of music Nicke Andersson and his band can't and won't do. From hard rock via sixties pop to country rock. What's there not to like? The album has got a bit of a retro feeling to it while still sounding modern.
"Break It Down", a country rock duet with Linn Segolson, sounds as if Tom Petty has walked into the Honk Palace studio. "Over and Over Again" is a great and catchy rocker of a tune and my favourite track on the album. "Bad Timing" is another great rock track. In "Get Off the Boo Hoo Train" we get 1950s rockabilly. The album closes with "No Sleeping", a rather Beatles-influenced song. Many of the songs on the album are beautifully short and simple rock tunes, just the way we have come to expect and prefer our Imperial State Electric served. This is a diverse collection of great music. Sometimes this is so good it hurts. Sometimes it makes me want to dance. But most of the time it just makes me smile.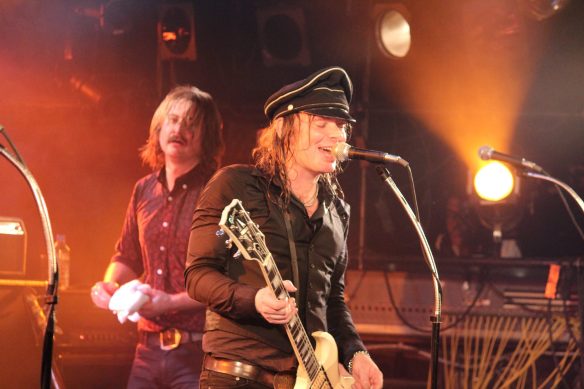 The potential problem now is that the expectations on this band are always sky high. The challenge for the band is to keep delivering at these levels. So far so good.
The album was recorded in Nicke Andersson's studio The Honk Palace and was mixed by Frans Hägglund (Niclas Frisk, Last Days of April, The Hives).
Imperial State Electric's "All Through the Night" will be released on 23rd September on Psychout Records/Sound Pollution Distribution.
Read Roppongi Rocks' Imperial State Electric interview here.
Read Roppongi Rocks' Imperial State Electric Tokyo gig review here.
Imperial State Electric – band members
Nicke Andersson – vocals, guitar
Dolf de Borst – backing vocals, bass
Tobias Egge – backing vocals, guitar
Thomas Eriksson – drums, percussion
www.imperialstateelectric.se / www.facebook.com/imperialstateelectric