Album review: Voivod "Synchro Anarchy"
Voivod, the Canadian stewards of terrific original music, hits us on the head with their 15th studio album.
Voivod is not like other bands. They have always taken their own path, ignoring all the rules, not even sticking to their own path. They just keep walking. The result is unique and bloody awesome music shooting off in all kinds of directions. One never knows what to expect from a new Voivod album. It will no doubt be awesome but who knows on what kind of journey the music will take us? The new album, "Synchro Anarchy", is no exception. It is a finely crafted album of exquisite music. Voivod was born in Quebec, Canada in 1982 and debuted with 1984's album "War and Pain". Although the band had a foundation in speed and thrash metal, they quickly started their journey of experimentation. They never quite were a normal heavy metal band. On the new album, we get a wacky and wonderful stew of prog, thrash, tech, space, haze, avant-garde, out-there, maverick, metal, rock, whatever. It's complex in a tech death/improv jazz kind of way and yet it sounds so spontaneous. Voivod is Voivod and we love 'em! Trends don't matter to this bunch.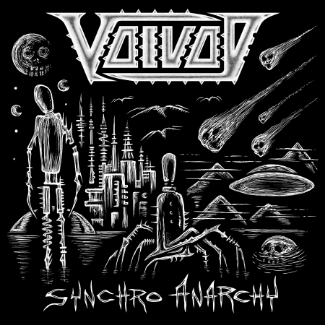 They experiment with their sound, but they always do so without paying any attention to what is "in" or what is expected of them. "Synchro Anarchy" is the band's 15th full-length studio album and it is one of its best. A lazy person might describe this as "Frank Zappa of metal". It can best be described as an eruption of emotions. At Voivod's most recent Tokyo gig in 2019, I stood next to Barney Greenway of Napalm Death. I took Barney's presence in the audience as a sign. Just like Napalm Death relentlessly bulldozes its way across the world, Voivod, too, doesn't do compromises. The two bands have quite different sounds, but they are built on the same idea and view of their purpose in this world. Original Voivod members Denis "Snake" Bélanger (vocals) and Michel "Away" Langevin (drums) still lead this band from the front and back. Dominic "Rocky" Laroche on bass has, after some eight years in the band, firmly established himself and is now one of my favourite bassists in rock. Guitarist Daniel "Chewy" Mongrain has managed to replace the irreplaceable original guitarist Denis "Piggy" D'Amour who passed away in 2005. Well, obviously, Piggy can't be replaced, but Chewy has managed to step in and fill that space and is now a vital part of Voivod's sound. The current line-up of the band is tighter than tight and their love for creating music shines through, although the music and the lyrical themes are often dark in nature. The new album serves up nine smashing tracks that are all terrific. Personal favourites include "Holographic Thinking" (love Snake's vocals on this splendid track), "Paranormalium" (excellent guitar work and a rhythm section on fire!) and "Planet Eaters" (wonderfully wacky).
Voivod's new album "Synchro Anarchy" will be out on 11th February via Century Media Records.