Album review: Shoun Shoun "Monsters & Heroes"
Wacky, artsy and fuzzy garage rock from Bristol, England. Shoun Shoun's debut album is fractured awesomeness.
Experimental rock quartet Shoun Shoun from Bristol, England is perhaps best described as artsy garage rock. Shoun Shoun's music is intimate as well as wacky, weird and wonderful. It's garage-y and fuzzy. A bit like a British answer to a cross between Japan's Shonen Knife and Iceland's The Sugarcubes but with a shitload of garage rock and post-punk painted all over its rear end. The band's new album has been created during the global pandemic, but it's not a Corona shit sandwich. It's more of a dodgy, but highly desirable, kebab in a fine-dining establishment.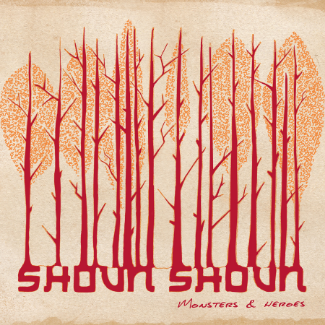 Many artists hate being compared to other artists (fair enough), but if one must compare Shoun Shoun to other acts (yeah, we have to as it makes it easier to describe what we're hearing), perhaps a combination of Killing Joke, Garbage, Velvet Underground, The Nomads and Joy Division does the trick. If there ever were a link between Sonic Youth and Japanese-American duo Cibo Matto, Shoun Shoun is it. Or maybe it's all in my head… Well, Shoun Shoun is a great band, that's what matters. They are the kind of band that doesn't care which way you are supposed to butter your bread. They create and perform terrific music. I dig it. It is well proper. This excellent full-length debut album follows 2019's EP "A Hundred Trips". The band consists of a fine bunch of musicians from the Bristol scene: Annette Berlin on vocals and guitar, Boris Ming on violin, synth and backing vocals, Giuseppe La Rezza on drums and Ole Rudd on bass. The wonderful song "Did I Play Games" is my top pick on the album with "Schwing Mit Mir" a close second. "Much Sweeter" is also an immediate favourite of mine. If you're up for some out-there alternative rock, this is worth a listen. Let Shoun Shoun invade your head via your eardrums with their take on garage rock with a bit of psychedelia, haze rock and post-punk in a wacky musical cocktail. It is fractured awesomeness.
Shoun Shoun's debut album "Monsters & Heroes" will be released on 28th January.
https://shounshoun.bandcamp.com