Album review: Kampfar "Ofidians Manifest"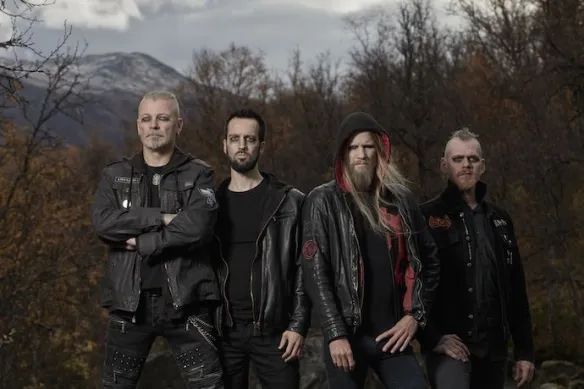 Kampfar, one of the best extreme metal bands to ever come out of Scandinavia, is back with an epic new album.
The Norwegians in Kampfar always have a terrific atmospheric feeling to their majestically dark and epic songs. There is a foundation here built on black metal with some very Nordic touches to it. There are so many details to be uncovered in their songs that it never gets boring listening to them. Their deep Norwegian roots are not only present in the Norwegian lyrics. They also shine through in their music. Kampfar lives in a cold, windswept Norwegian underworld. But this is achieved with authenticity and not some added layer of faux Nordic folk/Viking theme that we sometimes see from other bands who think it's a good idea to add some Nordic touches to their image.
Kampfar was founded in Fredrikstad, Norway in 1994. "Ofidians Manifest" is the band's eighth full-length studio album. A typical Kampfar song combines heaviness, speed and brutality but there is always beauty in there as well. They don't shy away from using tempo changes, including calm piano and acoustic guitar parts to make their songs even more dramatic due to the sharp contrasts within the songs. There's also effective use of choral parts on some of the songs. "Ofidians Manifest" is like a beautiful and melancholic soundtrack to the end of the world. The characteristic voice of frontman Dolk is part of what makes Kampfar's music instantly recognisable. His cold, coarse and powerful voice has Nordic written all over it. It is such a great fit for the music.
"Ofidians Manifest" features seven smashing tracks where the closing track "Det Sorte" is one of my immediate favourites with its epic combination of brutality and beautiful melodies. "Eremitt" is another splendid track on this album which does not have a weak moment on it. But perhaps "Skamløs!" – a proper bulldozer song – is the winner here. Incredible is the one word that nicely sums up the epic new Kampfar album. 
Kampfar's album "Ofidians Manifest" is out now via Indie Recordings.