Album review: Lawnmower Deth "Blunt Cutters"
British band Lawnmower Deth combines good fun with great music. Like a fabulous but dodgy heavy metal kebab.
Formed in Nottingham, England in 1987, Lawnmower Deth plays what their record label calls "oddball and irreverently bizarre thrash". They are not wrong. When they earlier this year played at the Bloodstock festival, one reviewer described their set as "a perfect 90 minutes of utter stupidity". Well, I wouldn't call this band's music "stupid". Crazy? Yes, absolutely. Silly? Most definitely. Bonkers? Oh, yeah. But not stupid. It takes intelligence to produce this kind of music that successfully marries great thrash metal and punk with tongue-in-cheek comedy. Lawnmower Deth's music is a weird and wonderful mix of thrash metal, hardcore punk and plain weirdness. At times it sounds like a cross of cult punksters The Toy Dolls and grindcore masters Napalm Death. It's a bit like a stinky crossbreed of Suicidal Tendencies and Monty Python. Like a casual Overkill rehearsal in the early 1980s but with the wrong members and a fucked-up setlist. Like a half-eaten kebab… Well, you get the picture.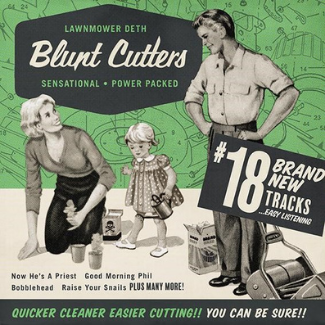 But the really weird thing is that the end result is very good. Great band, fab songs and an overall package that works a treat for those of us who want to be entertained. I love songs such as the 45-second long "Good Morning, Phil" and "Bobblehead" (which would probably work well as a soundtrack in a gym, not that I know anything about music in gyms). The 18-track album also features terrific tracks such as "Bastard Squad", "Now He's a Priest", "I Don't Want To" and "Into the Pit". Weird and wonderful basement metal and garden shed punk. It is great entertainment. I love these thrash/punk crossover idiots. They are magnificent bastards!
Lawnmower Deth's new album "Blunt Cutters" will be released on 28th January via Dissonance Productions/Cherry Red Records.