Album review: Snowy Shaw "Monster Hits! The Beast of Notre Dame"
A terrific best-of compilation of the weird and wonderful world of Snowy Shaw and Notre Dame.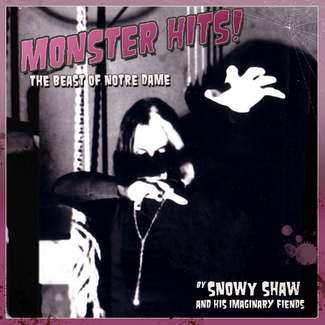 Swedish rock star Snowy Shaw is a true original. Since making a name for himself as a drummer for King Diamond and Mercyful Fate, he has become a multi-instrumentalist and vocalist. The many bands and projects he has been recording and touring with include Therion, Sabaton, Dimmu Borgir, Dream Evil, Memento Mori and Notre Dame. "Monster Hits!" is a best-of compilation of Notre Dame recordings. Notre Dame was active from 1997 until 2004 and led by Snowy and Vampirella. On this compilation, we get the band's underground classics in remixed, remastered versions as well as previously unreleased tracks. Much of Notre Dame's fine music sounds like an unholy and eclectic mix of King Diamond, Dimmu Borgir, Therion, The Misfits and The Cramps. We get black metal, avant-garde, burlesque vaudeville, shock rock, goth rock, symphonic metal and more – all baked into one giant Snowy Shaw muffin. It is sinister, morbid, haunting, often also cheeky and very good. It is music that draws its listeners in and it won't let go. Snowy's vast musical past is shining through in Notre Dame's warped music. My favourite tracks include "The Bells of Notre Dame", "A Sleighride Through Transylvanian Winterland", "Dusk", "Vlad the Impaler" and, perhaps the album's absolute highlight, the terrific "Ulv". At times, this album is wonderfully weird. "Bouffon Bloody Bouffon" is excellent vaudeville theatre while the track "Le Nostradamus de Notre-Epoque" sounds like a back-alley hook-up between the Sisters of Mercy and the Pet Shop Boys. Anything is possible in the wacky world of Snowy Shaw. He's a fabulous musician, songwriter and entertainer. The album features a terrific live version of Accept classic "Son of a Bitch". We get a couple of fine guest appearances: guitarist Mike Wead (King Diamond, Mercyful Fate, Hexenhaus, Memento Mori, Abstrakt Algebra) appears on "The Ride – My Ride into Afterlife" and bassist Sharlee D'Angelo (King Diamond, Mercyful Fate, Arch Enemy, Black Earth, The Night Flight Orchestra, Spiritual Beggars, Witchery, Dismember) plays on "The Red Cross (Give Blood – Save Lives!)". Notre Dame may be long gone as a band, but Snowy Shaw is still here. Long live Snowy Shaw! He is here to entertain us!
Snowy Shaw's "Monster Hits! The Beast of Notre Dame" is out now.
www.facebook.com/snowyshawofficial