Album review: Faster Pussycat "Babylon: The Elektra Years 1987-1992"
A fabulous 44-song compilation of music from the heyday of American glam rockers Faster Pussycat.
American rock band Faster Pussycat was part of the MTV-driven 1980s sleaze/glam/hair metal scene in Hollywood, Los Angeles. The scene also featured bands such as Guns N' Roses, Ratt and L.A. Guns. It was a point in time when tough-looking denim-and-leather metalheads got competition from glam rockers with blouses, bandanas, hats and colourful scarves. It was a terribly confusing time. I was one of the many metalheads and rockers that at the time tried hard to fit in with both the NWOBHM look and the glam rock style. It didn't work too well. But that didn't really matter as soon enough grunge arrived and killed it all off with their ugly flannel shirts. "Babylon" is a 4-CD box containing Faster Pussycat's first three albums: "Faster Pussycat" (1987), "Wake Me When It's Over" (1989) and "Whipped!" (1992).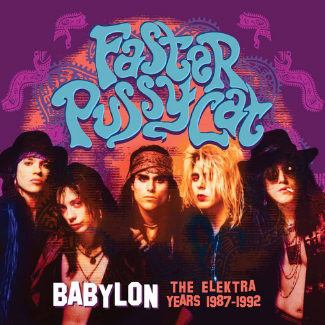 This fab box also features the "Live and Rare" EP from 1990 as well as several bonus tracks. In total, we get no fewer than 44 tracks from the band's classic period. We get to hear the hits – "Bathroom Wall", "Don't Change That Song", "House of Pain", "Poison Ivy" and "Nonstop to Nowhere" – but we are also reminded of forgotten gems, such as "Smash Alley", "Bottle in Front of Me", "Arizona Indian Doll" and "Madam Ruby's Love Boutique". Faster Pussycat disbanded in 1993, when the flannel shirt-wearing grunge bands were all the rage, but reformed in 2001. Lead vocalist Taime Downe is currently the only remaining member of the band's classic line-up. The "Babylon" 4-CD box is a great revisit to the heyday of this great glam band. We are reminded that behind all that hairspray, makeup and colourful clothing there was great music.
Faster Pussycat's "Babylon: The Elektra Years 1987-1992" box will be released on 28th January via Cherry Red Records.
www.facebook.com/fasterpbandofficial