Album review: Tony Martin "Thorns" ︱ Ex-Black Sabbath man still got it
Former Black Sabbath vocalist Tony Martin shows us he's still got it on his new solo album.
When the then-unknown British singer Tony Martin was hired as Black Sabbath's new lead vocalist in 1987, he took on a job previously filled by rock music royalty – Ozzy Osbourne, Ronnie James Dio, Ian Gillan and Glenn Hughes. Such a move requires balls. But Tony pulled it off. He has a terrific voice. Tony made the role his own and did not try to copy his predecessors. On his forthcoming solo album "Thorns", Tony shows us that he still has that voice. Musically he hasn't moved far from the music he helped to create while in Sabbath. It is heavy rock with great melodies and splendid guitars. We knew he had the voice, now we know he still has the voice and that he can write killer songs also without Tony Iommi. The music is cleverly built to support and enhance the splendid vocal performance by Tony. The resulting package is magnificent.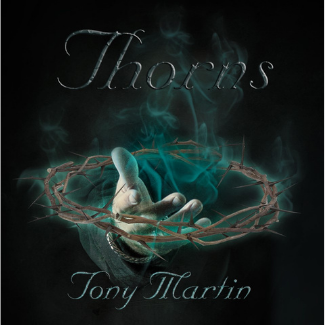 Tony, who plays a few instruments himself on the album, is backed by a fab bunch of musicians: English drummer Danny Needham (perhaps best known from the current line-up of Venom), Swedish bassist Magnus Rosén (formerly of HammerFall and who has also played in Joe Lynn Turner's live band), American bassist Greg Smith (ex-Alice Cooper, Rainbow, Blue Öyster Cult, Wendy O. Williams) and American guitarist and songwriter Scott McClellan. Tracks like "Nowhere to Fly" and "Black Widow Angel" could have easily been tracks from Sabbath's "Headless Cross" or "Tyr". If you, like me, loved Sabbath's Tony Martin era, you will no doubt like "Thorns". The album consists of 11 tracks of great hard rock. Some of the tracks that I immediately take a liking to include "Book of Shadows" (with Tony's vocals enveloped by exquisite choirs and great instrumentation) and "Run Like the Devil". I also dig "This is Your Damnation", an acoustic guitar-based song with a modern touch that is quite far removed from the Sabbath sound but equally good. The title track kicks off like a ballad with acoustic guitars and then goes electric and heavy. Great stuff. I love that this album gives us both Sabbath-Tony and some other musical sides to this great British vocalist.
Tony Martin's album "Thorns" will be released on 14th January via Battlegod Productions and Dark Star Records.