Album review: Lucifer "Lucifer II"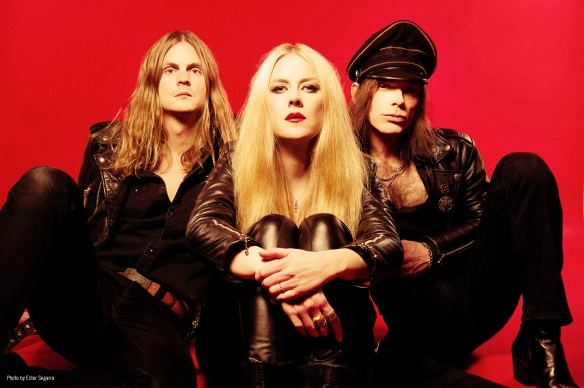 Lucifer gives us heavy riffs and great melodies on its terrific new album.
Lucifer is back with its second studio album and it is one of this year's best rock albums. Formed in Berlin, Germany in 2014, by vocalist Johanna Sadonis (ex-The Oath) and former Cathedral guitarist Gaz Jennings, Lucifer released its debut album in 2015. Jennings left after the first album and Sadonis reformed the band together with Nicke Andersson who somehow manages to help make Lucifer even greater when he's not occupied with The Hellacopters, Imperial State Electric, Entombed and all his other commitments. It's proved to be a fantastic match made in hell. Two creative minds who together have crafted an album that rocks more than one could ever have hoped for. If psych rock can be catchy, this is it. Just listen to the track "Dancing with Mr D"!
Lucifer, one of the most interesting bands right now, manages to combine great songs and fantastic melodies with guitars straight from the 1970s and some fab progressive rock influences. And there's a thick layer of groovy doom with exquisite psych rock touches. It's fantastic music. It combines the heaviness of 70s metal with terrific melodies from the 60s hippie pop groups. In short: it's music to get laid to.
As always when Nicke Andersson is involved, it's hard to get it wrong. Frontwoman Sadonis is terrific. Her voice was created to sing in this band. A perfect fit. On the album, Nicke performs bass, drums and half of the guitar parts, with the rest being performed by Robin Tidebrink. The band has a laidback attitude. They make it seem so effortless, although no doubt there is a lot of hard work involved in creating such a fine rock album. This band has it all: the songs, the musicianship, the chemistry, the attitude, the style, the image. And it all adds up to much more than the sum of its parts.
The album kicks off in style with "California Son" and goes on into the land of terrific music with the splendid "Dreamer" and straight into "Phoenix". This is how you open an album, kids. "Before the Sun" is one of the album's best songs, although there is no sign of any weakness at any stage on this nine-track album. The album closes with the massive track "Faux Pharaoh". Great rock'n'roll. A new soundtrack to your life right here, right now.
"Lucifer II" will be released on 6th July via Century Media Records.