Album review: Blackthorne "Don't Kill the Thrill"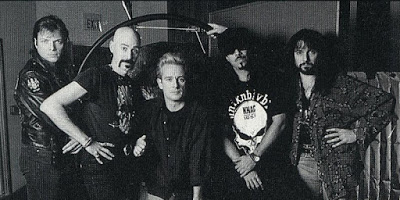 The much-talked about but never released second Blackthorne album – featuring Graham Bonnet, Bob Kulick and Jimmy Waldo – from 1994 has finally been released. It's smoking hard rock of the best kind!
Blackthorne was an early 90s melodic hard rock band featuring Graham Bonnet (Rainbow, Alcatrazz, MSG) on vocals, Bob Kulick (Meat Loaf, KISS, Michael Bolton, Balance, Skull, W.A.S.P.) on guitar, Jimmy Waldo (New England, Alcatrazz, Quiet Riot, Graham Bonnet Band) on keyboards, Frankie Banali (Quiet Riot, Hughes/Thrall, W.A.S.P.) and Chuck Wright (Giuffria, Quiet Riot, House of Lords, Doro) on bass.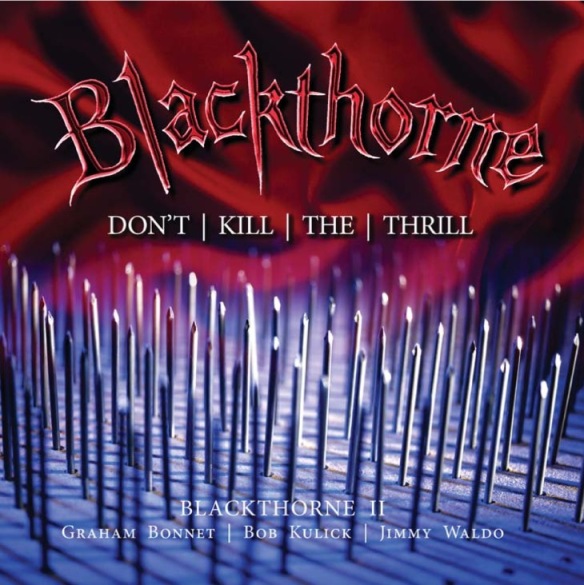 They released their great debut album, "Afterlife" in 1993 but then not much happened. The band never did any major tour, but Kulick and Bonnet did some acoustic performances as a duo, including a Japan visit, to promote the album.
Bonnet, Kulick and Waldo then made recordings for a second album which hasn't been released until now. What a pity as this is a killer album. Essentially these are demo recordings that have been remastered and now brought to the world. "Don't Kill the Thrill" features eleven great melodic hard rock tracks. It sounds great with a slightly raw production which adds some edginess to these great songs. What makes this stand out from other melodic hard rock albums, is Bonnet's characteristic voice and Kulick's fine guitar work. Kulick is one of the most underrated hard rock guitarists in the business. Unlike his brother Bruce Kulick – who did a guest appearance on the first Blackthorne album and was lead guitarist for KISS for 12 years – Bob Kulick most of the time has kept out of the limelight. Prior to recommending his brother for the lead guitar position in KISS, Bob Kulick collaborated with KISS on the albums "Alive II", "Unmasked", "Killers" and "Creatures of the Night". On this Blackthorne album, Kulick is on fire and his guitar is smoking.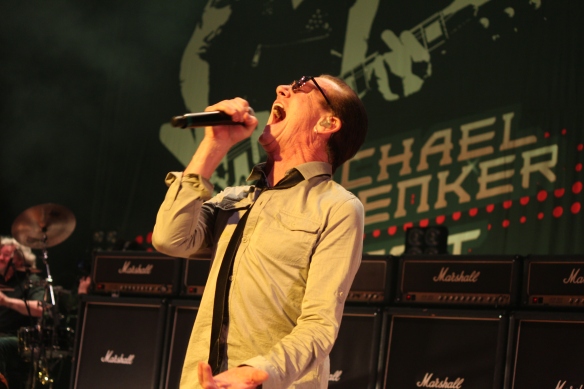 Blackthorne could have made it big – they had all the ingredients: pedigree, existing fans from previous bands, great musicians, great songs and so on. Timing might have been the issue. They should have released their two albums in the 80s. By the early 90s, people had moved on and were busy listening to grunge.
When I recently interviewed Graham Bonnet, he said of the release of the second Blackthorne album: "I don't even remember recording it! Because we recorded every day when we had the band together, every day was basically a party with lots of beer drinking. We were very productive, believe or not. We did a lot of songs and apparently they're not too bad! I am looking forward to hear it myself!"
"Judgement Day" is fabulous, not least because of Kulick's monster performance on the guitar. "Insanity" and "Sanctuary" are also owned by Kulick's guitar. "Wild Inside" is one of my favourites on the album. It sounds as if could have been a great KISS song. Another favourite is "Skeletons in the Closet". "Man in the Black Hat" is a terrific rocker of a song and so is ""Twist the Blade".
Blackthorne's "Don't Kill the Thrill" is out now on Cherry Red Records. It's a piece of rock history and you need to buy it as part of your education. Blackthorne reunion, anyone? This material deserves to be played live.
www.facebook.com/bobkulickmusic / www.facebook.com/grahambonnetmusic