Album review: HammerFall "Hammer of Dawn"
Sweden's HammerFall still leads the European power metal scene from the front.
European-style power metal was arguably invented by the Germans in the 1980s. A decade later, a second wave of European power metal bands – now armed with even more fast and catchy metal music – emerged. Sweden's HammerFall was at the forefront of that wave and a quarter of a century later, they are still one of the leaders of the scene.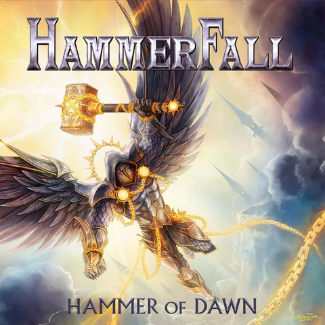 Formed in Gothenburg in 1993 by Oscar Dronjak, HammerFall was initially a side project for members from bands such as In Flames and Dark Tranquillity. Once Joacim Cans took over as lead singer in 1996, things started to happen. The band's debut album "Glory to the Brave" was released in 1997. "Hammer of Dawn" is the band's twelfth studio album. It is more of the same. They are not reinventing themselves here. The band established its signature sound many years ago and they continue to walk along the path of power metal glory. HammerFall's music is bursting with energy. It's melodic, catchy, uplifting, heavy, fast and dramatic. The new album shows us why this band is considered one of the best bands of the genre. The title track is the album's peak for me. It is a terrific new anthem for the world's power metal army. The album's opening track "Brotherhood" is among the album's best tracks and so are "Live Free or Die" and "State of the W.I.L.D." None other than King Diamond himself makes a guest appearance on the track "Venerate Me". Personally, I am less of a fan of slower songs such as the power ballad "Not Today". I prefer my power metal fast. Lucky me, "fast and catchy" is how most tracks on the album can be described. HammerFall keeps delivering. The band's current line-up consists of Joacim Cans on vocals, Oscar Dronjak and Pontus Norgren on guitars, Fredrik Larsson on bass and David Wallin on drums. It's a very good version of the band. They are tight and they always seem to deliver. Joacim Cans was born to sing this kind of music and I feel that the band has taken its guitars up a level on this album. The end result is great power metal.
HammerFall's new album "Hammer of Dawn" will be released on 25th February via Napalm Records.