Album review: Robin McAuley "Alive"
Former MSG vocalist gets to shine on his new solo album.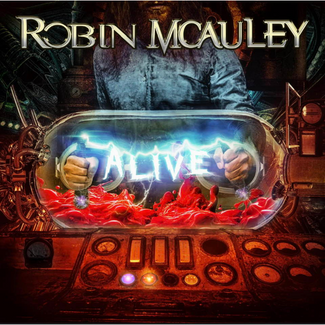 Best known for his time fronting the McAuley Schenker Group, Irishman Robin McAuley has also been the lead singer for Grand Prix, Far Corporation and Survivor. He has released two albums with the band Black Swan and has been part of the cast of the Las Vegas show Raiding the Rock Vault. I have seen him perform here in Japan a bunch of times in recent years with Michael Schenker. There is a reason he keeps getting called back to perform with Schenker. Because Robin is a safe pair of hands. No scandals, no messing about. He has a powerful voice and he always delivers. He's reliable, which is a quality not to be underestimated in show business. "Alive" is Robin's new solo album on which he's backed up by Frontiers Music's de facto house band – the Italian musicians Andrea Seveso (guitar), Alessandro Del Vecchio (bass, keyboards) and Nicholas Papapicco (drums). Robin has just turned 70 and he's still delivering at the top of his game. So, what do we get when Robin gets to stand in the spotlight? Melodic hard rock with great melodies and Robin's powerful voice. This is Robin's turn to shine and show us that he can thoroughly entertain us as a solo artist too. "Dead as a Bone" is an immediate favourite on the album. What we get here is melodic hard rock built around Robin's voice rather than Robin's voice being added to support the music. "Bless Me Father", "Feel Like Hell", "The Endless Mile", "My Only Son" and "Fading Away" are other contemporary hard rock songs with hints of the glory of the 1980s. Robin pays tribe to the era he emerged in but he has brought that music into our time without being backwards looking. "Can't Go On" is a power ballad that sends us right back to the big-hair-80s. The Japanese release comes with a bonus track in the form of a great acoustic version of "Can't Go On". This 70-year-old vocalist is certainly alive and he is here to entertain us!
Robin McAuley's new album "Alive" will be released on 17th February via Frontiers Music internationally and Marquee/Avalon in Japan.
www.facebook.com/robinmcauleyrock
https://twitter.com/robin_mcauley