Album review: Wachenfeldt "Faustian Reawakening"
Blackened death metal band Wachenfeldt from Hellsingland, Sweden knocks its listeners out with a brilliantly dark album with deep local roots.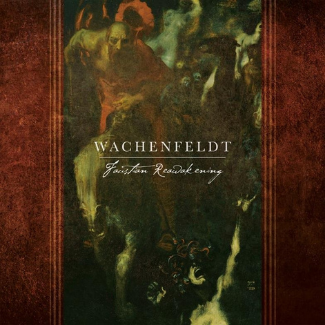 Wachenfeldt plays blackened death metal with a symphonic overlay, folk music influences and some thrashy bits. The resulting thick stew is terrific! On the new album "Faustian Reawakening", the band takes us on an exhilarating journey deep into the dark Hellsingland forests. Wachenfeldt's music is heavy. At times it is fast (yes, we do get some serious blast beats), but it is often on the slower side of extreme metal in a heavy doom and gloom kind of way. Wachenfeldt was founded in 2012 and the band released its debut EP "Colophon" in 2013. It was followed by the full-length album "The Interpreter" in 2017. The new album features co-founders Thomas von Wachenfeldt on vocals, guitar, bass and strings and Jon Skäre on drums as well as new member Daniel Jakobsson on lead and rhythm guitars. Some readers may recognise Thomas from his stint as arranger and bass player for Entombed's symphonic projects with the Gävle and Malmö symphony orchestras some years back. He has also played with Wombbath and De Tveksamma while drummer Jon has played with acts such as Defiatory, Crossbow Suicide, Gore Brigade and Reek. The bulk of this album is excellent blackened death metal. The folk influences are lurking beneath the surface throughout. The overlay of symphonic metal makes this a journey full of twists and turns where brute force, heavy guitars and beautiful melodies are married. Among all the metallic mayhem, we get a brief breather in the form of the beautiful "Interlude – Incipiens in Finem". This terrific short instrumental piece is performed on an acoustic guitar backed up by some wonderful string arrangements. Combining classical and folk music, it sounds sad and hopeful at the same time. The lyrics to "The Warrior Mounds", one of the album's absolute highlights, are based on a poem written by the 19th-century poet and local historian Erik Högström from Bergsjö, Hellsingland and is about a man who enters a warrior burial ground. This is just one of many references to the band's origins in the county of Hellsingland in the Swedish countryside. Another is the track "Halsu", about the mythical warrior Halsu that according to legend was the founder of Hellsingland. This is a band that is aware of its roots and heritage. The band members are not afraid of bringing those roots into their metal music and they do it in an exquisite way. I bloody well love it! There are plenty of Nordic bands that showcase their Nordic roots, but on this album, some very specific local roots are exposed rather than the typical general references to Norse mythology or Nordic melancholy. Yes, like the band, I too grew up in Hellsingland and can feel the relevance in the songs. These are my people and this is my music. They speak to me. What a pleasant surprise "Faustian Reawakening" is. It's such an enjoyable album of quality music. No doubt, this is one of the best extreme metal albums of the year (so far).
Wachenfeldt's "Faustian Reawakening" will be released on 6th May via Threeman Recordings.