Album review: Nominon "Chaos in the Flesh…LIVE!"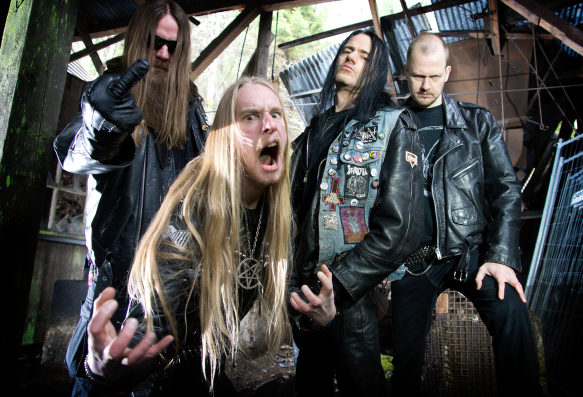 Veteran Swedish death metal band Nominon are back with a sick live album in the old Swedish death metal tradition. "Chaos in the Flesh…LIVE!" was recorded live at the Death Kills Festival in Stockholm, Sweden on 28th February 2015.
This Nominon live recording is fast and furious, brutal and twisted extreme metal. It's sort of like an old dirty freight-train transporting coal from a mine in Sweden to the nearest port and on the way it hits you and drags you along for the brutal and rocky ride.
Nominon is a raw death metal band with attitude which has been around since 1993. They are fast and their music has plenty of thrash metal elements to it. At times the pace of the music slows down somewhat and almost moves into doom metal territory but without staying there too long. Make no mistake about it, there is nothing melodic about this sinister band. Think early Swedish and American death metal from the late 80s or early 90s. Nominon as a band has great energy and drive as they deliver old-fashioned Swedish death metal with no room for any messing about with finer details.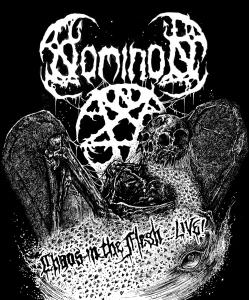 Fittingly enough this live album is released by Hexed Cemetery Records as a limited edition cassette tape. You gotta love that kind of old-school touch of underground demo tapes. It is a brilliantly primitive and raw production capturing the band in the moment without any polishing. Crushing! The final song is a cover of Motörhead's "The Hammer" and that is the weakest song on this album. Don't get me wrong, I love Motörhead, but Nominon has a raw death metal talent that is best showcased with their own songs.
Nominon "Chaos In The Flesh…­ Live!!" track listing
Side A:
1. In The Name Of Gomorrah
2. Sodom's fall
3. Mantra Reverse
4. Hordes Of Flies
5. Malicious Torment
6. Undead Beast
Side B:
7. Submit To Evil
8. Blaspheming The Dead
9. The Cleansing
10. Mausoleum
11. Release In Death
12. The Hammer
Nominon – band members (on this recording)
Henric Skoog – vocals
AntiChristian – guitar
Simon Wizén – guitar
Perra Karlsson – drums
Vlad Purice – bass