Album review: Zinny Zan "Lullabies for the Masses"
Former Shotgun Messiah and Easy Action frontman Zinny Zan is back with a new band and an excellent and varied rock album.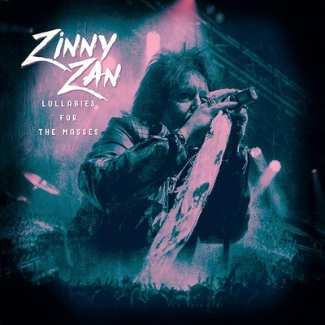 Following a few years and albums in a singer-songwriter style, Zinny Zan's new album, "Lullabies for the Masses", is a return to rock. It is a grown-up and quite varied rock album. We get an interesting mix of great songs on a solid album by a man and his band that know what they want to deliver. There are straightforward and catchy high-energy rock songs such as "Heartbreak City", "Welcome to the Show" and "Let It Rock". We get more contemporary-sounding alternative rock songs such as "Bombs Away", "Nobody Gets Out of Here Alive" and "The One". "Heal the Pain" and "Goodbye to Yesterday" are acoustic ballads of the kind that the hair metal bands of the late 80s had to include on their albums. We even get an unexpected but terrific Depeche Mode cover, "It's No Good" (yes, he pulls that off brilliantly). What a great album! Zinny Zan's career in music started with punk rock in the late 70s. He then became a glam rocker with Easy Action in the early 80s and continued his hard rock journey with Shotgun Messiah and Zan Clan before switching gears and turning himself into a singer-songwriter who released several great albums with all-Swedish lyrics. Now, at the age of 58, Zinny is all grown up and has put together an album that ties it all together. Past, present and future. This is Zinny Zan in 2022. While the album is released in Zinny's name and it is him alone on the cover, this version of Zinny Zan is a band where guitarist Stefan Bergström and bassist Hogge Calmroth have made significant contributions to the creation of the songs and the sound. Both of them have honed their skills in the band Skintrade. No official announcement has been made about who plays the drums on the album, although former Afrodite, Drain Sth and Snake River Conspiracy member Martina Axén appears as the drummer in the video for the track "It's No Good". I have always loved the performer Zinny Zan and all the different eras and musical styles of his career. When I was young in the 80s, Paul Stanley of KISS and Zinny Zan were the frontmen in rock I idolised. I still do. It is quite a journey that Zinny has made and his new band and album are showing us that this man is not done yet. He is evolving and he's still got it.
Zinny Zan's new album "Lullabies for the Masses" will be released on 20th May via Wild Kingdom/Sound Pollution Distribution.