Album review: Dark Funeral "We Are the Apocalypse"
Swedish black metal band Dark Funeral is still leading from the front on its superb new album.
Swedish black metal band Dark Funeral was founded in 1993 and they debuted with the 1996 full-length album "The Secret of the Black Arts". Today, lead guitarist Lord Ahriman still leads the band and in the current line-up, he is joined by vocalist Heljarmadr, rhythm guitarist Chaq Mol, bassist Adra Melek and drummer Jalomaah. It is a very good version of the band, perhaps its best. Dark Funeral has always soldiered on at the very front of the black metal genre. They are no followers.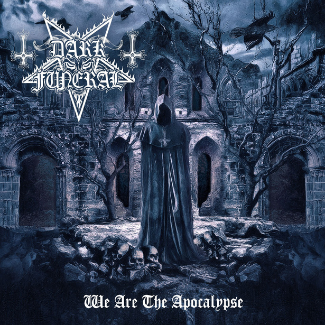 This is a band that bulldozes its own way through dark forests, across frozen landscapes and digs itself down to a hotter-than-hell underworld. Dark Funeral manages to fuse the sinister and damp music of old-school basement black metal with more polished, modern and melodic black metal. With this band, we get the best of both worlds. This band has musical and songwriting skills that are above and beyond most others in the genre. The music is hauntingly beautiful and yet it is also sinister, evil and chaotic. The new album, the band's seventh full-length studio album, continues along the same path that the previous album, 2016's "Where Shadows Forever Reign", was following. The producer is the same, Daniel Bergstrand, who is known for his work with Meshuggah, Soilwork, Dimmu Borgir and Behemoth. This time, the band and its producer have successfully pushed the soundscape further down into the unknown depths of humanity. Lead vocalist Heljarmadr, who is doing his second album with the band, is on form and has further grown into his role. His voice is one of the key differentiators for this band. "When Our Vengeance Is Done" is a face-melting knockout of a song. "When I'm Gone" is perhaps the least chaotic song on the album, but it is still very tasty. Perhaps it is too much to call it a black metal power ballad…?! Fantastic! The title track is a bulldozer that knocks the listener down and eats its dinner on top of you. The Dracula tribute "Nosferatu" is perhaps the album's zenith with all its epic awesomeness. A near-peak is "Leviathan" with its relentlessness, acoustic guitars and what sounds like anger management issues. The terrific "Nightfall" is rather catchy in a black metal kind of way. There is not a weak second on this terrifically dark and sinister album.
Dark Funeral's new album "We Are the Apocalypse" will be released on 18th March via Century Media Records.