Single review: Old Man Wizard "Innocent Hands"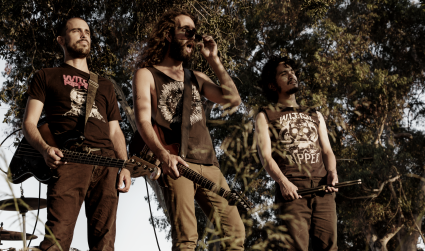 California's progressive heavy rockers Old Man Wizard have got an addictive new 7-inch single coming out.
I don't know what it is, but Old Man Wizard's new single has me hooked. This music is some kind of witch brew from southern California. It's catchy and riff heavy. Like good old, dirty and dusty psych rock. They call it progressive heavy rock and I guess that kind of explains what this is. Southern California also says something about where this music comes from.
The title track "Innocent Hands" kicks off with some serious metal assault, but with a weird mix of psych rock. Some of this is a bit like melodic black metal, but not really. Perhaps if Monster Magnet and The Doors formed a super group and played melodic progressive black metal mixed with some desert rock… Nah, that's silly. Never mind, whatever this is, it's bloody good. I am hooked. The B-side's "The Blind Prince" is even better. Very energetic and with a funky but dusty groove. More 60s psych rock than metal. I'm confused but I really like this. It's addictive.
Old Man Wizard consists of Francis Roberts on guitar and vocals, Kris Calabio on drums and Andre Beller on bass.
Old Man Wizard's two-track 7-inch single "Innocent Hands" will be released on 25th August. The band is currently on tour in the US.
www.facebook.com/old.man.wizard