Album review: Inhuman Condition "Fearsick"
Shadows over sunny Florida! Excellent Floridian death metal delivered by Venom Inc, Deicide and Obituary members.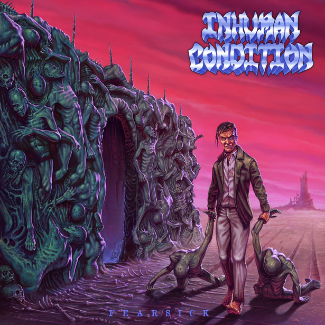 Inhuman Condition has an untouchable line-up of extreme music gentlemen and scholars. The trio's members have all played in Floridian death metal band Massacre, but there's a lot more than that to their pedigrees: this is a murky band of metal brothers that consists of vocalist/drummer Jeramie Kling (Venom Inc, Fore, Ribspreader, Ex-Deo, Goregäng, The Absence), guitarist Taylor Nordberg (Deicide, The Absence, Goregäng, Fore, Wombbath, Soilwork) and bassist Terry Butler (Obituary, Death, Six Feet Under, Left To Die). In 2021, the three musicians founded Inhuman Condition and released the debut album "Rat God". Now, the follow-up is here. What It sounds like? Like a smelly stew made from decaying ingredients from the trio's past. It's certainly the kind of old-school Floridian death metal that we love but sprinkled with influences from thrash metal and other forms of extreme music. Most importantly, the resulting mayhem is excellent. Crushing is the best way to describe this clenched fist of an album that hits you in the face and knocks you out. The album keeps slapping its listeners in the face throughout. It has that wonderful Floridian combination of meat-and-potatoes death metal and (orange) juicy guitar wankery courtesy of Taylor Nordberg. Inhuman Condition takes it to a new level. It's exquisitely organised chaos. The musical foundation remains intact throughout the album, but the band throws in some variations here and there, such as they do with the calm but haunting intro to the track "King Con". The splendid track "Recycled Hate" serves up terrific and relentless pummelling. There are no compromises on this fab album that sounds as if it's been created deep down in a basement far from the sunny beaches and swimming pools of Florida. The doesn't shine here and it isn't Disney World either. It's damp, stenchy and relentless. Love it. Brilliant band.
Inhuman Condition's new album "Fearsick" is out today via Listenable Insanity Records. A Japanese edition is being released by the good people at Spiritual Beast. The Japanese release includes a Power Trip cover as a bonus track.