EP review: Murashita "Inescapable Damnation"

LA-based Japanese artist Murashita's latest EP gives us some kick-ass heavy metal with a Megadeth touch.
Murashita has come up with his own distinct brand of heavy metal. It is not only different, it is also bloody good.
Japanese-born Masaki Murashita, who first made a name for himself in the US with thrash metal band Hemoptysis in 2007, is based in Los Angeles and also plays guitar in a band called Voice of Dissent. Murashita is a fine musician doing some great guitar work on this five-track EP. He is also a great songwriter and a singer who has a very distinct vocal style that is a great fit for the music.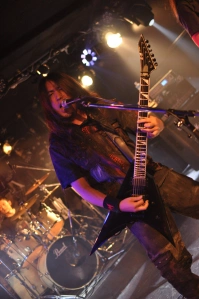 As always, putting labels on music can be tricky. This is in-your-face, riff-based heavy metal. It is furious and fierce, but not brutal. This is thrash metal with a touch of speed metal as well as some death metal mixed with some rather catchy melodic heavy metal. Great stuff, no matter what you call it.
There are some obvious echoes here of Megadeth and indeed there are a couple of links here: Megadeth's David Ellefson is playing bass on one track ("Inescapable Damnation") and Megadeth's award-winning producer Ryan Greene has mixed the EP.
"I've worked with David a few times and have known him for a while now," says Murashita when Roppongi Rocks checks in with him. "When I finished writing the song 'Inescapable Damnation', I thought he would be the perfect guy to play bass on this song, so I asked him and got him onboard. It was such an honour to have him play on my song. Megadeth was the band who inspired me to pick up the guitar and it was definitely a dream come true."
In addition to Ellefson, Murashita's guests on this EP include Kevin Talley (Suffocation, Six Feet Under, Chimaira), Kelly Conlon (Death, Monstrosity) and Rodney McGlothlin (Voice of Dissent).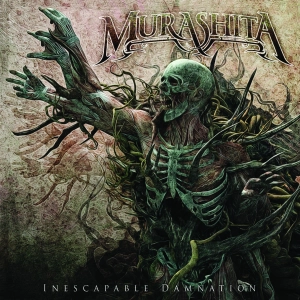 I really like this EP and Murashita's refreshing style. He's different but in a laidback, not forced or pretentious kind of way. He is not different because he is desperately trying to come up with something different. I get the feeling that Murashita is different because he doesn't care about genre "rules" or what is expected. He is just making great music.
Murashita is off to a fantastic start with this EP. He toured his native Japan in 2015 and I truly hope he will do so again as I have no doubt he is a great live artist too. Murashita has the talent, will and opportunity to succeed on a bigger stage. Keep an eye on this guy and treat your ears to his music.