Album review: Krisiun "Mortem Solis"
More crushing Brazilian death metal from Krisiun on the band's excellent 12th album.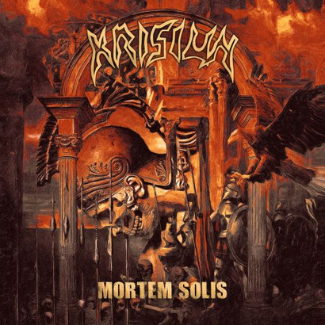 Some bands think they evolve when they follow some temporary trend and as a result, mess up their signature sound. Brazilian death metal trio Krisiun is not one of those bands.
"We see a scene of poserism. Death metal is getting soft. We're not going to become anything like that. We know where we come from and what death metal means to us – it's everything! Hate and disgust fueled us. That's why 'Mortem Solis' is stripped down, the intensity is increased, and we recorded it without the crutches of modernity. I think you can hear that we're extremely angry. The music – and the vibe it gives off – are intentionally obvious," says guitarist Moyses Kolesne in the press release from the record label.
Following a few years away from the public eye due to the global pandemic, Krisiun returns with a smashing and fierce new album. "Mortem Solis", the band's 12th studio album, follows 2018's terrific "Scourge of the Enthroned". Krisiun was founded in 1990 and debuted in 1995 with "Black Force Domain". The band line-up is intact and consists of three brothers – in addition to Moyses Kolesne on guitar there's Alex Camargo on vocals and bass and Max Kolesne on drums. Throughout its existence, this band has ignored trends and just focused on creating and performing its version of punishing death metal. "War Blood Hammer" is an obvious highlight on the album – a relentless and unapologetic track. On tracks such as "As Angels Burn" and "Serpent Messiah", we get the odd excellent runaway guitar race, but, overall, the songs on the album are straightforward, intense and brutal death metal without compromises and no unnecessary additions or window dressing. Krisiun is focused on doing what they are known for and they are not trying to push any boundaries here. The short instrumental piece "Dawn Sun Carnage" is different, but it serves as a brief breather from all the mayhem. The brothers have their (black) hearts in the right place. "Worm God" and "Swords into Flesh" sound like we are listening to a band in Florida in 1989. Love it! While parts of the current death metal scene may be going soft, Krisiun is not. The album was recorded at the Family Mob Studio in São Paulo, Brazil where the band worked with co-producer Hugo Silva (Sepultura, Nervosa).
Krisiun's new album "Mortem Solis" will be released on 29th July via Century Media Records.