Album review: Extrema "Headbanging Forever"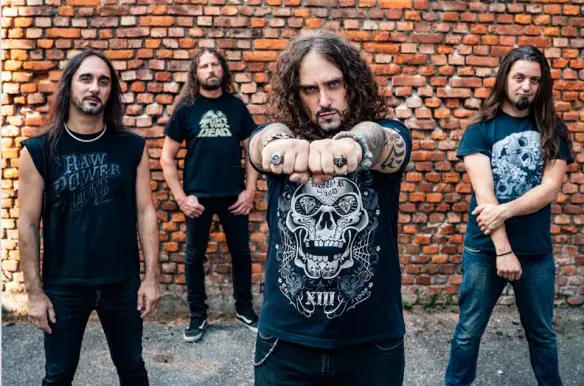 Italian thrash metal band Extrema returns with a new singer and a hard-hitting new album. 
Veteran Italian thrash metal band Extrema has opted to name its new album "Headbanging Forever". It's a suitable choice as continuous headbanging is what this is all about. Heavy guitar riffing which commands its listeners to headbang. With its feet firmly stuck in the old-school thrash metal mud, Extrema has built on that foundation and added some contemporary metal touches to make this thrash metal for 2019. The music is uncompromising, while at the same time, the band isn't worrying too much about what it is expected of them. They just get on with it and play great metal music with various influences weaved into it. Guitarist Tommy Massara formed the band in Milan in the mid-1980s. Opening for Slayer on the Italian part of the "Reign in Blood" tour got the band some early attention. Massara is now the only remaining original member of the band and this new album introduces us to the new vocalist Tiziano "Titian" Spigno. "Borders of Fire" is a clear favourite song of mine on the album, which combines great guitars with a rhythm section behaving like a bulldozer and with Spigno's rough-but-great vocals to top it all off. The fast "For the Loved and the Lost" is another highlight, while "Invisible" has somewhat of a great Machine Head vibe to it.
Extrema's album "Headbanging Forever" is out now via Rockshots Records.