Album review: The Crown "Cobra Speed Venom" | Swedish death metal at its best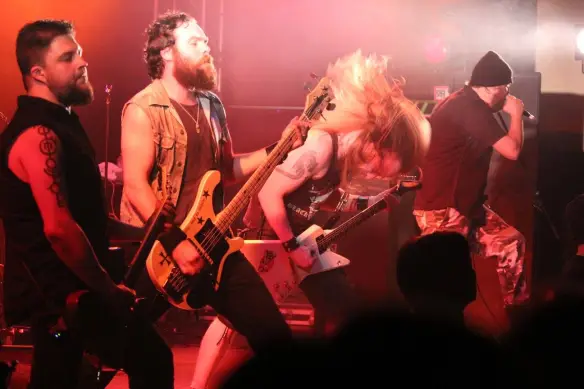 Swedish death metal veterans The Crown are steamrolling their way into your record collection with a terrific new album.
Wow! It feels like we already have a strong contender for extreme metal album of the year here. The Crown kicks off the new album with "Destroyed by Madness", a song which starts with what sounds like a string quartet, before all hell breaks loose. It's a high-energy track that sets the tone for the rest of the album. It announces that The Crown boys are back and they are ready to steamroll you with their death metal.
Then follows "Iron Crown", which no doubt will be a new live favourite. "In the Name of Death" hits you in the face. No rest for the wicked on this album. It is a terrific album. The current line-up of the band – Johan Lindstrand on vocals, Marko Tervonen and Robin Sörqvist on guitars, Magnus Olsfelt on bass and Henrik Axelsson on drums – is probably the band's best ever. Previous members have included established names such as Tomas Lindberg (At The Gates, The Lurking Fear, Lock Up), Jonas Stålhammar (At The Gates, The Lurking Fear, Bombs of Hades, God Macabre) and Marcus Sunesson (The Haunted), but it is now that they have a line-up that is a proper band, that gels, that rocks and that creates Swedish death fucking metal.
They are tight, they are filled with energy and aggression and they deliver. The Crown's combination of riffing guitars with Lindstrand's fitting voice is a winner. Especially when it's done with such strong material. The title track is a showcase of melodic death metal where all band members get to shine. The drums! The guitars! That old-school bass sound! And that voice. What a combination! That this mix of talents is the dog's bollocks (in a good way) is evident throughout the whole album.
The Japanese edition of the album, of course, does not only come with the international edition's 12 tracks. Oh no, it comes with an additional bonus track in the form of "Ride the Fire" (previously only released as the B side on the "Iron Crown" 7-inch vinyl). All fabulously brutal stuff. The album was produced by the legendary Fredrik Nordström (At The Gates, The Haunted, In Flames, Arch Enemy, Dark Tranquillity, Opeth, Soilwork, Dimmu Borgir, Outrage) at his Studio Fredman in Gothenburg, Sweden.
The Crown's album "Cobra Speed Venom" will be released in Japan on 14th March via Avalon/Marquee and internationally on 16th March via Metal Blade Records.