Album review: Hexed "Pagans Rising"
Modern symphonic and progressive metal on Swedish band Hexed's second album.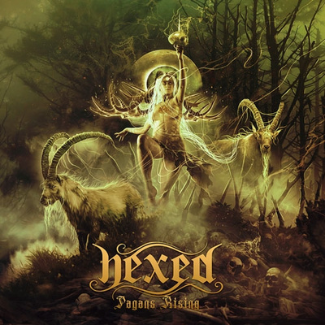 Swedish band Hexed plays a form of modern metal that has many parts to it. Part of this is symphonic metal and there are interesting progressive elements in the music. There are also hints of melodic death metal, not least in the form of the effective use of growls. There is also a bit of pagan metal in the mix, although that is more apparent in the lyrics, song titles and visuals rather than in the actual music. The resulting melting pot of modern metal with a witch-hunting lyrical theme works well, at least for those of us with open minds. Hexed's music is powerful, full of energy and melodic. We get treated to plenty of style and tempo changes which keep things interesting. Formed in Uppsala, Sweden in 2015, the band's first single "Dreams" was released in 2016. This was followed by the 2017 EP "Exhaling Life". "Pagans Rising" is the band's second full-length album, following 2018's "Netherworld". Tina Gunnarsson's powerful, but at times also beautifully delicate, vocals are complemented by occasional growling by Stellan Gunnarsson who also plays the guitar. The current line-up of the band also features David Nyman (guitar), Daniel Håkansson (bass) and Patrick Wahlberg (drums). The song material is very good. This is music built on strong melodies, and great choruses centred around Tina's vocals. The symphonic soundscape is nicely combined with progressive elements as demonstrated in a terrific song such as "Prophecy". Big is the best way to describe the sound and the production on the album. There are some massive-sounding songs on the album, including "Resurrection", "Repentance", "Stigma Diaboli" and "Pagans Rising". A ten-track album without any real dips is a rare animal, but that is what we have here. With this new album, Hexed is ready to challenge the bigger names in the genre.
Hexed's album "Pagans Rising" will be released on 30th September via ViciSolum Productions.