Album review: Kris Kristofferson "Live at Gilley's"
A legendary country rocker caught in his prime on a fab new live album recorded in 1981.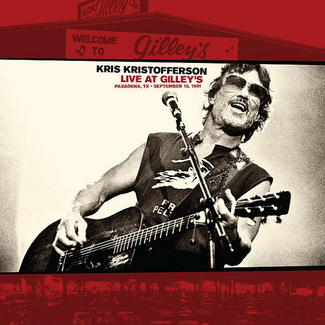 His main domain may be country rock, but Kris Kristofferson is more hard-rock than most hard-rock stars out there. The counter-culture Texan singer is not exactly your usual American country singer. He's had colourful life in music, acting and life at large. He is now 86 and retired, but this live album recorded in 1981 is a great reminder of what a terrific storyteller this country rocker was back in the day. He dated Janis Joplin, studied at Oxford University, served in the US Army, swept the floors at Columbia Recording Studios in Nashville, worked as a commercial helicopter pilot, starred in the "Blade" films with Wesley Snipes, appeared on "The Muppet Show" and, of course, many of us know him best from his role in the 1976 film "A Star Is Born" where he played opposite Barbra Streisand. And he is quite possibly the best-ever songwriter in the Nashville country rock scene. Perhaps his drinking problems and his bouts with depression have influenced his melancholic country rock. His is the kind of rootsy and dusty storytelling-based Americana music that is now carried on by current rock bands such as Southern rockers Blackberry Smoke and Northern rockers Hellsingland Underground. (Kristofferson is a Texan with Swedish roots and so there may be some logic there to the Southern/Northern rock references). This new live album, which catches a great artist and storyteller in the raw, was recorded at Gilley's Honkytonk in Pasadena, Texas on 15th September 1981 when Kristofferson was at the top of his game. He had the songs, an all-star band (Stephen Bruton, Billy Swan, Donnie Fritts, Tommy McClure, Glen Clark and Sammy Creason) and he himself probably peaked here as an artist. We get terrific versions of some of his best-known songs, such as "Me and Bobby McGee", "Sunday Mornin' Comin' Down" and "For the Good Times". Of course, there's plenty of darkness and misery in Kristofferson's music, such as on the fabulous "The Silver Tongued Devil and I". The story told in "The Pilgrim" ("See him wasted on the sidewalk in his jacket and jeans / Wearin' yesterday's misfortunes like a smile") is an obvious highlight on this great live album.
Kris Kristofferson's "Live at Gilley's" will be released on 2nd September via New West Records.