Hellsingland Underground – moving above ground with forthcoming album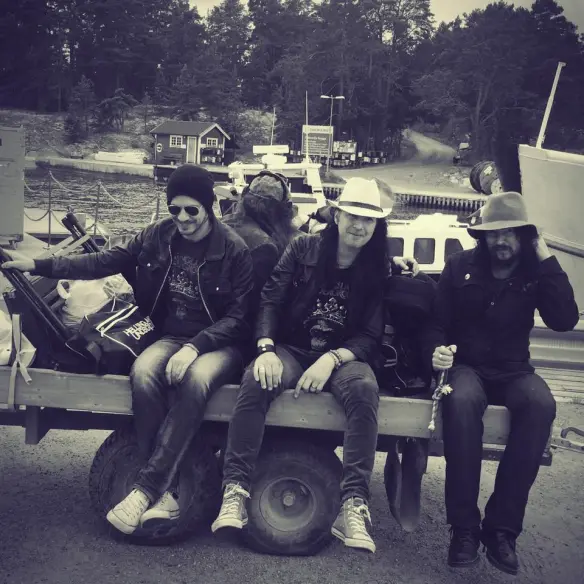 Over the past week I've been listening to some of the rough and yet to be finished recording sessions for Swedish rockers Hellsingland Underground's forthcoming album.
My expectations for this album are of course sky high, but I am pleased to say that, based on what I am hearing so far, this is shaping up very nicely indeed. I have only listened to eight songs from the recording sessions and none of them are yet complete. Apparently the band recorded a total of fourteen songs during their main recording sessions. The new songs are very, very promising. I think that the band's fourth full-length album, due out later this autumn, may very well take Hellsingland Underground above ground.
Hellsingland Underground's established sound (Southern-ish rock with a truck load of Nordic melancholy, Thin Lizzy-style guitars and heaps of pop hooks) is obviously still there but the songwriting has developed and we get a great mix of different influences infused into the good old Nordic gloom-drenched rock that we love. We get both rockier stuff and some fine ballads. The lyrics are as always great little stories on their own and when paired with great tunes they're terrific. As Graham Bonnet Band's bassist Beth-Ami Heavenstone put it when she heard Hellsingland Underground for the first time: "I love a good story and even better when it's set to good music." Constant changes in tempo and styles make this music that keeps the listener paying attention because you never know what comes next. The band has grown up but still has the energy to deliver. Simply great stuff.
The working titles on the eight new songs I've heard are "Earth's Gonna Shake", "The Day Is Ruined", "The War Is Over", "Reincarnated The Same As I Ever Was", "How Lonely It Must Be Being You", "You Saved Me", "Dizzy Jonsson & The Rovers" and "Golden Haze". It still remains to be seen which finished tracks end up on the album. But it is clear that the band has enough great new music to release a bloody terrific album in the coming months.
Who knows where this will end once all the recordings have been completed and the album's been properly mixed? Hellsingland Underground: soon in a record store and on a stage near you.
Hellsingland Underground – the band
Charlie Granberg – vocals and harmonica
Mats Olsson – guitar
Peter Henriksson – guitar
Martin Karlsson – bass
Thomas Pettersson – piano/keyboards
Patrik Jansson – drums
The albums
Hellsingland Underground (2008)
Madness & Grace (2010)
Evil Will Prevail (2012)