Album review: Skid Row "The Gang's All Here"
Great songs and new vocalist Erik Grönwall have made Skid Row relevant again.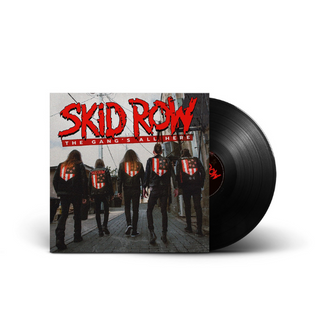 Skid Row is finally back with a new studio album. The combination of a revitalised band, great song material and the addition of former H.E.A.T vocalist Erik Grönwall makes Skid Row of 2022 terrific. The band is fun again. Skid Row has not sounded this good, vital and full of energy since the first couple of albums. The song material on "The Gang's All Here", the band's first album in 16 years, is on par with the good-old early days, 1989's "Skid Row" and 1991's "Slave to the Grind". The new songs were already written when Sweden-based Erik joined the American band in March 2022. His vocal parts were recorded remotely before he even had physically joined the band. Thus, it is a positive surprise to hear what seems like excellent chemistry between him and the rest of the band. They are entertaining us. Erik is a world-class frontman – he's got the pipes but also the drive, swagger and stage presence to get the audience with him. He's a perfect match for Skid Row. But the greatness of this new album is not just because of Erik's contribution. The band is coming at us all guns blazing! Dave "Snake" Sabo (guitar), Rachel Bolan (bass) and Scotti Hill (guitar) from the band's classic line-up are still there, as is long-time drummer Rob Hammersmith. They have woken up from their slumber. In the fab new track "Resurrected", they sing "We're not playing dead/That's all in their head/Now's the time to see/We're resurrected". Resurrected, indeed. "The Gang's All Here", the band's sixth full-length studio album, is an album full of hard-hitting melodic hard rock of the best kind. As was the case in 1989, Skid Row's songs in 2022 are often heavier than many of the other melodic hard rock bands' songs. The title track we already knew was great from when it was released as a single earlier this year. But the album is crammed full of fab rock songs such as "Tear It Down", "Hell or High Water", "Not Dead Yet", "Nowhere Fast" and "World on Fire". Welcome back, Skid Row! We've missed you!
Skid Row's new album "The Gang's All Here" is out now via earMUSIC internationally and JVC/Victor Entertainment in Japan.