Gig review: Andy McCoy at Shinjuku Loft
Hanoi Rocks legend Andy McCoy shows us how it's done with scaled-down acoustic versions of his classic songs during two fabulous nights in Tokyo.
Andy McCoy at Shinjuku Loft, Tokyo, Japan on 17th and 18th October 2022
Last week, legendary guitarist Andy McCoy surprised himself and many others by turning 60. Who would've thought he would still be here? He has been a professional musician since the 70s and has lived a full-on rock-star life with extra everything. Yet he arrives in Japan, walks onto the stage and performs terrific shows. He is seasoned and has received a few bumps on the road, but he remains an extraordinary songwriter, guitarist and performer. The three-gig Japan tour was supposed to have been done as a trio with Andy McCoy on guitar and vocals backed up by Johnny Crash on keyboards and Andy's daughter Sofia Zida on vocals. Unfortunately, Sofia fell ill shortly before the Japan tour and Andy suddenly had to make this a duo performance. As much as Andy would have liked to have had his daughter there, he just gets on with it. He's a pro. Andy's songs and his guitar playing stand firm on their own. They don't need anything else to make them better. On the contrary, the scaled-down acoustic performances highlight the quality and show us what it is all about. "Tokyo! This is music!" as Andy says at the start of the show. He performs sitting throughout both gigs. The Loft – which despite its name is a basement rock club in Kabukicho, Tokyo's redlight district – is a great venue. It is a perfect intimate setting where the audience gets up close and personal with the performers. It fits the scaled-down Andy McCoy/Johnny Crash duo perfectly. The first night is fantastic. The second night is even better. The stripped-down, scaled-back acoustic set-up reminds me, both visually and sonically, of Bob Dylan or Neil Young back in the 70s or an old-school bluesman. Andy delivers a terrific collection of songs from throughout his career. Of course, there are a few Hanoi Rocks tracks (including "Tragedy"), but also excellent songs from his solo albums, such as the exquisite "Strung Out" and other favourites such as "Maria Maria" and "The Hunger". As a nod to Andy's time in Iggy Pop's band in the 1980s, Andy performs Iggy's beautiful "Cry for Love". There's "Shot Full of Love" from his new album of covers, "Jukebox Junkie", and we get a few tracks from The Suicide Twins, the short-lived band Andy had with his old Hanoi colleague Nasty Suicide, including "What a Price to Pay" and "Silver Missiles and Nightingales". Then there's "Angie", "Queen of Hearts" and so much more good stuff. It is an eclectic mix of styles and songs and it works so well. Johnny Crash is in many ways the opposite of Andy, which makes sense as one does not need two Andy McCoys in a duo. Johnny is a perfect counterbalance and musical partner to Andy. On the second night in Tokyo, Andy adds a lengthy and improvised flamenco-inspired instrumental guitar piece during the encore. It's beyond beautiful and overflowing with talent and emotion. On both nights, the show closes with Hanoi Rocks' classic "Don't You Ever Leave Me Baby". It is a raw, unpolished, melancholic, emotional and beautiful version of the song. Wow! A teenage heartbreak from his Stockholm youth inspired the song and the raw emotions really shine through this version of the song. It was a great Hanoi song back in the day, but this was something else. Andy's characteristic voice, seasoned by a rough rock-star life, makes it real. This is music. I have my money ready in case someone puts out a vinyl bootleg called "Andy McCoy: Two Nights in Tokyo". Thank you for the music, Andy.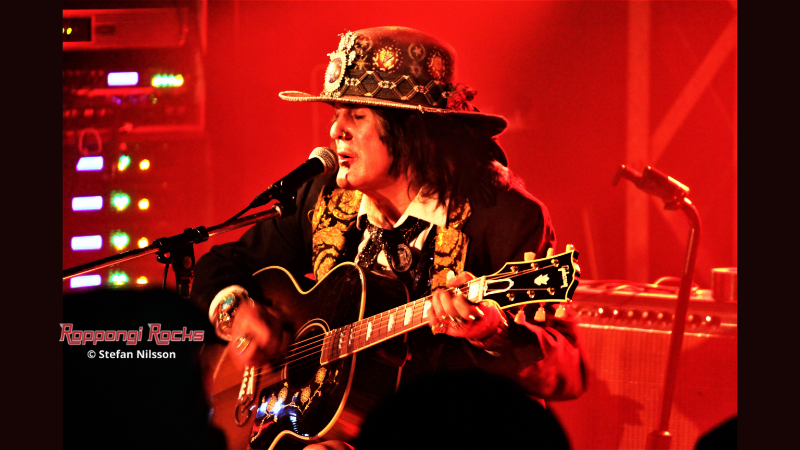 www.facebook.com/andymccoyofficial