Single review: Zinny Zan "Heartbreak City"
Zinny Zan is back with a solid hard rock single for your car stereo.
Zinny Zan made a name for himself as frontman for hard rock and glam bands such as Easy Action, Shotgun Messiah and Zan Clan (who can forget "We Are Zan Clan… Who the Fuck Are You?"). More recently, he has released a few excellent singer/songwriter-style albums (with Swedish lyrics) under his real name Stagman. But now, Zinny Zan is ready to rock again. "Heartbreak City" is the first single in a return to party rock for Zinny. When I grew up in Sweden, Zinny – during his time fronting Easy Action in the early to mid-80s – was my idol (next to Paul Stanley of KISS). He was one of Sweden's few real rock stars. The real deal. Now, some four decades later, nothing has changed. Zinny is still my idol and he still performs glammy rock'n'roll for my ears.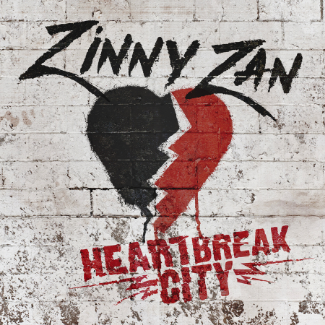 "Heartbreak City" is a classic melodic, up-tempo hard rock song that sounds like a road trip. Lots of good party vibes with clever guitars weaved into a song built around a great groove and Zinny's characteristic voice. It sounds as if Zinny and his band are cruising down a California highway in a massive classic American car and then arriving in LA, slowly driving around the streets of Hollywood looking for a good time. Foreplay? Bah! This fab song replaces any need for that. In this latest step in the fascinating story of Zinny Zan, he is backed up by guitarist Stefan Bergström (Skintrade, Baltimoore, Alfonzetti, Stagman) and bassist Hogge Calmroth (Skintrade, Roachpowder). Welcome back, Zinny! After such a great first single, my expectations are now sky high for the forthcoming album.
Zinny Zan's single "Heartbreak City" will be out on 14th January via Wild Kingdom Records/Sound Pollution Distribution. The new album "Lullabies for the Masses" will follow on 20th May.