Brand New Conversation: Backstage with Gus G in Tokyo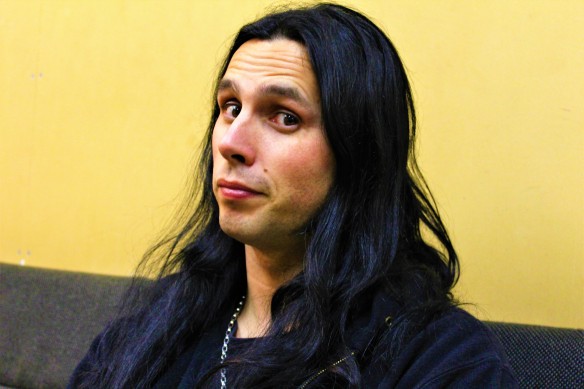 Greek guitarist Gus G has had a phenomenal career with Firewind and Ozzy Osbourne. When he recently came to Japan to play a few solo shows, Roppongi Rocks sat down with him backstage for a catch up before his first solo show in Tokyo with Elize Ryd as a special guest.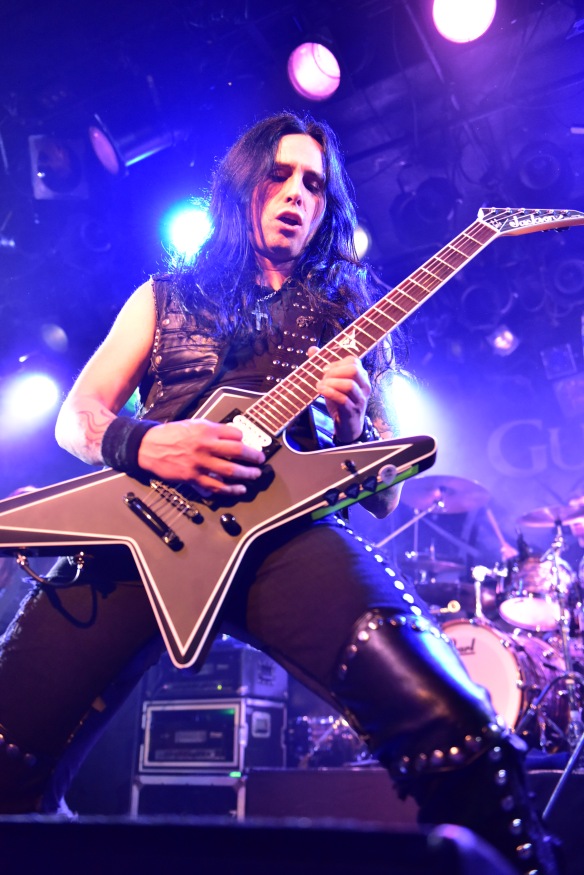 Gus G is best known for being Ozzy Osbourne's guitarist and for his work with his own band, Firewind. But he has also played with bands such as Dream Evil, Nightrage, Arch Enemy and Mystic Prophecy. As many other gifted guitar wizards, Gus G has released some solo albums, the latest being 2015's "Brand New Revolution" which featured guest vocalists such as Jeff Scott Soto (Talisman, Yngwie Malmsteen, Journey), Mats Levén (Candlemass, Krux, Therion, Treat, Swedish Erotica) and Elize Ryd (Amaranthe, Kamelot).
Performing as a headliner under his own name rather than as a part of something else is relatively new for Gus G. The Japan shows, together with a show in Korea, form Gus G's first-ever Asian solo tour. "I've been trying to build that over the last couple of years. It's a new thing for me, still, but I enjoy it. It's a different kind of freedom. It's still kind of a small project , it's baby steps. I am very grounded about it. Yeah, I enjoy it. I get to collaborate with a lot of great people, like Elize Ryd and lots of other singers. It's cool, man" says Gus G.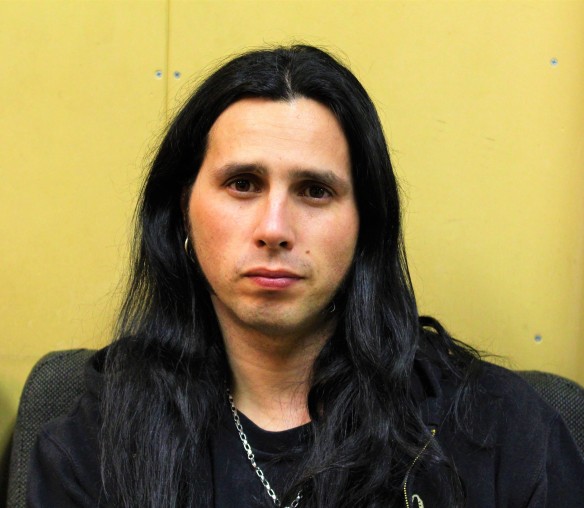 Having just watched him doing a soundcheck with Elize Ryd, the two talented artists seem to fit very well together. It looks as if they've been working together for a long time. But that is not the case. They have never performed together until now. They didn't know each other before they collaborated on the song "What Lies Below" in 2015 and met for the first time during the music video shoot. "I knew who she was. I was a fan of hers actually, of her voice and what she did with Amaranthe, I really enjoy it. But I never met her before. We wrote the song and I was thinking of her. I thought it would be cool if we had her on this. I didn't know if was going to fit her range or style, but I just sent her the song I said 'Hey! This is what I want to do and I like to have you on this.' She liked the song very much and said 'I'm gonna sing this'. It's a good combo. Hopefully we will do some more stuff."
The two Japan gigs marked the first time ever that Gus and Elize performed live together. "It was just timing. She's very busy and I am very busy. It just didn't happen in the past. She's always somewhere with Amaranthe, running around the world and I am doing the same. I remember when I got these shows offered I thought it would be a cool idea if she came out as I was looking to bring a special guest. I just hit her up and said 'Hey! What are you doing in March?' It just happened that she had a few days available and she accepted to come."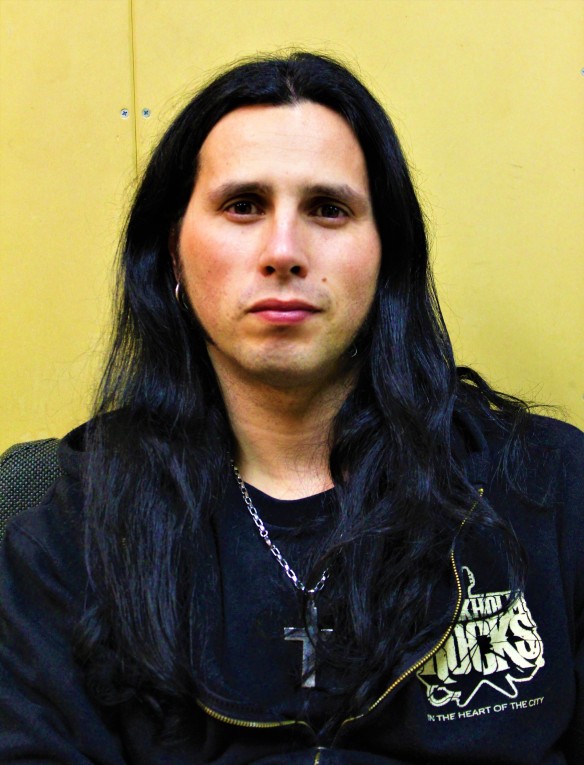 The short Asian tour will be followed by a European tour together with Steve Stevens (Billy Idol, Michael Jackson, Vince Neil, Sebastian Bach) where Gus G will perform an acoustic set. Apart from that he has no specific solo shows planned this year. "Not in the plan so far. Because this year was planned originally to be a Firewind year, because we just released an album and basically my solo tour finished last year. But, OK, when Japan comes up, you don't say no to that! Then another great opportunity to go out with Steve Stevens came up, so I am doing that. I am not sure if I am going to do any more solo shows later this year. I'd like to focus on writing another album to be honest. I'm gonna go back and do the rest of the Firewind shows that we have booked, all the festivals and then hopefully go back in the studio and finish up a new solo record and come back in 2018 and then do a full show like this again."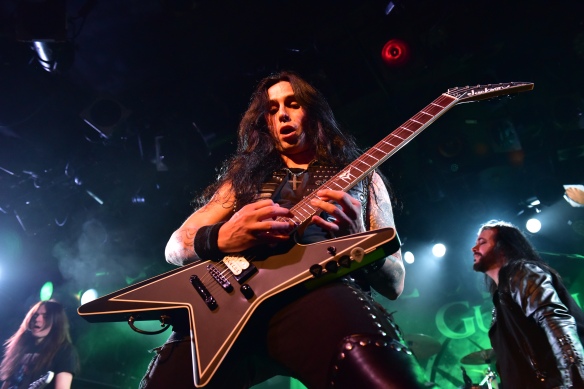 The set list for the Japan shows are sort of a career retrospective for Gus G. "That was the idea with this. We've done all these songs in the past. Every time I've changed the set list. Now we had a wide catalogue to choose from. Actually, it wasn't that hard to put it together, surprisingly. I just said that I'd do a few Firewind tracks, I want to do one Dream Evil song. Sometimes we did two Dream Evil songs on one of my tours, but if you start adding too much, you'll need a three-hour set list. Plus I do a lot of stuff from my solo records. I want to cover a little bit of everything and now we have a new Firewind album so I wanted to play a couple of new songs, because I am sure some fans would expect that."
Gus does not only have some new Firewind songs with him on this tour. He also has two of his Firewind bandmates – Henning Basse and Johan Nunez – in his solo band. "Henning originally was touring with me before he joined Firewind. So, he knows both sets. Now of course when he's with Firewind, he's gonna be more established and known as a Firewind singer than a guy who does sessions. I think we probably have to separate it after this tour. I am thinking of getting somebody else to fill this spot and then Henning can focus on Firewind. But it is like an open family, if I ever need help and I have no singer, I am sure he's gonna come out. Because he knows all the songs, he knows the set. On this occasion, it really made sense to bring Henning out to Japan because not only can he do all my solo stuff, but as we just have a new Firewind album, it just made sense for him to come out here and we can do a few Firewind tracks as well. Other than that, on the Steve Stevens tour I am going to have another singer."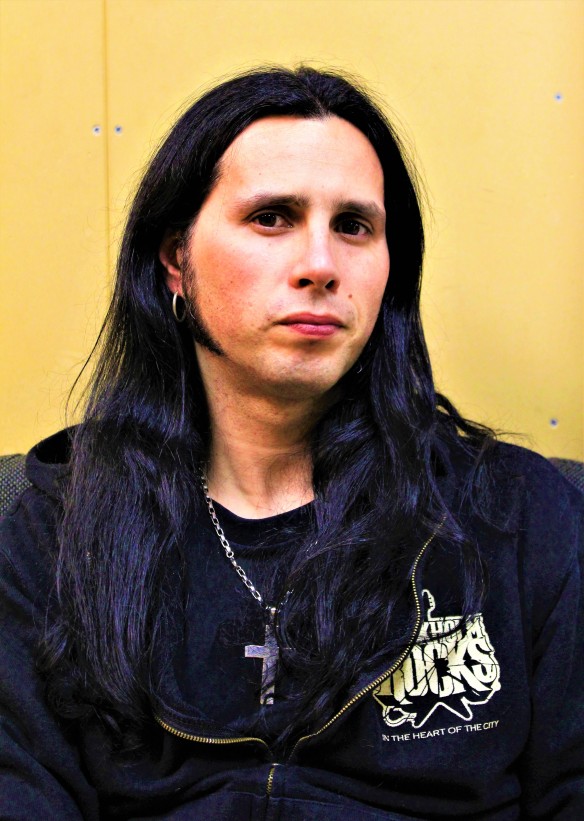 Like Michael Schenker, Gus G has found a middle ground between guitar tricks and creating great music that is not destroyed by too many guitar tricks, unlike what sometimes is the case with guitarists like Yngwie Malmsteen. "Yngwie is Yngwie, he is a good example. The whole idea with him is to be extreme and with other guys the idea is to play the right notes for the song. That's two different things. I understand it is not for everybody, the extreme stuff. But for me it's like, I like to do extreme stuff on the guitar but I like to put it into context. Everything has to have some sort of order in my mind at least. That's probably why I write so many songs with vocals and I don't do too many solos. I mean, there is going to be plenty of guitar wankery tonight, believe me. But it's not gonna be to a point where everybody stops and goes for a couple of pints at the bar and then I keep playing. We don't have those situations. It all fits in a certain frame within the show."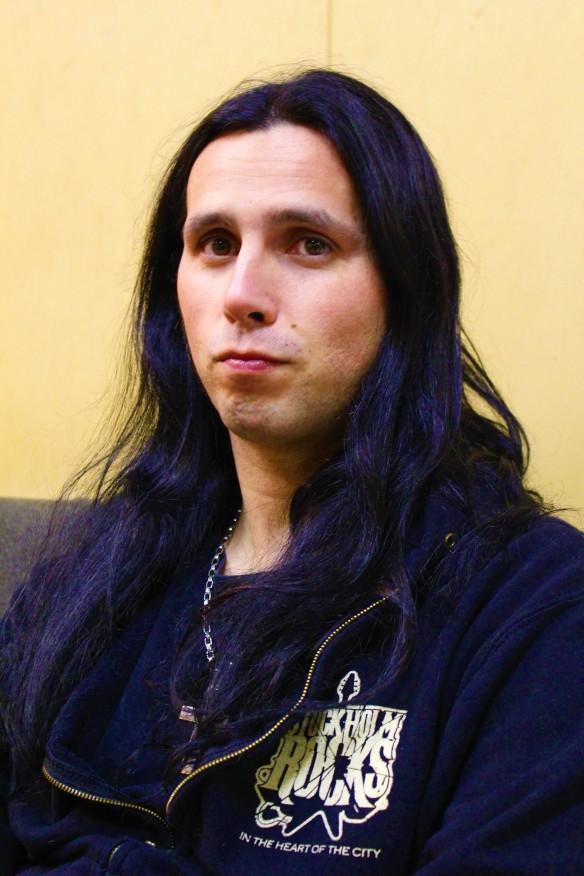 With Black Sabbath having recently finished their massive "The End" tour, does Gus have any Ozzy-related work coming up? "I don't know yet. There is always talk and stuff but I haven't heard anything from the camp. I am just giving them their time to figure out what he wants to do. I am sure he will let us know. He just finished and I am sure he wants to take a break to think things over how he wants to continue with his solo band. Not just me, but everybody in the band, we're just waiting to hear what the next thing is."
Shortly after our interview, Gus G walks on stage and delivers a great career retrospective featuring much of his best work to date. But I am pretty certain his best work is still to come.