Two mega drummers sign the Roppongi Rocks Mirror of Fame
Megadeth drummer Dirk Verbeuren and British rock drummer Dave Dufort signed the Roppongi Rocks Mirror of Fame and met Japanese fans on Sunday night.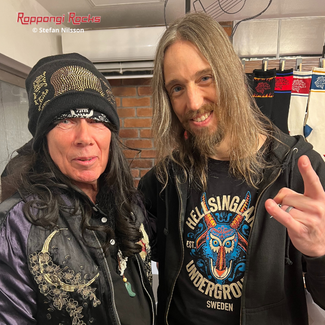 Not one but two mega drummers swung by Roppongi Rocks HQ last night to sign the Roppongi Rocks Mirror of Fame: Dirk Verbeuren of Megadeth and Dave Dufort, formerly of Angel Witch, Tytan, Mike Oldfield, Ian Hunter and EF Band and who is currently playing in Dr Phibes Electric Wizards with Venom legend Mantas. The two drummers met for the first time when they both were invited to sign the Roppongi Rocks Mirror of Fame at the Roppongi Rocks showroom in Tokyo. Los Angeles-based Dirk is in the middle of a Japan tour with Megadeth while Dave is nowadays based in Tokyo. They got on like a house on fire and had a great chat. During their visit – which also marked the launch of Dirk's collectable limited edition drum key collaboration with Roppongi Rocks – the two drummers met fans, signed autographs and posed for pictures with fans.
Dirk Verbeuren will perform with Megadeth at Budokan in Tokyo tonight (27th February) and in Osaka on 28th February. Dave will perform with Dr Phibes Electric Wizards at WildSide in Tokyo on 21st March.