Album review: Accept "The Rise of Chaos"
The German metal veterans have still got it. With "The Rise of Chaos" Accept gives us a fab new heavy metal album.
Accept was one of the heavy metal bands in the 80s that I kept listening to. With albums such as "Restless and Wild", "Balls to the Wall" and "Metal Heart", they became favourites and made it into my vinyl collection. 38 years after their debut album, they are still going strong, now with a slightly more international line-up. Guitarist Wolf Hoffmann and bassist Peter Baltes are still the backbone of this band and they still deliver a great dose of traditional heavy metal.
The two things with this new Accept album, the band's 15th studio album, that suddenly hit me after I have listened to it a few times are: 1) I love it – it's great and timeless Accept-style heavy metal, and 2) I don't miss Udo Dirkschneider.
As is the case with many bands from the 80s who are still active, there are constant arguments going on among die-hard fans about original vocalist Udo Dirkschneider no longer being in the band. As much as I love the legendary frontman Udo, I have accepted (!) that he has moved on and Accept has also moved on. It is worth remembering that Accept released an album without Udo already back in 1989: "Eat the Heat" with the terrific David Reece on vocals. The current vocalist Mark Tornillo, who joined the band in 2009, does a fantastic job fronting the band. This is his fourth studio album with the band and he is now an important part of what Accept is. This is also the first album with new members Uwe Lulis (guitar) and Christopher Williams (drums).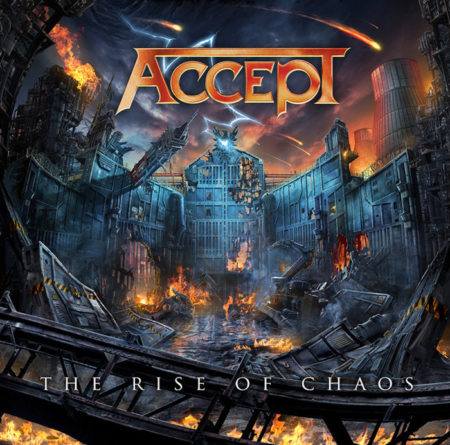 Tornillo has a great voice that fits very well with Accept's trademark heavy metal built around constant guitar attacks. The songs on the new album very much live in the same territory as the classic Accept albums from the 80s, but they still manage to not sound dated.
"Analog Man" has a great old-school touch to it. It kind of sounds like it could've been a bonus track from 1983's "Balls to the Wall" album. "Die by the Sword" has some fantastic guitar work and other clear favourites are "World Colliding" and "Carry the Weight". The terrific track "Hole in the Head" is a modern, heavy-yet-catchy metal track that still has a firm foundation in the classic Accept sound.
This is a solid metal album with ten tracks and without any fillers. Most Accept fans (those not completely snowed in on the Udo issue) will no doubt love this. They should. It's bloody good. In summary, on this album we get a terrific collection of new songs delivered by a great band that hasn't forgotten its 80s heavy metal roots without getting stuck in nostalgia.
Accept's "The Rise of Chaos" album will be released on 4th August by Nuclear Blast internationally and Ward Records in Japan. Accept will tour Japan again in September.
https://www.facebook.com/accepttheband/videos/10155207358614724/