Graham Bonnet: Night Games in Tokyo
At 75, the former Rainbow, MSG and Alcatrazz vocalist Graham Bonnet has still got the voice.
Graham Bonnet Band at Duo Music Exchange, Shibuya, Tokyo, Japan on 30th June 2023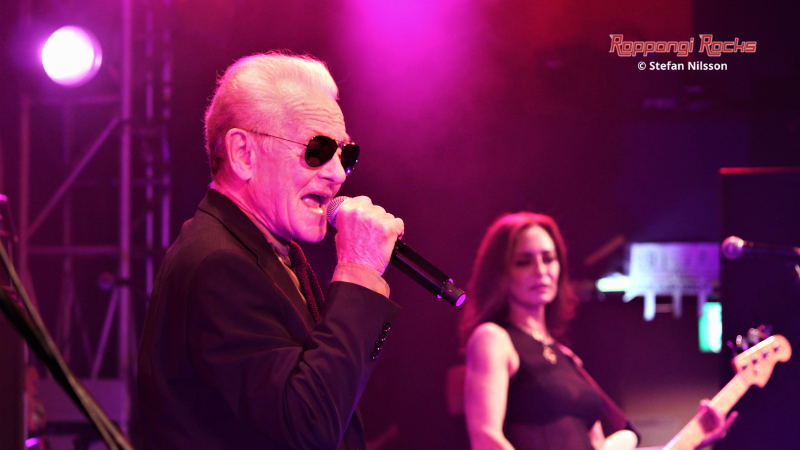 In the years immediately before Covid, legendary British vocalist Graham Bonnet toured Japan frequently with Graham Bonnet Band, Alcatrazz, Michael Schenker Fest and Michael Schenker's Temple of Rock. After a four-year absence, Bonnet finally returned to Japan with his band.
Graham has turned 75. It is now 55 years since he had his first hit single with "Only One Woman". But his characteristic voice is still in good shape. In Tokyo, he did a terrific performance with his voice firmly at the centre of it all. Graham Bonnet Band's core members, Brazilian guitarist Conrado Pesinato and American bassist Beth-Ami Heavenstone, are still there and now joined by Italian Alessandro Bertoni on keyboards and Brazilian Tomas Slemenson on drums. We got a best-of set with songs from Graham's career, including MSG, Rainbow and Alcatrazz classics. The band opened strongly with two Rainbow classics, "Eyes of the World" and "All Night Long", before performing Alcatrazz's "Too Young to Die, Too Drunk to Live". The show was off to a great start. The Tokyo audience loved it.
In addition to the classics, the band played a few excellent Graham Bonnet Band originals: "Imposter". "Uncle John" and "Into the Night". We also got excellent versions of "S.O.S." and "Night Games" from Graham's fab 1981 solo album "Line-Up". While it is Graham's name on the band and he is the undisputed star, his band members got to shine on a jam-tastic instrumental version of Deep Purple's "Lazy". MSG's "Assault Attack" rounded off the main show before the band returned to the stage for a Rainbow encore consisting of "Since You Been Gone" and "Lost in Hollywood". To the audience's delight, Japanese musician Naoto Shibata, best known as the bassist in Anthem and formerly of Loudness, joined as a guest guitarist on "Love's No Friend" and "Night Games". He came back on stage with the band to perform the encore too. It was a treat to see how good this famous bassist was playing the guitar. This was yet another great evening celebrating the vast and terrific catalogue of Graham Bonnet.