Danko Jones "Electric Sounds"
Are you ready to rock? Canadian power rock trio Danko Jones is always ready to rock.
"Guess Who's Back" is the opening track on Danko Jones' new album. Danko and his namesake trio are certainly back and they are ready to rock. Danko Jones is a hard-hitting Canadian power rock trio. It is an excellent mix of The Ramones, Motörhead, The Rolling Stones and The Cramps, all baked into one powerful Canadian rock band. But most of all, this Danko Jones. The trio, founded in Toronto in 1996, has established a signature sound and they keep on delivering. This new album, the trio's eleventh full-length studio album, is no exception. It is a fabulous kind of hard rock played with a punky attitude. Danko Jones himself on vocals and guitar is backed up by John Calabrese on bass and Rich Knox on drums. The whole album is solid. Personal favourites include "Good Time", "What Goes Around", "She's My Baby", "Stiff Competition" and "I Like It". The musical skills are there and the guitar riffs and the pop hooks too. But to me, it is the fabulous energy, tongue-in-cheek humour and often seemingly angry attitude that makes this music exceptional. I love this trio. The studio production has a live-in-the-studio feel to it which is very suitable for such a splendid live act. Listening to this new album brings me back to Danko's fab show in Sydney in 2019. It is not easy to bring the feeling and sound of a live act into a studio, but Danko Jones and their producer Eric Ratz have succeeded.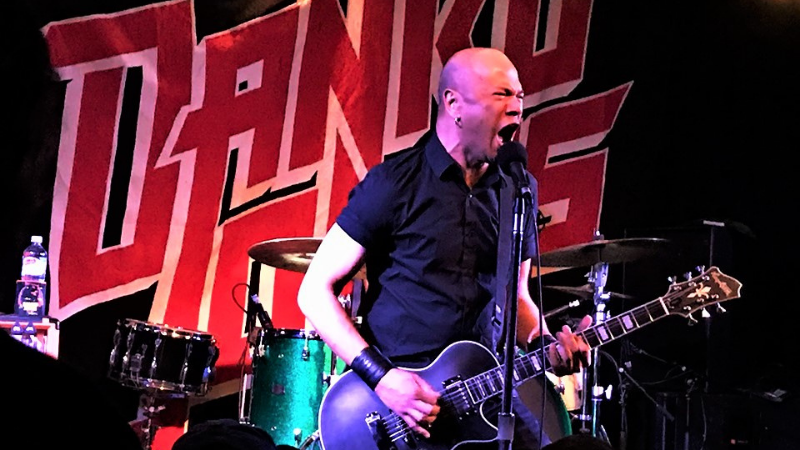 There are some cool Canadian guests appearing on the album: drummer Tyler Stewart (Barenaked Ladies), vocalist Damian Abraham (Fucked Up) and guitarist Daniel Dekay (Exciter, Diemonds). Whenever Danko Jones is playing, I am ready to rock.
Danko Jones' new album "Electric Sounds" is out now via AFM Records.