Gig review: Testament delivers thrash metal knockout on Tokyo fans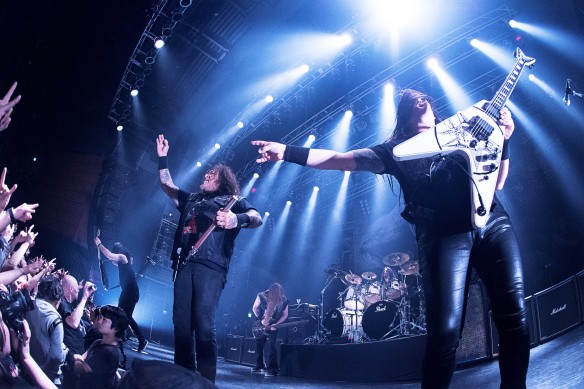 Thrash metal heroes Testament are on top of their game as they tour Japan once again.
30 years on from their debut album "The Legacy", Bay Area thrash metal veterans Testament are on top of their game. They have a fab new album out and one of their best band line-ups to date. Following a lot of member changes over the years, they now have a solid band which one hopes will last. The band's in fantastic form and in a great mood. A metal power house who are better live now than ever before during their three decades of performing.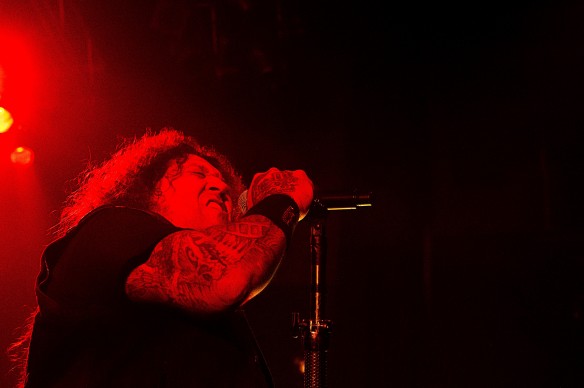 The band has built up a loyal following in Japan over the years. Even before the band's on stage there is a circle pit happening in the audience. As the band walks on stage the crowd goes wild. During the gig the audience does its best to outdo the band with constant crowdsurfing and circle pits.
Testament's return to Tokyo is nothing short of a knockout. The band's in fine form and are clearly enjoying themselves up on stage. They kick off with "Brotherhood of the Snake" followed by "Rise Up" (quite possibly the evening's highlight) and "The Pale King".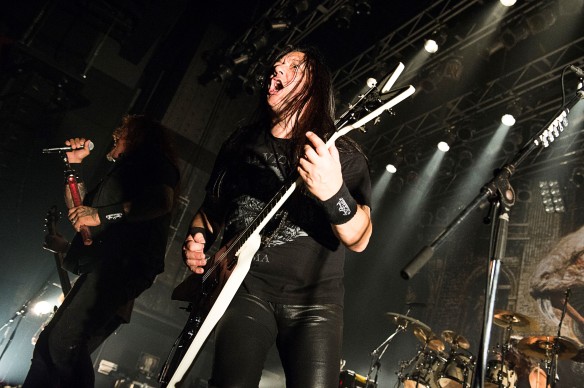 Alex Skolnick is one of the fastest guitarists in metal and he shows off his skills throughout the set. Eric Peterson, the only remaining original member of the band, personifies thrash metal with his guitar playing and stage presence. The rhythm section – Gene Hoglan on drums and Steve Di Giorgio on bass – is rock solid while Chuck Billy proves why he is the best lead vocalist in thrash metal. None of the Big Four bands (Metallica, Megadeth, Slayer, Anthrax) has a singer like Chuck. His voice outclasses the vocalists of all the other major thrash metal bands. He is also a great entertainer who knows how to perform for his audience. Chuck plays more air guitar up on stage during the gig than the metalheads in the audience.
This evening Testament has put together an absolute killer set list with great songs from the last two albums (their best in a long time). But we also get songs from throughout the band's career, including early classics such as "Disciples of the Watch", "Over the Wall", "Into the Pit", "The New Order" and "Practice What You Preach". The crowd loves it. "Alone in the Dark", dating back to when Testament was still known as Legacy, finishes a great evening of thrash by one of the best bands in the business.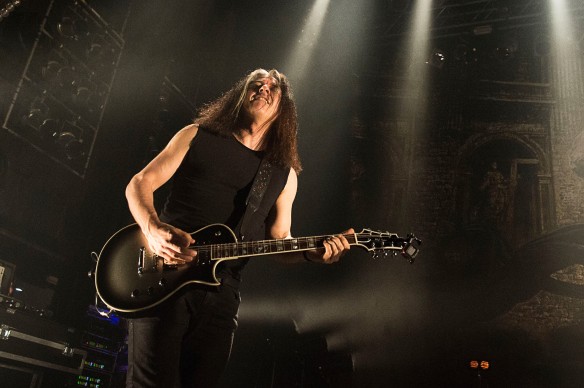 Testament – Tsutaya O-East, Shibuya, Tokyo, Japan, 20th February 2017 – set list
Brotherhood of the Snake
Rise Up
The Pale King
Disciples of the Watch
Practice What You Preach
The New Order
More Than Meets The Eye
Dark Roots of Evil
Stronghold
Into the Pit
Over the Wall
D.N.R. (Do Not Resuscitate)
3 Days in Darkness
The Formation of Damnation
Alone in the Dark
www.facebook.com/testamentlegions