Gig review: Helloween, Amaranthe at EX Theater Roppongi, Tokyo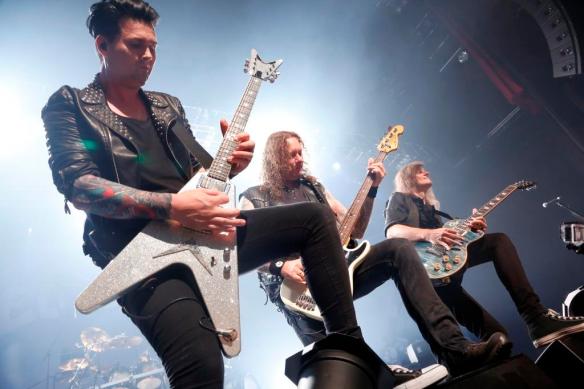 On Monday 26th September, German power metal veterans Helloween shook Roppongi with a lesson in how power metal is done properly. Supported by catchy melodic rockers Amaranthe, this turned into a terrific evening of melodic metal.
Amaranthe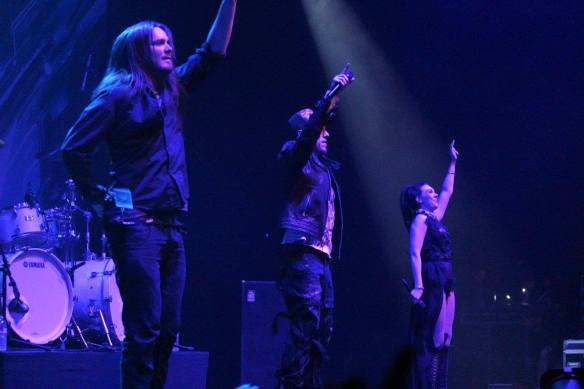 The opening act for Helloween's Japan tour is Amaranthe. Not your usual opening act, the Swedish melodic metal band has toured in Japan six times in five years. They have built up a significant fan base in Japan which is evident as they kick off their one-hour greatest hit set with "Digital World", quickly followed by "Trinity" and "Hunger".
Amaranthe is in fine form and deliver as they always do. They use their three vocalists  – Jake E, Elize Ryd and Henrik Englund Wilhelmsson – and their different vocal styles to great effect. They are a well-oiled machine on tour. Musical maestro Olof Mörck lets his guitar do the talking while drummer Morten Løwe Sørensen keeps the beat and the troops focused. Stand-in bassist Henric Liljesand (normally in The Unguided) does a fine job. With a slightly more groovy playing style than Johan Andreassen, he adds an interesting touch to the songs for those of us who have seen Amaranthe live on numerous occasions. We do get a great mix of the best songs from the band's first three albums. The only disappointment is that we don't get to hear any track from their forthcoming album "Maximalism" (read Roppongi Rocks' album review here). Amaranthe finishes off a great gig very strongly with "The Nexus", "Dynamite" and "Drop Dead Cynical".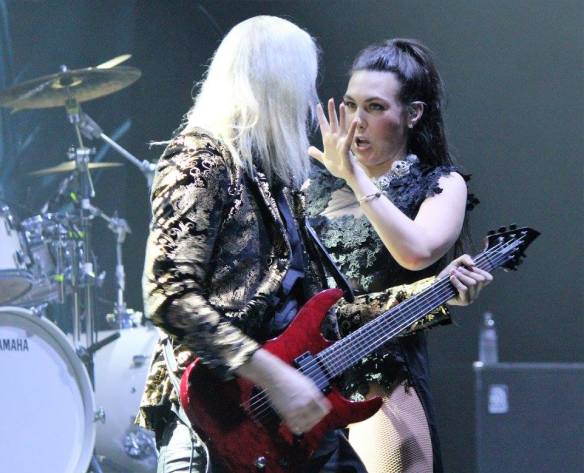 Helloween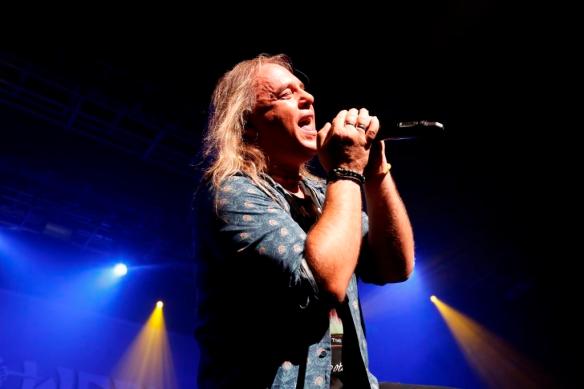 Power metal pioneers Helloween triumphed at last October's big Loud Park festival in Japan and this evening in Tokyo they are even better. Actually, they've never been better. Despite the fact that only guitarist Michael Weikath and bassist Markus Grosskopf remain from the band's classic 80s line-up, Helloween are a tight and great band. This evening in Roppongi in the heart of Tokyo, Helloween gives us a lesson in how power metal is done properly.
Musically they have never sounded better. The fact that while they are obviously playing some of their 80s classics, a big chunk of the music in the set list is from more recent records, proves that this is not just some nostalgia act from the 80s. They are still relevant and their newer material stands up well to the classic songs. Some of the newer songs are even better than what this band created in their early days. Vocalist Andy Deris makes sure that no one is missing his predecessor Michael Kiske.
They kick off a killer set with "Eagle Fly Free" from their 1988 classic "Keeper of the Seven Keys Part II", followed by "Dr. Stein" from the same album, before they give us the great title track from their latest album, 2015's "My God-Given Right".
We get a close to two-hour set filled with power metal with plenty of guitar solos and a monster drum solo performance by Daniel Löble.
Helloween finishes their regular set with a splendid medley consisting of "Halloween", "Sole Survivor", "I Can", "Are You Metal?" and, of course, "Keeper of the Seven Keys". The encore gives us "Before the War" and an extended guitar solo by phenomenal guitarist Sascha Gerstner, before they close the gig with "Future World" and "I Want Out".
Helloween is without doubt one of the best mainstream heavy metal acts out there at the moment. Go and see them while they're this good.
www.helloween.org / www.facebook.com/helloweenofficial