Gig review: Lucifer | "Black Sabbath meets Fleetwood Mac" on stage in Tokyo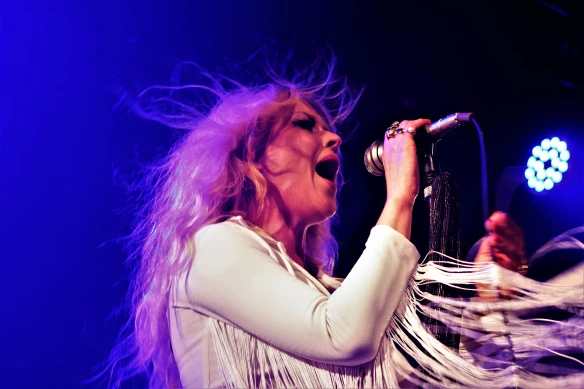 Lucifer, one of the best rock bands in Sweden right now, returned to Japan with a close to flawless rock show of the best kind.
Lucifer at Club Quattro, Shibuya, Tokyo on 10th June 2019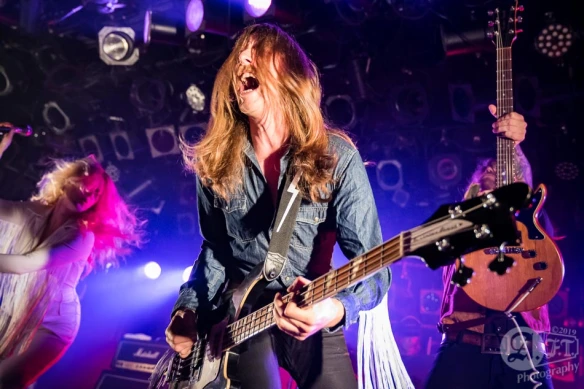 It's a rainy Monday evening in Tokyo. But it's OK as Lucifer from Sweden is here to entertain us with a terrific rock show. To call Lucifer a Swedish band is a bit of a stretch. The band formed in Berlin, Germany in 2014 with no Swedish members. From those early days of Lucifer, only German lead singer Johanna Sadonis remains. The band is nowadays based in Sweden and three of the five members are Swedes: Nicke Andersson (The Hellacopters, Imperial State Electric, Entombed, MC5) on drums, Linus Björklund (Vojd) and Martin Nordin (Dead Lord) on guitars – and some awesome coordinated stage moves. The current line-up also features Austrian bassist Alexander Mayr.
Lucifer's music is doomy, at times dreamy and always very good. Backstage after the show, Nicke Andersson describes Lucifer's music to me as "Black Sabbath meets Fleetwood Mac" and that is a fitting description. Lucifer's song material is strong, very strong. Initially, Sadonis wrote songs with legendary Cathedral guitarist Gaz Jennings. Gaz was an original member of Lucifer who made his mark on the first album and the first few tours. Nowadays, Sadonis writes the songs together with her husband Nicke Andersson, who joined the band in 2017 after Gaz had departed.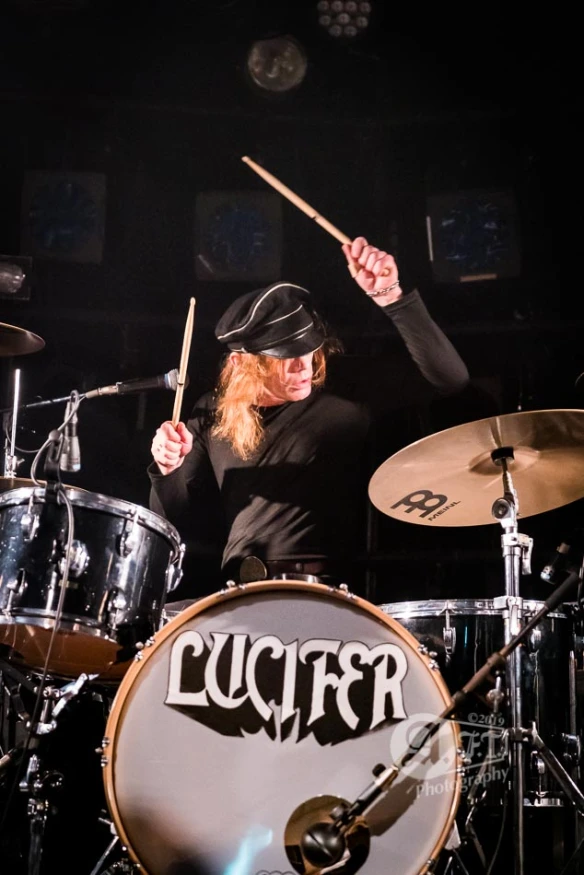 This evening at Club Quattro in Shibuya we get a tremendous 19-song set. We get all the nine songs from the band's most recent album, 2018's "Lucifer II", including the Rolling Stones cover "Dancing with Mr D". From the band's 2015 debut album, we get treated to five terrific tracks: "Abracadabra", "Izrael", "Morning Star", "Purple Pyramid" and "Anubis". We get a few more covers: "Snowblind" (Black Sabbath), "Bomber" (Motörhead) and, a husband-and-wife duet by Nicke and Johanna, "Beer Drinkers and Hell Raisers" (ZZ Top). We also get an absolutely fantastic version of "Take Me Away (Together as One") from KISS legend Paul Stanley's 1978 solo album. It's a fitting song choice as Johanna Sadonis, like Paul Stanley, is a complete entertainer that commands attention. She has a terrific voice that gets to shine on all songs. But she's not just a voice, she has a stage presence and charisma second to none. She has the whole package and is a dominating force on stage that leads her band from the front.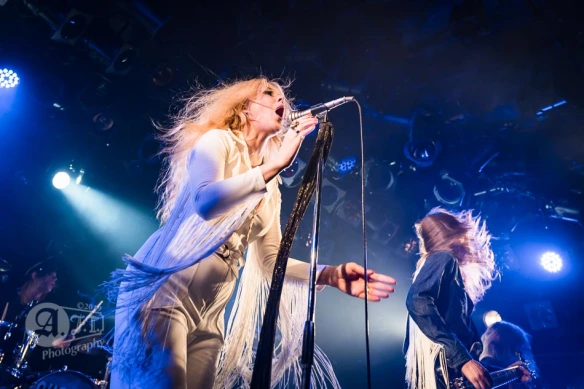 There seems to be nonstop energy on stage throughout the show. This is a band that doesn't stop – they are here to perform and will do so no matter what. The show's highlights for me include the smashing tracks "Dreamer", "California Son" and "Purple Pyramid". A brand new and yet unreleased song, the splendid "Ghosts", shows us that the band already has started to create some great new material for the band's third album which is expected to be released in the spring of 2020. This is one fine evening of exquisite rock delivered almost flawlessly by a terrific band. Swedish or not, this is, without doubt, one of the most interesting and best bands in Sweden.