Album review: Iced Earth "Incorruptible"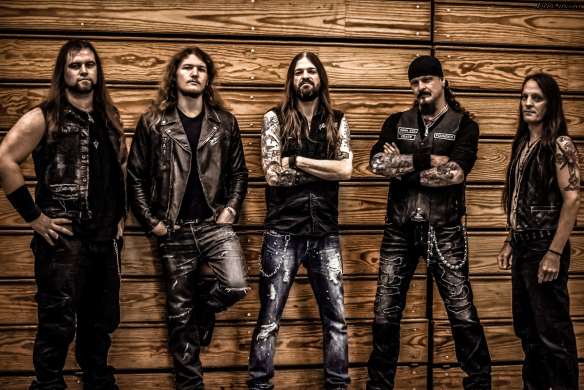 Iced Earth is back with its 12th album and yet a new line-up. The album's killer though. Solid North American heavy metal.
Iced Earth, founded in Tampa, Florida in 1985, has more ex-members than most other bands. The list of ex-members includes major names such as Tim "Ripper" Owens (Judas Priest, Yngwie Malmsteen), James MacDonough (Megadeth), Steve Di Giorgio (Testament, Death, Obituary, Autopsy) and Jon Dette (Slayer, Testament, Anthrax, Heathen). In the current version of Iced Earth, guitarist Jon Schaffer is the only original member who is still in the band. It doesn't matter, because on their new album, "Incorruptible", they sound better than they have in a long time. This is great stuff. The current line-up of the band – Jon Schaffer on guitar, Stu Block on vocals, Jake Dreyer on guitar, Luke Appleton on bass and Brent Smedley on drums – delivers above expectation.
"Incorruptible" is the band's 12th studio album since they debuted in 1990 with "Iced Earth". Musically they live in in the same neighbourhood, but not in the same house, as Queensrÿche. This is no nonsense modern heavy metal. It has elements of both power metal and thrash metal. It's melodic yet rather heavy. It's big music, even bombastic at times, but in a good way. Iced Earth matches its heavy metal music, mainly created by Schaffer, with tales about Vikings, pirates and whores. "Seven Headed Whore" is my favourite track on the album. The track takes fast thrash metal (with angry, pissed off vocals and aggressive guitars) and combines that with a dramatic chorus in a gothic Sisters of Mercy kind of way. "The Veil" sounds epic while on the fab mainly instrumental piece "Ghost Dance (Awaken the Ancestors)" we get some Native American influences. "Black Flag" is simply heavy metal greatness in a Manowar kind of way. "Clear the Way" and "Raven Wing" are other terrific songs. The album has influences from all over the place but they all melt down to a very solid heavy metal album by a great metal band.
Iced Earth's "Incorruptible" will released on 16th June via Century Media.
www.facebook.com/officialIcedearth