Interview: Doug Aldrich – three decades of playing guitar for the Japanese fans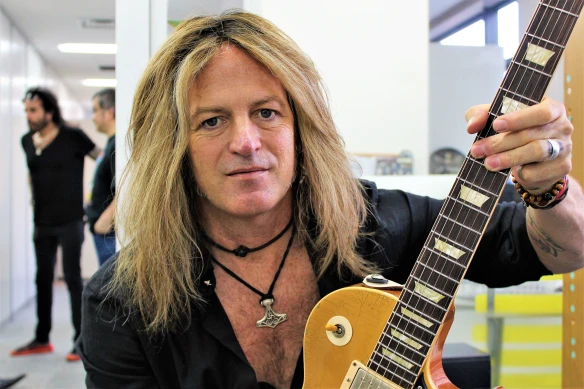 Former Dio and Whitesnake guitarist Doug Aldrich recently sat down with Roppongi Rocks' Stefan Nilsson in Tokyo to talk about joining The Dead Daisies, his love for Japan, auditioning for KISS as a teenager, the new Revolution Saints album and an unreleased Dio demo.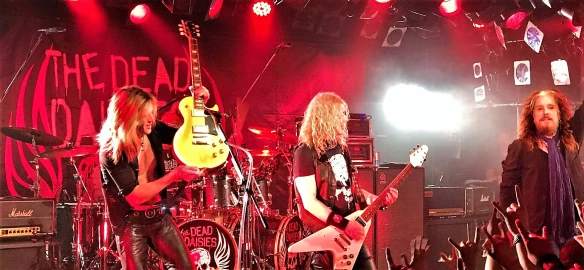 Japanese fans love guitar heroes. Doug Aldrich is one of them. He made a name for himself playing guitar next to Ronnie James Dio in Dio and David Coverdale in Whitesnake and the recent Guns N' Roses reunion saw him being offered a spot with The Dead Daisies last year. It seems to be a great fit for Aldrich who in The Dead Daisies play with David Lowy (guitar), Marco Mendoza (bass), Brian Tichy (drums) and John Corabi (vocals). With Aldrich joining the band last year, this project's revolving doors stopped and it became a proper band. And what a band it is. "It definitely gels. It's fun," says Aldrich as I sit down with him and his beloved guitar in the offices of Ward Records in Tokyo. The Dead Daisies have just completed a successful tour of Japan which followed last October's appearance at the Loud Park festival. The Daisies' pedigree works for them but already the Japanese fans love this band for what it is now, not just for where the members came from.
It is the third time in a year and a half Aldrich is in Japan to perform. And before that he has been here many times since he first came here in 1987.
The "Live & Louder" live album
"The Dead Daisies does work a lot. We're trying to build this thing," says Aldrich about the hardworking band he is now a vital part of. It's a great live act which recently released a terrific live album, "Live & Louder", recorded during a European tour in 2016.
"It's pretty easy actually with The Dead Daisies. You can have fun, still throw some shapes and it still sounds pretty good. For me, it took me a while to find my place live and feel comfortable. Even though the majority of the songs we're playing, were stuff we wrote and recorded together, I need to find the right balance of everything, getting comfortable with endings, just the whole thing. It took about five or six, seven shows and then I started to feel good. But I noticed in the fall… We had done a bunch of shows and come to Japan and then we did the KISS Kruise and I noticed that we started even become tighter. It kind of was apparent to everybody that we were gonna be doing our full show, headline set, doing clubs and we started to really go for it. Then the management said 'Why don't we just record and see what we get?'"
"We recorded, I guess, between 12 and 15 shows. Some of them were in really small places. There were a couple of complete shows that were really good, like London was great, Paris was great. It's always kind of like, and this sounds bad, but usually in those bigger cities you're always up for it! Because you have a lot of friends there and there's pressure and you're just on your best behaviour. But we decided that maybe it would be more interesting for the fans to break it up and have it from various different shows. It made it a lot easier for editing purposes, because there are situations…if you listen to one show, sometimes there are tuning issues, sometimes there's a mistake. Primarily with this recording, you can keep them all live because basically you've got 12 chances to get it right somewhere. So, it was pretty easy actually."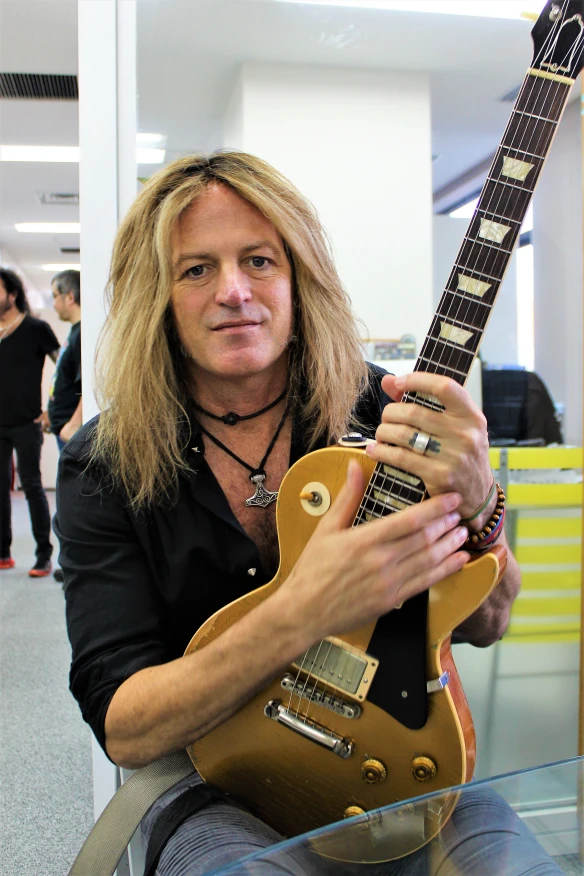 The creative process
Having performed with Dio, Whitesnake and most recently with Glenn Hughes, Aldrich has been touring the world with shows where he, at least partly, has been playing someone else's classics. "I felt like I did a good piece of rebuilding Whitesnake. I was playing live songs that I wrote with David. We published 30 songs together, me and him. Co-produced over those 12 years or whatever. So I felt I really put my stamp on the Whitesnake thing. Now I am just starting over with The Dead Daisies."
Is it different writing as a band member of The Dead Daisies than writing for Dio or Whitesnake? "It's the same when I am writing. The thing that is easier is that this is a real band situation where everybody's together, working together on every idea. Each one we're all putting our best effort towards. The thing with Whitesnake was that it was just me and David. So we were always writing everything. That's what we did, that was our sound. This, The Dead Daisies sound, we're still playing the same way, but now I'm playing some parts are mine, some parts are his and we've got a producer involved. He's got a big hand in the way that the whole thing sounds and everything. It's like if you and I wrote a song together, it's gonna sound like me and you, versus if you just do it by yourself, then it just sounds like you. I feel like it's easier with The Dead Daisies. I think there is great value in, after doing what I've been doing, to come into a situation like this with guys that I trust and like. We don't put our egos up. We are basically just friends." Aldrich played with both Mendoza and Tichy in Whitesnake and knows Corabi (ex-Mötley Crüe, Ratt, Union) well as a friend. "I've known John since we were kids. I met him in 1979. We never played together, we never wrote a song together, but we've been friends for all these years. It's cool."
Touring with Glenn Hughes and joining The Dead Daisies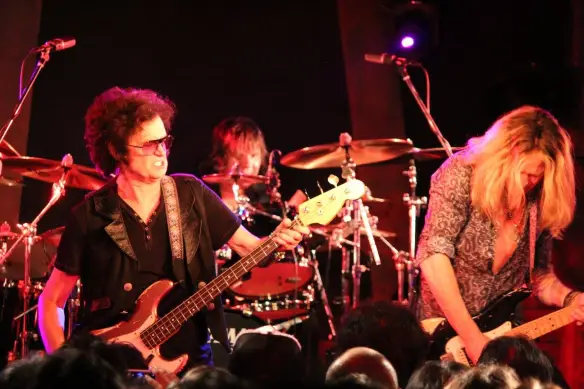 In the year leading up to joining The Dead Daisies, Aldrich was touring Europe, South America and Japan with Glenn Hughes (ex-Deep Purple, Trapeze, Black Sabbath) and Swedish drummer Pontus Engborg. In The Dead Daisies he replaced Richard Fortus who was invited back to tour with Guns N' Roses.
"The Dead Daisies had asked me to fill-in on some dates because their guitarist had gotten injured. He had a motorcycle accident, Richard. I had already committed to Glenn to come to Japan." The Dead Daisies management asked Aldrich if he could fill-in on tour around November-December 2015. "I can't, I've got two shows in Japan. I can't cancel, it's not cool," explained Aldrich his commitment to the Glenn Hughes tour. "The following year, in March, we were going to do the US. To be deadly honest with you, Glenn changes his mind all the time. One minute he was 'I don't know if I should do a record', the next minute 'We should do a record together, Doug'. I wasn't really sure where he was going. I wasn't against any idea, but there really wasn't a set plan. Then I got the call that The Dead Daisies were looking for a guitar player, full-time, because Richard is going back on the road and they were gonna make a record. And I thought 'Sounds like fun'. They're my friends, great guys. They gave me the schedule and it clashed with the dates I had with Glenn in March. So I said 'I can't do that. I am committed to Glenn and I am not going to change it.' They were very kind about it, The Dead Daisies. Everybody was involved, the producer… 'It's the only time we can do this!' Everybody somehow made amends and moved it, so I was free to continue with Glenn in March. We didn't know what the schedule was going to be after that, so I could've done more stuff with Glenn, but there was no commitment. But he cancelled the dates when he found out I was doing The Dead Daisies. It was always a 'Glenn featuring Doug'. That was the deal. He had asked me to do it. I said 'That's alright as long as we play a Whitesnake song.' That's kind of where it started to go a little south. He goes 'I'm not feeling that song' and I say 'Alright, I sing it'. It was in Tokyo. I felt like he wasn't fair… Then he sang it and it was fine. But he was not happy with my doing The Dead Daisies and I'm like 'What's wrong with you? I've made these guys change their whole schedule for you, so that I can do the dates I promised I would do with you.' Besides the fact we knew he was going into the Hall of Fame, so I said 'Maybe at that point, Glenn, if you're not sure what you should do, maybe you should really just focus on you and your solo situation and not worry about whatever baggage I got going.' That's one of the things we talked about, that he should focus on exploiting his fame more. Which is what he's doing right now. I was prepared to carry on, but he didn't want to. So, I was like 'Cool. If that's how you want it to be, I get it.'"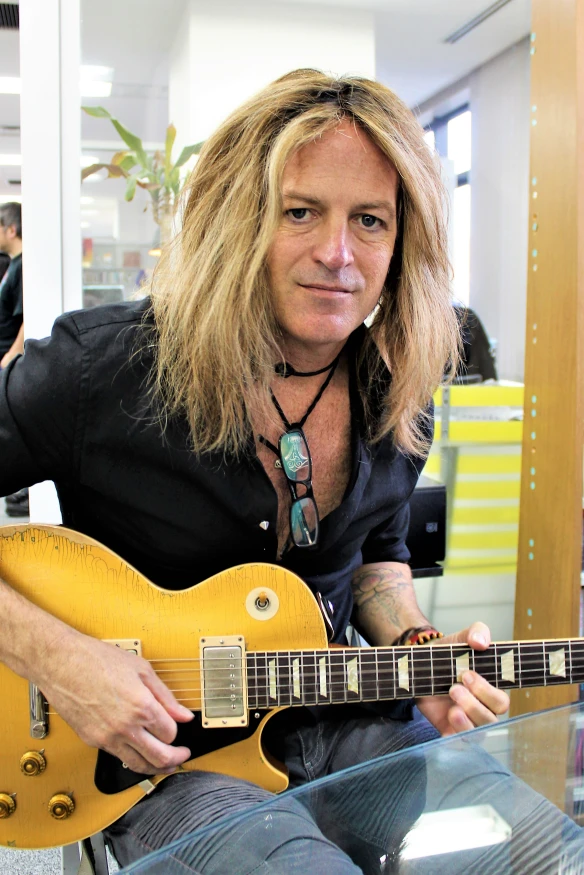 A 30-year love affair with Japan
Aldrich made a name for himself in Japan already back when he as a member of the band Lion in the 1980s. That band is perhaps best known for having songs included on the soundtracks for some of the "Friday the 13th" and "Transformer" movies. "I love Japan. I've been coming here for 30 years now. My first time was in September '87. It's always been an honour, a huge privilege to be able to come to Japan because it's so amazing. In Whitesnake we always had a saying; 'Everything's better in Japan!' Because everything is better. The cars are better. The food's better. The escalators are better. Everything is better! It's just awesome. Everything is great, but the fans especially. The main thing is they're so loyal to music and people that they like. It's humbling, awesome! The people have been so supportive. I still see the same faces. We all got a little bit older, but for some reason I look more older than they do. They seem to look the same to me."
The KISS audition in 1982 and the KISS tour in 2016
As Aldrich was just starting out as a guitarist, he auditioned to join Gene Simmons, Paul Stanley and Eric Carr as Ace Frehley's replacement in KISS. "It was 1982. I had moved away from my parents' home in '81. I told them I was going to go to college and they gave me a budget. They were gonna help me get set up in an apartment and make sure I was OK. I went to the college one day and I decided it's not for me anymore. I always had my guitar with me. I came to California because I knew that music was original in California. I was born in North Carolina but at the time I was living in Philadelphia and all the bands were playing cover music. I had a dream of the California lifestyle that I wanted. There was something about it that I just loved. I had visited a couple of times and I loved it. I was just a kid, so I drove up and I went to school one day and I quit. Then my parents said 'OK, well then you've got two weeks to find a job.' So I got a job and I started taking care of myself. Ever since I was focused on the guitar. I immediately got a band together, so within three or four months I was playing in the clubs, in some of the famous Hollywood clubs. A girl said that KISS was auditioning guitar players and that she thought I'd be good. I thought she was joking but a couple of weeks later, we played the same place and she brought Eric Carr with her, which was her boyfriend. It was weird because at that time you hadn't seen these people's faces. So, I was looking at him like 'He's got the exact same hair. It does look like him.' Of course, it was him. He said 'I want you to come down to the studio and meet the guys.' At this time, I didn't have a phone, so he called me at a music shop where I was working. My parents never told me about paying bills. One month goes by and my phone got shut off. So, he called me at the music shop and I went down and I met Gene and Paul. They were singing backgrounds. I was kind of test demoing some of their tracks in the studio and Gene said 'It sounds really good, Doug. Do you ever use the major scale?' And I said 'Major scale? What is that?' He goes 'Oh, you know: Do Re Mi Fa So…' I'm like 'Oh! I know that! Yeah, I know that one.' It clicked. I didn't know anything about music. I knew how to play certain things but I didn't know about music. It was a little embarrassing. But I did play it and I played well enough that he invited me to go to a rehearsal situation and play live. That was my first time playing through multiple Marshalls. There were four Marshall stacks just for me. It was in a huge airport hangar. We played three or four songs and then they called me back a few weeks later. I thought 'Wow!' To be honest, I wasn't the biggest KISS fan. I was more a Led Zeppelin fan. But I was impressed and I thought I can make this work. I make it work to be in KISS! Haha!! But I go down to the second audition and I did play pretty good but I could tell they were kind of like 'This guy's too young.' They were talking about actresses and going to parties. At that time, ramen noodles were really big in the US. You could buy 'em for ten cents a pack. I would just buy three dollars' worth and that's how I lived. Ramen noodles! So, I just couldn't relate to their conversations."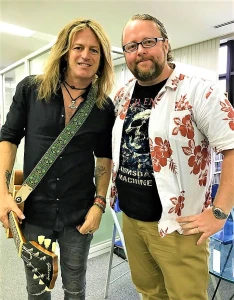 "I think, in hindsight, if I can give advice to any musician, one of the most important things is to be able to be comfortable hanging out with the guys that you're working with. Because if you're not comfortable, they're not gonna want you around. It doesn't matter how good you are, how good you sing or play, or how good you look. You really have to be comfortable being together."
"So, I didn't get the gig and Eric said 'You did great! You were pretty close but I think you're too young. We found a guy we think is going to work out.' Which was Vinnie Vincent. But I had Gene's number. Six months later, they are on tour, promoting their record and I told my friends 'I'm gonna call Gene and get us tickets!' All my friends were standing behind me and I got on the phone and I called his house. It was like a party situation. I go 'Gene, this is Doug Aldrich. Do you remember me?' He goes 'Lose this number.' Click! Haha!! I turn around to my friends and go 'I don't think we are gonna be able to go, guys. I'm sorry.' It was like 'Man, that's not cool. He hung up on you!' Later, Gene wanted me to join a band called House of Lords. I said 'Gene, do you remember the last time we spoke?' He was 'Yeah, you called my house.' I was like 'Yeah, you hung up on me!' He's awesome. I love him. You know what, you listen to those old KISS songs and you've gotta give them credit, man. Those are some good tunes!"
"I think he's done some great bass work. Listen to the bass part in 'Detroit Rock City'. That's pretty cool that part. They are amazing. And Paul, as you get older your voice changes and stuff, but he can still do good. He can still tour. You know this, because you've seen them. I had never seen KISS until we, The Dead Daisies, toured with them. To watch Paul Stanley, it's like a lesson, in one minute you see 25 of the most classic rock moves. He is unbelievable! And he plays great. Pound for pound, that's the best rock show I've seen. I've seen a lot of really good shows, but that was like…somebody's flying, somebody's exploding, somebody's guitar's on fire. It's awesome!"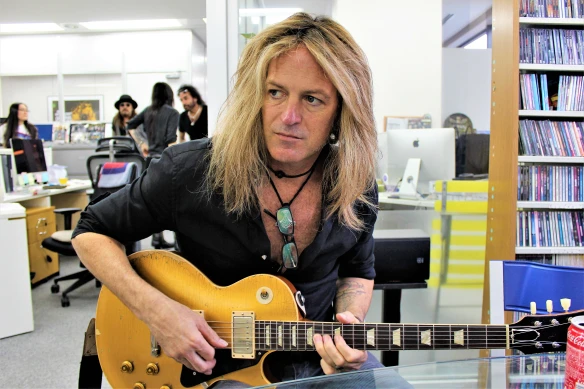 Revolution Saints
One of Aldrich's side projects is the band Revolution Saints, featuring Jack Blades (Night Ranger, Damn Yankees) and Deen Castronovo (Journey, Ozzy Osbourne, Bad English, Cacophony). The band will release its second album, "Light in the Dark" in October. "The Daisies, of course, we are working a lot and there isn't much time, but I have a couple of things that I do in my free time. One is a thing called Revolution Saints. There's a new record that is gonna come out later this year. We never really did anything with the last record, but it did pretty well and got some good reviews. This one, to me, is even better. We had gotten some offers to do some gigs, maybe we'll do a couple. Jack is definitely primarily in Night Ranger. He's not gonna change that. So, he's gonna be busy with that and I'm busy with Daisies. But I'm really proud of Deen. He's doing great, he's clean and sober and back in the relationship he was in. So it is all working for him now. A lot of people turned their back on him, I didn't. I knew the guy inside was a sweet guy because I've spent time with him before. Originally it was going to be his solo record and he said 'I want Doug', because we're friends, you know? Then he got in trouble, these things happen. At some point you gotta say 'Hey, everyone deserves a second chance.' I'm really proud of him. He's singing great and playing great. He's very happy."
The unreleased Dio demo
Aldrich was a member of Dio during a number of years. Among other recordings and touring, he played on the fabulous song "Electra", which would become the band's last ever single, together with drummer Simon Wright, bassist Rudy Sarzo and keyboardist Scott Warren. As we finish off our chat in Tokyo, Aldrich reveals that there is an unreleased demo recording from that period.
"I have a demo of Ronnie, an unreleased song nobody's ever heard. I offered it to Wendy and, I don't know, maybe she forgot about it, but I said 'I have this song. It's really haunting.' It was during that time… He wrote 'Electra'. I just played on it. We were kind of bouncing around some of his ideas and working on some of them. Before we did 'Electra', he had this other one that he said 'Can you put a solo on this?' and he gave me the track. I had put a solo on it and then when I brought it to his house, he goes 'No, no, no. I've got this new idea called 'Electra'.' We didn't even listen to it. I don't even think he ever heard the solo because we were so focused on trying to get one song done to promote the tour that we were gonna do. I was still a member of Whitesnake but I said to him 'If you work it out with David, I would love to go out on the road with you.' Because he had asked me to go. He worked it out and then he got sick. But there is this one track that is haunting, because the lyrics are… And he doubled his voice, it's just really trippy. At some point it will have to come out. I got it. I got the mix. I actually have the recording session, which has got Ronnie playing bass, Ronnie playing rhythm guitar and vocals. And then a drum machine. One day."
Ladies and gentlemen: Doug Aldrich. A great and busy guy travelling the world with his guitar. Three decades on and he is still playing his guitar for the Japanese fans.
www.facebook.com/dougaldrich.official